It can take time to develop a running game, but the Caledonia High School football team is getting to where it wants to be just in time.
The top-ranked Warriors have typically had balance in the offensive backfield, but they have also relied on dominant backs like Ben McCabe, Connor McCormick and Ryan Pitts over the last decade.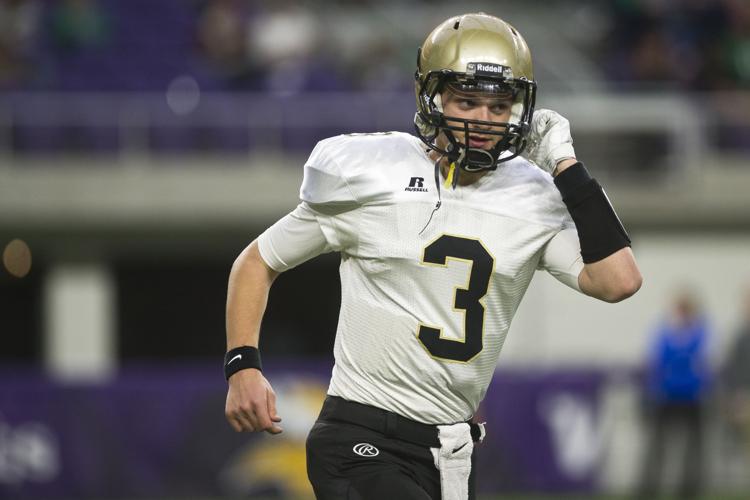 Mason Staggemeyer has been part of the Warriors' backfield since his freshman season. He picked up a few carries here and there before seeing his role expand with every season.
No one expected Staggemeyer to join that group as a dominant back, especially with another good back like Nick McCabe around. But he and McCabe could form a good 1-2 punch to allow the Warriors to keep the kind of run and pass balance they have enjoyed while winning seven MSHSL Class AA state championships over the last 10 seasons.
"We're getting there with it," said Caledonia coach Carl Fruechte, whose Warriors (12-0) play Pipestone (12-1) in the title game at U.S. Bank Stadium at 1 p.m. Friday. "If there was a problem with it earlier in the season, it was my fault, but I think our offensive line is getting off the ball better and understanding assignments better."
That has been a blessing for Staggemeyer, whose last four games have included 352 of his 633 rushing yards this season. Staggemeyer has carried 55 times in those four games, and he scored two touchdowns in a 49-16 semifinal win over Paynesville last week.
McCabe also scored twice against Paynesville, and his 105 yards were his second-highest of the season as the Warriors piled up 193 rushing yards, which is its second-best performance.
It looks like the 1-2 punch is gaining steam as it prepares for the biggest game of the season the day after Thanksgiving. Caledonia has averaged 158.5 rushing yards in its last four games. That's higher than its season average and helping make quarterback Owen King even more dangerous.
King, a Division I South Dakota State basketball recruit, will finish off a prolific career that includes 8,375 passing yards, 134 passing touchdowns and 12 interceptions in 836 attempts. The Warriors are 40-0 since he took over as starting quarterback as a sophomore and are trying to win a third consecutive state title for the second time in program history.
King completed 13 of 19 passes for 207 yards and four touchdowns when Caledonia beat Pipestone 40-0 in the 2015 championship game.
"One thing Owen understands is that as much as he works with his wide receivers or works to make himself better," Fruechte said, "is that none of it happens without those offensive linemen in front of him.
"They are playing better, and that allows everyone else to play better."
The Warriors' offensive line consists of left tackle Riley Cordes, left guard David Seymour, center Brent Robley, right guard Spencer Stemper and right tackle Walker Spier. Aric Bauer, Dylan Benke and Matt Gavin rotate in and have seen significant playing time.
If that progress continues against the Arrows, Staggemeyer and McCabe might have an enjoyable afternoon. Pipestone allowed Moose Lake/Willow River to rush for 221 yards in last week's 28-6 semifinal victory.
While the approaches of that team and Caledonia are different, it likely means good news for the Warriors' running game.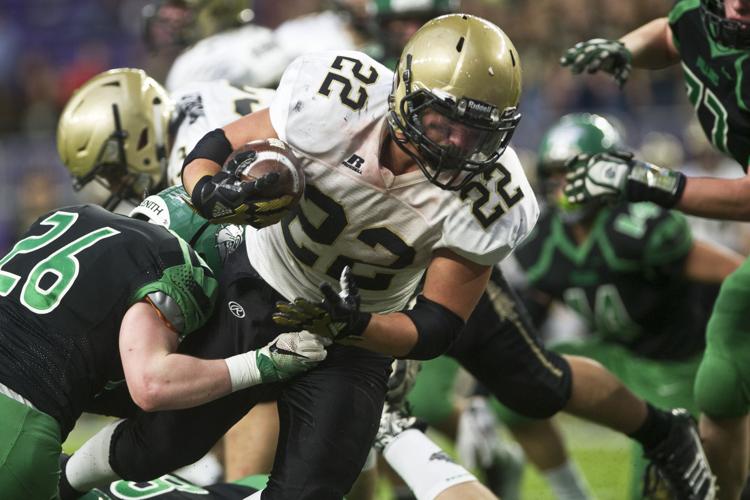 The pressure on Caledonia's defense will come down the field. Pipestone quarterback Cody Thompson completed 10 of 14 passes for 209 yards and two touchdowns, and the veer and power run game produced just 45 yards on 25 attempts.
Caledonia will need to find a way to push Thompson and contain wide receivers Tyl Woelber and Braeden Rieck. Woelber had five catches for 124 yards and both TDs last week. Rieck had four catches for 67 yards.
Tackling will be major point of emphasis for the Warriors defensively because Woelber and Rieck are both good at gaining yards after the catch with more than 160 against Moose Lake/Willow River.
"They have a very good quarterback, and (Woelber) can do it all," said Fruechte, whose defense allows an average of 62.3 passing yards and has yielded seven TD passes. "We have to keep them in front of us."
Photos: 2017 high school football season in the La Crosse area