The feeling for most of the Central High School football team's 24-18 win over Logan on Friday was that the Rangers were in control.
Logan was the team taking more time off the clock on drives. It was also the team coming up with the necessary defensive plays to stop the Red Raiders consistently on third down and end drives quickly.
So when Steven Cross scored from 4 yards out — Central's first third-down conversion — with 2 minutes, 56 seconds left in the first half to get the Red Raiders within 12-8, the prevailing thought was, 'Wow, the Red Raiders are in this.'
But when the Rangers (3-3, 2-2) answered immediately — CJ Siegel caught passes that went for 54 yards on consecutive plays — and Ambrose Metz-Beard scored from the 2, it looked like Logan was back in control with an 18-8 lead in the annual battle over the Ark of Victory/
"Our team is really good at fighting through adversity," said Central quarterback Johnny Davis, who was 11-for-19 for 179 yards and tossed a strike to Greg Kohler for a 37-yard touchdown that gave the Red Raiders (3-2, 2-2) their only lead with 3:41 left. "We were motivated to win this game."
That showed with a touchdown drive to open the second half. Then Logan gave Central, which won possession of the Ark for the first time since 2011 and second time since 2004, every reason to remain confident by making mistake after mistake the rest of the way.
The Rangers had eight penalties for 71 yards in the second half and had to try and keep their heads up twice when snaps flew over punter Gunnar Parcher's head.
The first resulted in a 31-yard loss on the first play of the fourth quarter, and Logan's defense came up big on three straight plays to deny Central points after taking possession on the Logan 18. Cross was dropped for a 1-yard loss by Robert Snodgrass and Dallas Kapanke before Drew Kjos and Malik Brown defended on an incomplete pass on third down.
Christian Kapanke then chased Davis to the sideline and disrupted Central's attempt on fourth down.
The Rangers ate about 6 minutes off the clock, but two penalties led to the drive dying off near midfield after reaching the Central 31. That's when the second snap sailed over Parcher's head. He picked this one up and kicked it, but the Red Raiders took over at the 50 and scored five plays later.
The victory gave the Red Raiders some spring in their step as they chase a WIAA playoff spot. To meet criteria — a winning conference record — they will have to win twice in remaining games against Sparta (4-2, 2-2), Onalaska (5-1, 3-1) and Tomah (2-4, 0-4).
Logan is also faced with having to win twice and closes out with games against West Salem (5-1, 4-0), Holmen (4-2, 3-1) and Aquinas (0-6, 0-4).
A 3-4 conference record doesn't mean a team won't qualify, but it doesn't guarantee a spot in a bracket, either.
The Red Raiders appear to be in better position after scoring the rare win over a huge rival.
"These are the biggest games in the world to us," Kohler said of playing Logan for the Ark. "As seniors, we wanted this one and were going to fight for it."
MANGLITZ KICKING WELL: Onalaska has a weapon most teams in the area would die for — a kicker who can make extra points.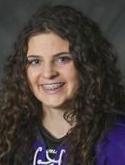 Across the Coulee Region, PATs sail left and right, or fall woefully short in the end zone. But the Hilltoppers' point-after tries have gone off the foot of junior Kaley Manglitz through the uprights with ease, and she's approaching an Onalaska school record.
Manglitz, who went 6-for-6 on PATs in the Hilltoppers' 42-0 drubbing of Sparta on Friday, has 81 points in her career as a kicker. That puts her six away from the school record of 87 — with how she's been kicking and how Onalaska has been scoring, Manglitz may break that record next week against Tomah.
She has made 25 of 26 extra-point attempts this season and is 10-for-10 the last two weeks.
"I think she's automatic," Hilltoppers coach Tom Yashinsky said Friday.
WEST SALEM A PLAYOFF QUALIFIER: The Panthers (5-1, 4-0) maintained sole possession of the MVC lead by beating Aquinas 52-0 at UW-La Crosse on Friday.
Junior Brendan Holt rushed for 153 yards and scored two touchdowns, and Malachi Athnos returned an interception for one touchdown and caught a 31-yard pass from Ryan Beirne for another as West Salem won its fourth straight game.
BANGOR STILL DOMINATING: Bangor also clinched a playoff spot with a 66-0 win over Necedah on Friday, but maybe more impressive than the offensive numbers that have become expected is the way the team is playing defense.
The Cardinals (6-0, 4-0) have posted five straight shutouts since allowing Melrose-Mindoro to score once in the opener. No team has rushed or passed for 100 yards against Bangor this season, and it is yielding 102 total yards per game over the last five.
The Cardinals are also averaging 53.7 points per game and have scored 126 in wins over Hillsboro and Necedah the last two weeks. The upcoming challenge is a home game against Brookwood (5-1, 3-0) in Week 8. The Falcons feature running back Ben DeWitt, who has rushed for 1,067 yards and scored 19 touchdowns.