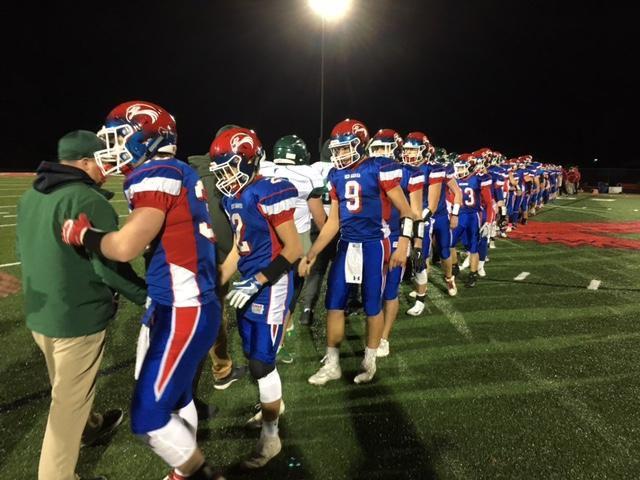 GALESVILLE — Bryce Burns and Luke Vance received most of the high fives, the pats on the back and the attention from the sizable crowd, but the heavy lifting was done up front.
The Gale-Ettrick-Trempealeau High School football team's bread and butter is its talented offensive line, and that powerful group paved the way for a 70-6 South Central Conference-clinching victory over Adams-Friendship Friday night.
Burns and Vance each ran for three touchdowns — all coming in the first half — as the Red Hawks revved up for the WIAA Division 5 playoffs with a dominant performance.
"The line just dominated for us. You could drive a semi-truck through them (holes)," said Vance, a speedy 6-foot, 170-pound junior who rushed for 141 yards on just seven carries.
"I say that a lot, but it's true. They are doing amazing things for us. We just keep pounding, that's basically it."
G-E-T (8-1), which pushed its winning streak to seven games, earned its first — and last — South Central title with a perfect 7-0 mark. The Red Hawks, under WIAA realignment, will return to the Coulee Conference next season.
Coach Jon Steffenhagen's team will find out its first-round playoff opponent on Saturday, but right now the Red Hawks are rolling — and healthy. And its line, led by center Ethan Auer, is a force.
"I think one thing that made us more successful tonight is we had a week off. We were able to get healthy. We were on the edge with some kids being banged up, all the way around," said Steffenhagen, whose team won by forfeit over Westfield last week.
"We played the last couple of weeks short two linemen, and we finally got all those kids healthy. It was a blessing in disguise to have those extra days off and get healthy."
G-E-T was healthy and hungry in the first quarter when the game was decided. The Red Hawks put up 38 points and gained 227 of their 389 yards in the opening quarter — all of which came on the ground. It took just 2 minutes, 3 seconds before Brandon Boos burst up the middle on a 25-yard scoring run to make it 6-0.
The Red Hawks' Maximus Janssen then came up with one of his two interceptions on the night — the second was a pick six in the second quarter — to give G-E-T the ball right back. Two plays and 40 seconds later, Vance blew in from 4 yards to make it 14-0. Burns 2-point run made it 16-0 before some fans put ketchup on their first hot dog.
To make matters worse, the Green Devils fumbled the ensuing kickoff to give the Red Hawks the ball back again, this time at the Adams-Friendship 38-yard line. After a 29-yard run by Burns, a 5-yard run by Boos and a facemask penalty, Burns powered in from 2 yards out to make it 22-0.
"You just run and come back and thank the linemen because they made that for you. Give them your best effort," said Burns, a 6-1, 225-pound senior who rushed 11 times for 178 yards, giving him 1,107 on the season.
"They (offensive linemen) put a lot of work in this week and they are looking rock solid going into next week."
G-E-T refused to let the scoreboard operator take a break, as it added a 64-yard scoring scamper by Vance and a 22-yard TD run by Burns, who broke two tackles and dragged two additional Green Devils with him into the end zone to make it 38-0.
The Red Hawks dominated every aspect of the opening — and deciding — first quarter.
"I kind of thought if we got off to a fast start that we were probably going to be able to continue with that fast start," said Steffenhagen, whose team has averaged 45.6 points per game in the eight games it has played.
"We just have really good team speed on the edge and our linemen can get up and go if you play the edge. Everything kind of snowballed and went our way tonight."
G-E-T refused to let up in the second quarter, as it used a 24-yard scoring run by Vance, Janssen's pick six, and a 29-yard TD run by Burns to make it 62-0 at the half. With his three scores, Burns has 18 TDs on the season while Vance has 14.
"We just decided to keep pushing, keep pounding," Vance said. "We still got room for improvement, but I am feeling pretty confident right now. We know we can all improve ourselves at any position.
"We don't want to sound too cocky; we just wanted to get a good seed for the playoffs."
Adams-Friendship (2-7) did finish with 193 yards, but had just 78 in the first half against the Red Hawks' No. 1 defense. The Green Devils were hit hard with injuries, too, including a scary moment in the second quarter. That's when freshman lineman Nicholas Sundene suffered an injury that required medical personnel to immobilize him, place him on a back board, then wheel him off the field to an awaiting ambulance. He did give a hand signal as he was wheeled off.
No further information was available on the extent of the injury.
Be the first to know
Get local news delivered to your inbox!