HOLMEN — The strength and power of Tate Grass has already led to a lot of success as a member of the Holmen High School football team.
He showed as a junior the ability to run through just about anyone whether he was trying to corral a quarterback, hit a running back or send to the turf someone trying to tackle one of his teammates.
Grass did all of that well enough for NCAA Division I and II programs to take notice of his skills. Some of those Division II schools have already offered scholarships. Some Division I schools are considering the same thing.
But any adjustments opponents have made — or are trying to make — to deal with the 6-foot-3, 215-pound tight end and defensive end this season might be for naught.
Grass said his offseason was about technique and finding new ways to stump whomever is lined up across from him.
"I think there were a lot of times last year that I probably beat guys just because I was bigger than them," said Grass, who attended camps hosted by North Dakota State, Iowa and Wisconsin over the summer. "There are a lot of ways to show that I'm a better pass rusher (this year) because I've done a lot of work with my technique."
That's only good news if you are wearing uniforms designed in maroon and white.
Holmen coach Travis Kowalski smiled when talking about the talent Grass can bring to the field wherever he plays.
"Great footwork, great hands, and his blocking is great," said Kowalski, who has led the Vikings to a 15-7 record his first two seasons in charge of the program. "He's doing great with getting off blockers on defense.
"He'll be starting both ways, and we don't ask a lot of players to do that. We know how hard he will battle for us on every play."
Grass made 15 tackles behind the line of scrimmage and recorded three sacks as a junior. He also caught four of Holmen's 10 completed passes and scored a touchdown.
Grass would like to make a bigger impact as a receiver, but he understands his role in Holmen's triple-option attack. He's there to destroy potential tacklers, and Grass does it well.
And while the loss of several offensive weapons might slow down the Vikings, expect things to come around in a system that is run at each level of the program.
Junior Cam Weber steps in at quarterback and should have a good grasp on what he is doing. Senior Kevin Koelbl made a lot of big plays out of the backfield last season, and junior Jaedon Abraham has made a big impression during the first couple weeks of practice.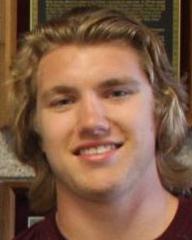 Senior Caleb Butler anchors what the Vikings need to do up front and gives them a second dominant force — with Grass at tight end — on the offensive line.
Holmen rushed for nearly 345 yards per game and scored an average of 35.3 points last season, and Butler played a significant part in that success.
But don't ask Kowalski what would happen if his two horses squared off because he doesn't let it happen. Having 112 players out for football allows him to take that stance.
The Vikings are never hurting for bodies to use in scout situations, and that gives them the advantage of not having top players have to battle each other.
"I don't let those guys go one-on-one because that would be a mess," Kowalski said with a laugh when asked if Grass or Butler would prevail while matching up. "Butler will tell you that he'll knock (Grass) all over the place, and Grass will say there's no way that's happening.
"I'm just glad we don't have to see it."