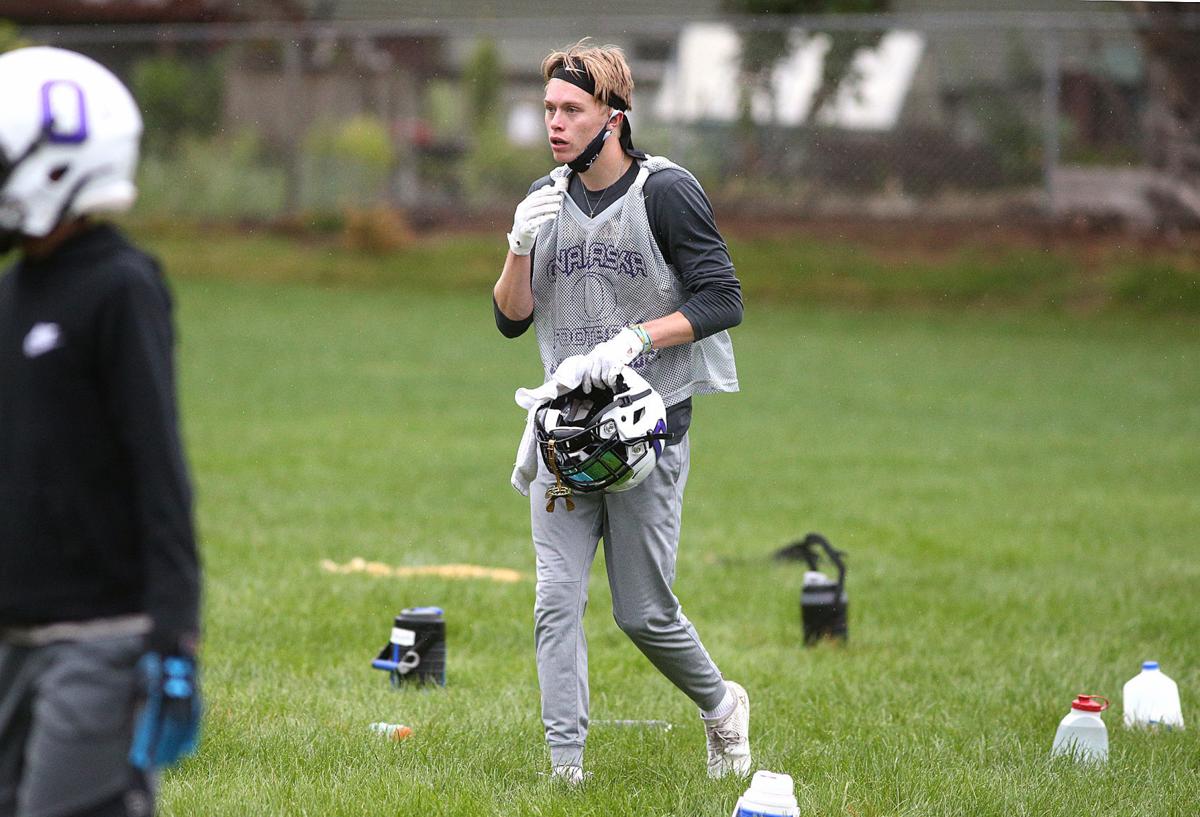 ONALASKA — Somehow, someway, Landon Peterson got faster. At least, that's what Onalaska High School football senior offensive lineman Colton Hougom thinks.
"I don't even know how that's possible," Hougom is quick to add.
It might seem improbable, given the wide receiver's established reputation as a speedster. The senior committed earlier this month to run track and field at the University of Idaho, a Division I program, and is one of the top hurdlers in Coulee Region history.
The notion, though, isn't that shocking.
"Obviously, genetics help; I've known since he was a seventh- or eighth-grader that he was going to be a pretty special kid," Hilltoppers coach Tom Yashinsky said of Peterson. "But then the work ethic is there, too. There's some kids that get by on talent, and there's some kids that make themselves what they are because of hard work.
"When you've got a mix of both, it's a special athlete. And that's what we've got with him."
Faster or not, Peterson will be a key part of an Onalaska offense that has to replace All-MVC first-teamers in quarterback Austin Larson, running back Nathan Lubinsky and tight end Conner Haggerty.
And Peterson hopes to show that he is more than just a speedy deep threat after hauling in 33 catches for 739 yards and 12 touchdowns last season.
Being able to expand his game starts with basic things like technique. Toward the end of last year, Yashinsky could tell Peterson's route running was improving as he learned how to position himself in relation to defensive backs. That should help Peterson be effective in the short and intermediate game, as would eliminating drops.
"My hands were really bad. Straight up. I dropped a lot of balls that I shouldn't have," Peterson said. "I need to be able to make those big plays."
But those big plays might not all be through the air this year, as the Hilltoppers plan to get creative on offense to get the ball in Peterson's hands. More carries are likely in store — he had 10 for 86 yards last season — and Peterson hinted at being used as a wildcat quarterback.
"Without giving away too much, I think I'm going to bounce around. I'm going to be a versatile guy," Peterson said. "I talked to Yash, I'm like, 'Yeah, I want to be that versatile guy.' … I want to know as much as the quarterback knows on the field. I want to be aware of everything. I want to be able to go anywhere and play it."
Wherever Peterson ends up on the field, his presence — along with four returning starters on the offensive line — should aid Ayden Larson as he steps in for his older brother at quarterback.
Peterson said the junior was eager to get out and throw with his receivers this summer, even if football fields were closed and they had to run routes at a baseball field. Of course, Peterson won't be Larson's lone threat on the outside — the team is high on senior Hudson Weber and junior Michael Skemp — and the crucial receiver-quarterback chemistry has started to form.
"I told him, 'Every receiver's going to run that route differently. You've just got to be able to know which receiver is running that route and how they're going to be open,'" Peterson said. "And he understands that. He gets it, so it's big."
With Peterson and Co. stretching the field, running lanes should open up for senior Michael Savarin, who is taking over for Lubinsky. Although the Hilltoppers are confident in their ground game, Yashinsky said the team will likely pass more than it did last season.
That means plenty of targets for Peterson, who will still be a deep threat even as he works to contribute all over the field.
He is pretty fast, after all.
"We just hope Ayden's got enough arm to get him the ball," Yashinsky joked.
Onalaska opens the season at Westby on Friday.
Be the first to know
Get local news delivered to your inbox!