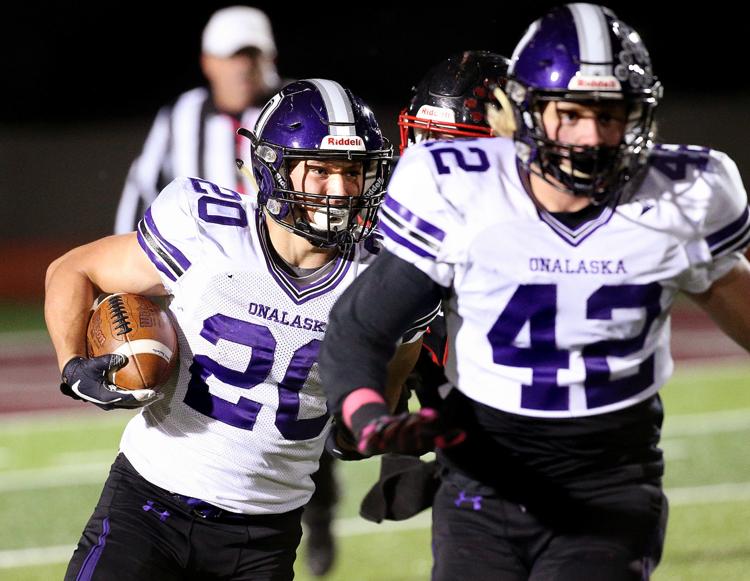 It will be tense, and it will be physical.
The Holmen and Onalaska high school football teams are going to spend 48 minutes — maybe more, you never know — punching each other in the face Friday night at Onalaska High School.
There is too much at stake think otherwise.
First, there is the rivalry. There is no other opponent these teams like to beat more than each other.
Second, there happens to be an MVC championship on the line. The Hilltoppers (7-1, 5-0) already have a share of that title, but the Vikings (6-2, 4-1) get a piece of it if they win.
Third, there are WIAA playoff implications. Both teams have already qualified, but every victory counts in the effort to get the best possible seed when Saturday's brackets are announced.
"The biggest emphasis for our guys this week has been the seeding and the playoffs," Onalaska coach Tom Yashinsky said. "The championship is also very important, of course.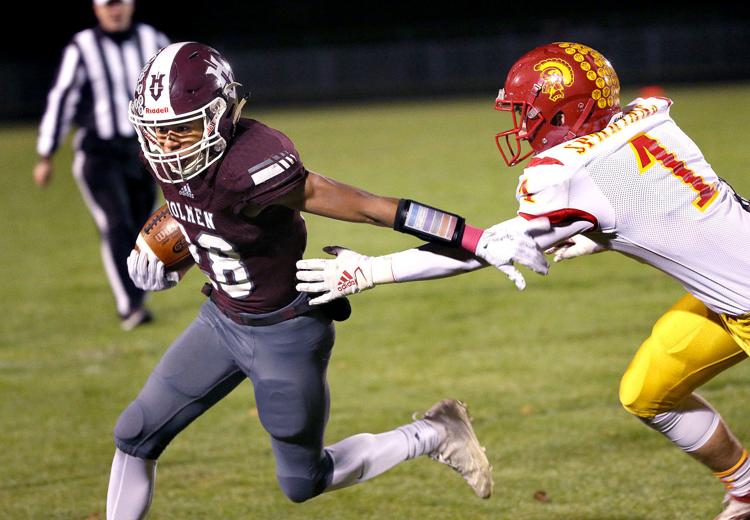 "But if we win, we are looking at, hopefully, a (No.) 2 seed."
The task at hand, however, is building on wins over Sparta and Central and finding a way to beat a team that has had its number. Holmen, which lost 25-20 last week to Sparta, has beaten Onalaska in 10 of the last 11 series matchups.
"It's like I said before the season," Yashinsky said. "You can't win the conference until you can beat Holmen. The championship belongs to Holmen unless someone can take it away."
The Vikings blasted the Hilltoppers 49-14 last season, and last week's loss to the Spartans isn't sitting well.
They aim to take out that frustration on a very good team.
"This is the best Onalaska team I have seen since I got here," Holmen coach Travis Kowalski said. "The one that beat us (three) years ago was also a good one. That team didn't have the ability that this one has to run the ball.
"This team they have is loaded."
You have free articles remaining.
And that means the Vikings will have to avoid some of the mistakes that lead to their loss at the hands of Sparta last week. Holmen lost three fumbles in that game — two of them inside the 20-yard line — and the Spartans turned two of the recoveries into touchdowns.
"In our two losses this season, we have eight turnovers," Kowalski said. "In our six wins, it's only three or four.
"We have to hang on to the ball."
Holmen has consistently moved the ball against all of its opponents this season — it averages 267.5 rushing yards per game — and quarterback Cameron Weber has provided a passing threat with 27 completions and six touchdown passes out of the triple option.
Senior fullback Brett Holden has rushed for 842 yards and scored 14 touchdowns, and senior Jaedon Abraham (473 yards, five TDs) has provided some big-play punch. Holden scored one touchdown and rushed for 71 yards against the Hilltoppers last season.
Stopping those two and anyone else who runs the ball for the Vikings will be a much different chore than the one required to slow down Central quarterback Johnny Davis last week. The Hilltoppers were fantastic in that game, but the approach changes drastically when squaring off with a triple option.
"The biggest thing is being disciplined with reads," Yashinsky said. "You can't look for the ball, or you will be in the wrong spot.
"I think the biggest place we have grown the last year and probably two years is that we have become a much more physical team. Our defense is a lot more physical this year than it was last year, and offenses don't like that."
Onalaska presents plenty of problems for a Holmen defense that has also played well.
Not only do the Hilltoppers have a dynamic workhorse in running back Nathan Lubinsky (1,147 yards, eight TDs), they have a tough passing game to stop when it comes to quarterback Austin Larson (1,487 passing yards, 19 TDs, two INTs) and receivers Landon Peterson (622 yards, 10 TDs) and Hank Olsen (405 receiving yards, four TDs).
"We have to stop the run, make them pass and play good on the back end," Kowalski said. "(Lubinsky) is probably one of the best running backs in the state, and they have a quarterback who completes passes at a high percentage and doesn't make many mistakes with the ball, and they have a receiver on the edge who can take it to the house.
"On top of that have a tight end like (Conner) Haggerty."
It all adds up to what should be a pretty special night of football.
"You have to be confident walking into a game like this," Yashinsky said of his team. "They are very excited to play this game because it's a fun spot to be in."