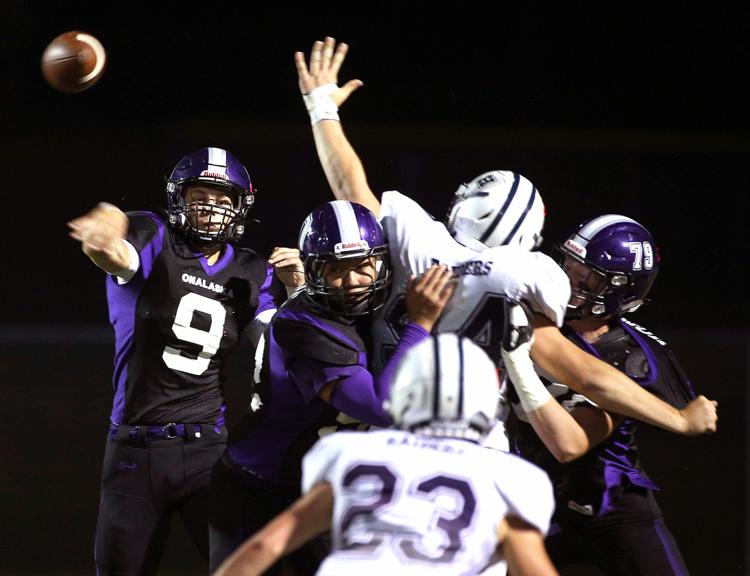 The Onalaska High School football team hasn't backed down a bit from the unique challenges thrown at it by coach Tom Yashinsky this season.
Hudson and River Falls haven't been regulars on the Hilltoppers' schedule, and the Big Rivers Conference schools were lined up as opponents for a reason.
Yashinsky was eager to see how a team filled with potential would react to playing one school (Hudson) with an enrollment twice as large as his and another (River Falls) that won nine games and the Big Rivers outright last season.
"What impresses us as a (coaching) staff the most so far is that the kids are comfortable being uncomfortable," Yashinsky said while reflecting on the team's 21-14 win over Hudson and 28-21 victory over River Falls. "They have gone up against some very big teams, and there was never a sense of panic, and no one was star-struck."
Hudson defensive end Cade McDonald will play at Wisconsin next season, and River Falls tight end Joe Stoffel is headed to North Dakota State, but the Hilltoppers found ways to get the job done.
Up next is a Friday battle at Lake Mills (1-1), which — even as a smaller school — will push the Hilltoppers just as hard as the first two weeks.
The L-Cats won 25 games from 2016-2018 and have opened this season with a loss to Menomonie and a win over New Glarus/Monticello. Lake Mills led the Mustangs in the first half before giving up the last 27 points and falling 34-10, then walloped the Knights 55-21.
"It's a team that will make a run in the playoffs," Yashinsky said of Lake Mills. "They are a spread team and go with a running back about 20 percent of the time. I've never seen them with less than four receivers, and they will go five quite a bit."
Quarterback Adam Moen has completed 38 of 67 passes for 456 yards, six touchdowns and four interceptions so far, and 14 of those passes have gone to Hunter Buechel for 213 yards and three scores.
Onalaska's secondary will be on high alert with ball-hawking cornerback Nick Pica and safety Jess Ondell leading the charge. Each had an interception in the win over Hudson.
If that secondary can keep the ball in front of it, the Hilltoppers will look to what has been some pretty good tackling to stop drives short. If it creates turnovers, the offense can put even more pressure on the L-Cats' defense.
Lake Mills will also have to play good defense if it wants to win this game. The Hilltoppers are explosive with quarterback Austin Larson (400 passing yards, six touchdowns, no interceptions) and receiver Landon Peterson (189 receiving yards, four TDs) and have made it through two games without having to rely heavily on running back Nathan Lubinsky (152 yards).
If the Hilltoppers choose to run the ball more, Lubinsky's chance to break off a big play — something we have seen several times over the last couple of seasons — only increase. That also creates opportunities for Ondell in the backfield.
The more people involved, the better for Onalaska.
"My hope is that our depth can make a difference," Yashinsky said. "Watching the game against Menomonie, it was Menomonie just wearing them down (in the second half).
Another strong performance will give the Hilltoppers all the momentum they could have ever expected while preparing for an MVC opener against visiting Logan on Sept. 13, but Yashinsky knows that has to be earned despite what has happened to this point.
"It doesn't matter that we beat Hudson or River Falls," Yashinsky said. "It matters what we do (Friday) night. Those wins may mean something at a seeding meeting later on, but they are finished.
"Lake Mills doesn't care who we beat and will be out there to play some darn good football."
Be the first to know
Get local news delivered to your inbox!