The return of Brendan Holt to the West Salem High School football team's lineup can make a big difference in the upcoming WIAA Division 4 playoff picture.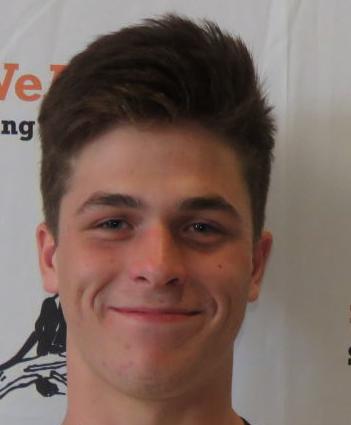 Coach Justin Jehn, whose team received a No. 3 seed when postseason brackets were announced on Saturday, knows his team has a much better chance to compete with his workhorse running back and difference-making linebacker on the field.
Holt was injured during the first quarter of Friday night's 41-12 MVC loss to Central, and Jehn anticipates having his valuable senior when the Panthers (6-3) host Baldwin-Woodville (5-4) in a first-round game this Friday.
"We think he'll end up being fine," Jehn said Saturday of Holt, who has rushed for 1,018 yards and scored 19 touchdowns this season. "There was no structural damage. It just swelled up right away."
Holt's presence would be welcomed by the Panthers (6-3), who lost their final two regular season games but have a defense — keyed by Holt, John Glassmaker, Ethan Olson and Joe Hess — that can make it a tough out in the postseason.
"That's the group that has to carry us," said Jehn, whose team drops down a division after playing in the Division 3 bracket last year. "These last two games we played (Onalaska and Central) were tough. I think we will now start to see some of the style of games we played early in the year, and I think it's a style that suits us."
The Panthers can also benefit from playing a lot of Division 2 and 3 competition on the way to finishing fourth as the second-smallest school in the eight-team MVC.
"We are about where we anticipated," Jehn said. "It's good to be back in Division 4, but we have a lot of tough teams in our region.
"We have four from the Middle Border Conference and a Northwestern team that is undefeated.
If West Salem can beat Baldwin-Woodville, it will play either second-seeded Northwestern (9-0) or seventh-seeded Ellsworth (3-6) in the second round.
TOUGH GROUP: MVC champion Holmen (6-3) and runner-up Central (7-2) weren't treated well in their part of the Division 2 bracket, and both open on the road. The Vikings play at DeForest (7-2) and the Red Raiders at Oregon (7-2) on Friday.
Holmen's fate could have been different had it beaten Sparta in Week 8, but it will play the hand it's been dealt in a group that includes 24-time playoff qualifier and defending Division 2 state champ Waunakee (9-0) and Monona Grove (9-0) which has won at least one playoff game the last nine years.
CLEAREST PATH: It's hard to not go with Bangor (8-1), the area's only No. 1 seed.
If the Cardinals play to their ability, they are headed to the semifinal round on Nov. 9 with Highland and its 5-4 record seeded second in the group of eight.
The semifinals are where they have run into Edgar the last two years, but the Wildcats are sitting on the other side of the bracket this time.
Black Hawk (8-0), however, could be there. Bangor beat Black Hawk in last year's Division 7 championship game.
HAPPIEST ABOUT HOME GAME: Let's go with De Soto (6-3) in Division 7. The Pirates spent a couple of years as nomads before repairs to The Pit were completed prior to Week 7 of this season.
Fourth-seeded De Soto will host a playoff game at The Pit for the first time since 2013 when Eleva-Strum (5-3) heads to town on Friday.
LONGEST ROAD TRIP: For Coulee Region teams, that honor goes to Sparta, which has a 238-mile drive — roughly 4 hours each way — ahead of it to play second-seeded Ashland (8-1).
The Spartans are also trying to win their first postseason game after falling in the first round during each of their first six playoff appearances.
---