MINNEAPOLIS — It took one play for the cautious optimism on the Pipestone High School football team's sideline to disappear on Friday afternoon.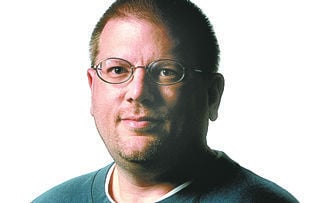 Coach Clay Anderson understood the challenge that awaited his offense, which was being led by sophomore quarterback Jonathan Tinklenberg instead of junior and 2,000-yard passer Cody Thompson.
The Warriors rolled over a Pipestone team that was more prepared for a Class AA state championship game two years ago, and Thompson being diagnosed with mononucleosis five days before a rematch for the Class AA title at U.S. Bank Stadium made things even tougher on the Arrows.
Tinklenberg was dropped for a 6-yard loss by Nick McCabe on the first snap, and it set the tone for Caledonia's 57-6 thrashing of Pipestone that extended its winning streak to 41 games and gave it three championships in a row.
"What a time for a kid to have to take over," Anderson said. "It's a state championship game, and you're a sophomore."
The Arrows (12-2) were helpless against Caledonia's swarming defense that allowed positive yards 12 times on 38 snaps and intercepted two passes.
Pipestone ran 38 plays and lost 11 yards … in a championship game.
It had no first downs. None.
Tinklenberg had no time to see anything when he dropped back, and running backs were lucky to get a yard or two without contact after getting the ball.
Owen King was a sophomore when he passed for 207 yards and four touchdowns as Caledonia beat Pipestone 40-0 in the 2015 championship game, but he'd also started every game that season.
And he didn't have to play against Caledonia's defense.
Tinklenberg had to deal with constant pressure from Spencer Stemper, Brent Robley, Mason Staggemeyer, McCabe and a host of others.
"We did a good job all-around on defense," said Stemper, who was credited with 7½ tackles and 2½ behind the line of scrimmage. "It wasn't just tackles or ends or middle linebackers.
"It was everyone. We did a really good job today."
The Arrows, whose only touchdown came on a throw back across the field on a kickoff return in the first quarter, got nothing going at any point as the Warriors reached the end zone time and time again.
Pipestone's biggest play went for 5 yards. Tyl Woelber did break free for a first-down run in the second quarter, but an illegal block put the Arrows in a third-and-22 hole. Stemper followed that play by dragging Woelber down for a 3-yard loss.
Tinklenberg was burned on a hurried short pass early in the game and a longer one near the end of the second quarter.
Caledonia senior Marten Morem picked off the first one — an underthrown pass — at the Pipestone 20-yard line and returned it to the end zone for the first points of the game.
Morem also intercepted the second one, which followed a 2-yard run by Jordan Baatz. That pass went nearly 30 yards, but Morem pulled it down at the Caledonia 45 and lateraled it to teammate Austin Heim for a 31-yard return.
Thirty-one seconds later, King was scoring on a 2-yard run that put the Warriors up 36-6.
It was just one example of Caledonia stealing away any bit of confidence the Arrows started to build.
Pipestone's biggest play — a 5-yard run by Woelber in the second quarter — came on a third-and-15 play and still led to a punt. It was the second of three times the Arrows put together two consecutive positive plays.
Tinklenberg and Woelber combined on three completions that gained zero yards. The longest was a 3-yarder from Woelber to Braeden Rieck in the fourth quarter, and that was followed by a 3-yard loss when Stemper and Robley stopped Garrett Ploeger as soon as he took the next handoff.
The Arrows also lost 3 yards on their final two plays when Noah Snell stopped Ploeger for a 2-yard loss, and Tinklenberg had to fall on a bad exchange to end the game.
It was a dominant performance even for Caledonia.
As coach Carl Fruechte said after the game, each of his eight championship teams mean something different to him. There are always different things to remember.
But the defensive performance the Warriors delivered at U.S. Bank Stadium on Friday will be remembered for a long, long time.