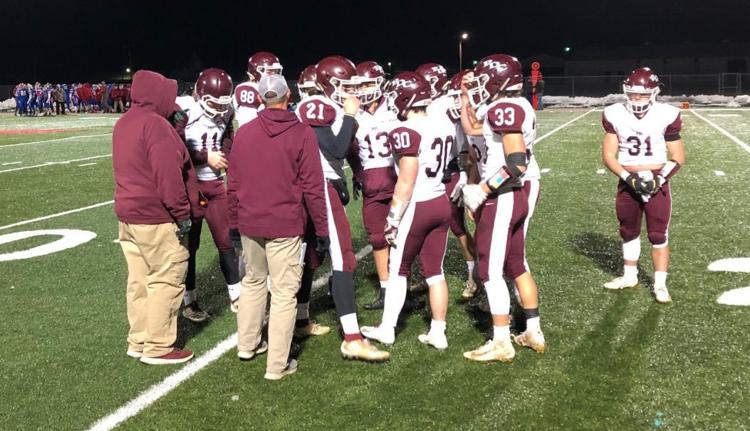 GALESVILLE — In a battle of young men exhibiting brute force, the Prairie du Chien High School football team held the physical edge on a crisp 28-degree playoff night.
In a game where all 11 players needed to play assignment football, the Blackhawks passed the test from start to finish.
Defense, folks, won this one.
PdC, in a masterful defensive performance, stunned high-flying Gale-Ettrick-Trempealeau 10-0 Friday night in a WIAA Division 5 quarterfinal. The victory sends PdC (11-1) to next week's semifinals, where it will face Lake Country Lutheran.
It is the first trip to the semifinals for coach Corey Koenig's program since 1988. G-E-T (10-2) matched the 2016 team for its deepest playoff run, but wanted more.
"The thing with G-E-T, you know what you are going to get, I mean they love to go double tight (end), double wing, just pound, pound, pound," said Koenig, whose team held G-E-T to 202 total yards and 10 first downs.
"And they are known for it. Their reputation speaks well for itself, so we knew what we were going to get, and we knew we were going to have to play extremely tough, disciplined football. We did a great job stringing some things out on the end, not letting them get their cutbacks."
PdC didn't allow much of anything. In fact, the Blackhawks kept G-E-T out of the red zone until the fourth quarter, and never let the Red Hawks inside the 12.
That's saying something, as G-E-T averaged 45.6 points during the regular season and had scored 86 points in two playoff wins.
The Blackhawks were able to outmuscle G-E-T in the trenches, and held the super duo of Luke Vance and Bryce Burns in check. Vance, who rushed for a combined 530 yards and seven TDs in the first two playoff games, finished with 44 yards and had a long run of 9.
Burns, a powerful and speedy runner who had 1,382 yards and 20 TDs entering the game, was held to 72 yards on 15 carries.
"Everyone just did their job and read their keys. We just all worked as one. It was amazing," said PdC quarterback/defensive back Dylan Coleman.
"All week in practice we were just locked in and just felt really good about it all week, and just leading into this game we had the right mindset. We had the drive from last year because we knew what happened last year here, and we got it done."
You have free articles remaining.
Register for more free articles.
Stay logged in to skip the surveys.
Both teams moved the ball in a ground and pound first quarter, as G-E-T used 13 plays to move 46 yards before the Blackhawks' defense stiffened. PdC then answered with the game's only touchdown drive, as it mixed runs by Traeton Saint (17 carries, 121 yards), Tyler Hannah and tight spiral passes by Coleman to march 56 yards in nine plays.
Hannah capped the drive with a 4-yard burst up the middle, putting PdC out front 7-0 and quieting the G-E-T crowd.
"Our line was getting a big push, and we were forcing the ball down the field. We were doing great on offense," said Saint, a 5-foot-9, 170-pound senior who never went down on first contact.
"If we can keep doing that, we should be unstoppable if our defense stays up like this."
G-E-T, which racked up more than 400 yards of offense in playoff wins over Marshall and Aquinas, simply couldn't get untracked on the ground or through the air. Sawyer Schmidt was 2-for-6 for 33 yards in the first half and 4 of 11 for 61 and an interception in the game.
"I am just frustrated. You can't fault the kids. They played hard. Prairie du Chien played very well. We just struggled to find answers and my hat is off to them," G-E-T coach Jon Steffenhagen said.
"They were just very physical with us tonight, and we haven't had that. We were not physical back. I guess that is a disappointment for us. They were just better than us tonight."
PdC strung together a 13-play drive that chewed up 6 minutes, 26 seconds of the second quarter, capping it with a 26-yard field goal by Derek Grondin.
A 10-0 halftime lead had the Blackhawks fired up, and G-E-T looking for answers.
"That just set the tone for the game," Coleman said. "We just wanted it. It was cold, and it was rough (in practice all week), but we were just locked in. We had great practices all week. We work as one and just one unit."
G-E-T made it interesting in the fourth quarter, taking the ball on its own 8-yard line and using 15 plays to move it to the PdC 12, but Schmidt's fourth-down pass fell incomplete with 2:03 left.
PdC, which finished with 262 yards and 15 first downs, then just ran out the clock.
"Dylan (Coleman) was a warrior tonight. He played extremely hard and our backs ran the ball hard. I thought our line controlled the line of scrimmage more often than not, which is good," Koenig said.
"When we are getting a push we have a pretty good run game. Kudos to our offense, they played well and we had a big field goal in there. That could have been huge there at the end as G-E-T is driving down the field."