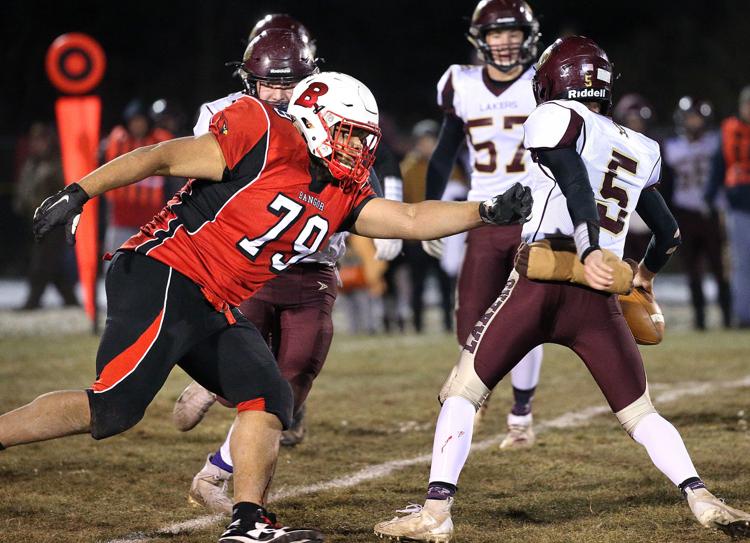 BANGOR — Michael Reed's excitement was unmistakable as he outlined his two favorite plays. His normally methodical sentences picked up the pace, and hand motions accompanied his descriptions.
Forty-three Tackle Trap and Trojan Left.
The plays have their differences — the former is run between the tackles, and the latter is designed to get to the outside — but the responsibilities are similar for the Bangor High School football lineman: pull.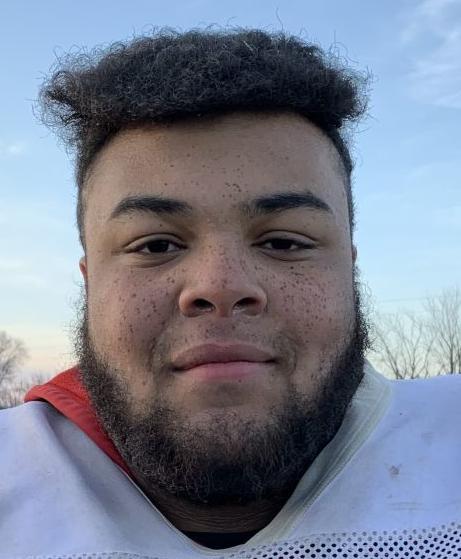 "I love (pulling) because I just like running. I really love running in football," the 6-foot-6, 305-pound senior said. "I just love running, going through there, just pancaking people."
Reed is like a homing missile when he pulls, constantly seeking the next defender to destroy. That isn't always the final result, though he can't take all the blame for it.
"The thing of it is, when he gets out there, I see a lot of guys running away from him," Bangor coach Rick Muellenberg said.
Carter Horstman has seen that, too, but he's also witnessed Reed connect with his targets time and time again.
"When he gets out there and starts moving, 'Oh my God, look out,'" the senior running back/linebacker said. "... If they don't get out of the way, they've got a rude awakening coming for them."
The Cardinals' opponents have felt the brunt of Reed and the offensive line this season as Bangor has piled up more than 4,300 yards on the ground, nearly half of which have come from Horstman. But Bangor (12-0) is sure to be tested when it meets Edgar (11-1) in the WIAA Division 7 state semifinals on Friday at Carson Park in Eau Claire.
The Wildcats average nearly 40 points per game while their defense has allowed just 38 points all season.
Still, Reed and the Cardinals are confident as they look to return to Camp Randall for the second time in three years after falling to Black Hawk in the semifinals last year.
"They execute perfectly," Reed said of Edgar. "They're fast, they're physical, and it's going to be a tough challenge for us."
You have free articles remaining.
And Reed has shown he can thrive in the face of a challenge.
Reed's football career began in earnest in seventh grade, and Muellenberg kept his eye on the young player. Despite being one of the youngest in his grade, Reed has always been the biggest of his peers. And, as the adage goes, you can't teach size.
"As he kind of came up through the ranks, it was one of those things where you could see the potential was there," Muellenberg said.
Reed was aware of that potential as well and wanted nothing more than to meet it. He put in the time in the weight room and on the field. He improved his blocking, his tackling, his speed. By his sophomore year, he started to play on the defensive line.
There was no questioning Reed's size or strength, but Muellenberg still saw an area in which he could improve: his confidence. There were times Reed felt it, too. When Muellenberg told him after his sophomore year that he would be starting on the offensive line as a junior, Reed said he was nervous, though he knew he had the ability.
Muellenberg hoped a confidence boost would unleash the powerful blocker he saw on film.
"I don't think he quite understood how physically dominant he can be until we showed him on film," Muellenberg said. "That kind of lit a little bit more of a fire under him."
About midway through last season, it all clicked, and Reed began to take over games on the offensive line. Now, there is seemingly nothing Reed can't do.
Reed's raw strength might be his greatest asset — he can bench more than 300 pounds and squat more than 600 — but he also displays incredible agility for a player of his size.
"He's up there with some of our running backs as far as speed," Muellenberg said. "He has tremendous feet and quickness."
As a former wrestler and current basketball player, Reed's athletic ability is no surprise. Against Necedah earlier this season, he accidentally took a handoff as he pulled and the snap was bobbled; he picked up about 8 yards on the play.
"It was like it was meant to be," Muellenberg said. "He knew what to do with it."
Reed hasn't played on the defensive line as much over the past two years — though he has rotated in often in the second half of this season — to keep him fresh for offense. But when he is in on the D-line, he is a commanding presence and takes on double teams regularly, which frees up Bangor's linebackers to make plays.
The Cardinals will certainly need Reed on Friday night. And Reed, confident as ever, is willing to play whatever role is needed, though he admits he has a soft spot for offense.
"It has my two favorite plays," he said.