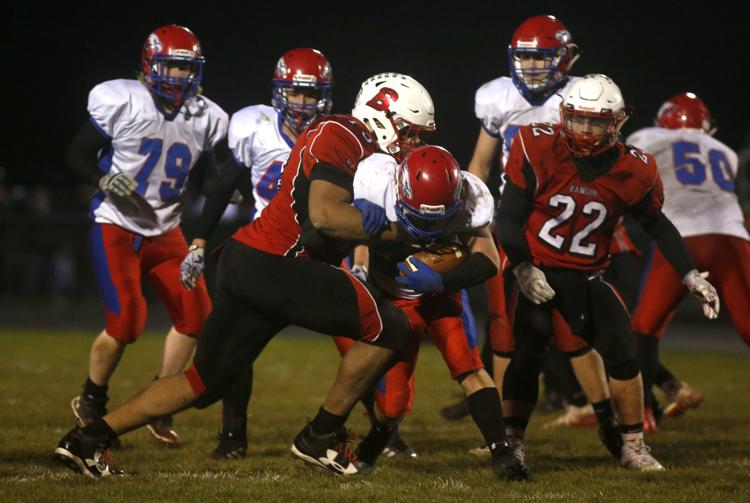 BANGOR — Players took footballs that were pitched their way and showed the ability to run effectively on their snow-filled practice field.
They also tried to find open spaces while running receiving routes.
"They ran that against Hurley," Bangor High School football coach Rick Muellenberg announced to his defense after one play.
"That one was against Pepin/Alma in Week 2," he said after another.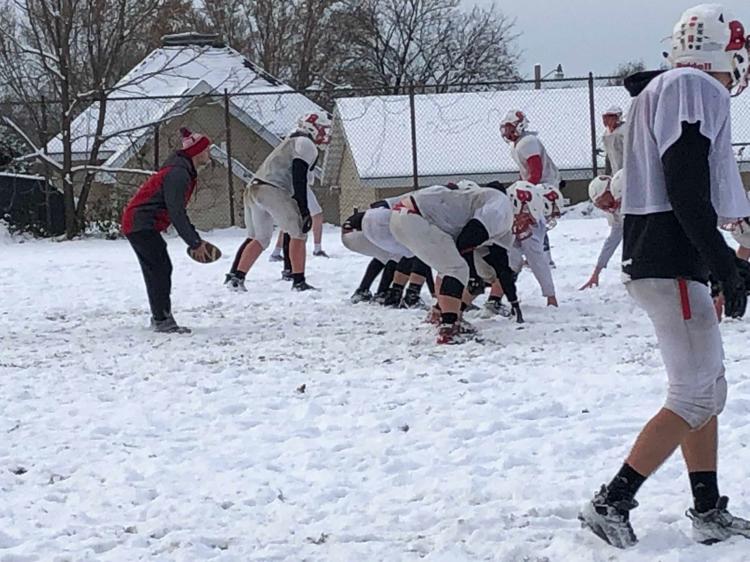 The Cardinals seemed to have fun in the snow on Wednesday as they prepared for Friday's WIAA Division 7 state quarterfinal against visiting Turtle Lake. The mood was as light as it was focused on the task at hand, which has become the norm in Bangor.
November football has become a regular part of the Cardinals' schedule. Bangor has played at least one game this month six straight years, and it is trying to advance to the semifinal round for the fifth year in a row.
But the Cardinals (11-0) also got to change things up a bit this week with the overnight snowfall and the opportunity to play a team that presents different kind of challenge.
The Lakers (8-3) bring a balanced offense to Bangor on Friday and have demonstrated the ability to win by passing the ball as much as it runs.
"We don't see a lot of passing teams, and they can throw the ball," Muellenberg said of the Lakers, who average 155 passing yards and 185 rushing yards per game. "Necedah and New Lisbon like to throw it, but those games were weeks ago.
"But the defense has been playing well, and we just have to make sure we're in the right position. We've been doing a better job of that lately."
The Cardinals haven't given up a point since Sept. 20 and have shut out six straight opponents since beating New Lisbon 55-12 that night. They have allowed 24 points all season while preparing for a team averaging 29.8 points per game.
"I think it will bring a new energy to our defense," senior defensive lineman Grant Manke said of Turtle Lake's approach.
You have free articles remaining.
Register for more free articles.
Stay logged in to skip the surveys.
Manke has faith in Bangor's secondary and knows that it will be up to he and his teammates up front to try and force some bad or quick throws. The Cardinals have showed they can capitalize on such plays with 11 interceptions.
Turtle Lake, which beat Blair-Taylor 44-6 in last week's second round and placed fourth in the Lakeland Conference, has a true dual threat in 6-foot senior quarterback Adam Waite.
Waite has completed 59 percent of his passes for 1,663 yards and 12 touchdowns, but he has also been picked off eight times. Waite has also rushed for 528 yards (3.5 per attempt) and 10 touchdowns. He passed for 142 yards and a touchdown and rushed for two short scores against the Wildcats last week.
Senior Lucas Torgerson is the Lakers' leading rusher with 763 yards, but he has only topped 100 once. He also leads the team with 39 catches for 571 yards and has 14 total touchdowns (11 rushing, two receiving, one kickoff return).
Bangor expects a physical game in the trenches as it tries to unleash an offense that averages 413 total yards and 48.5 points per game. The Cardinals scored a season-low 28 points against Pepin/Alma last week, but the Eagles extended enough drives to allow them just six possessions.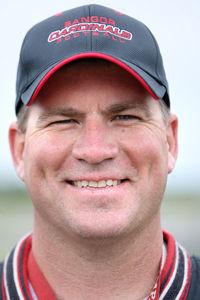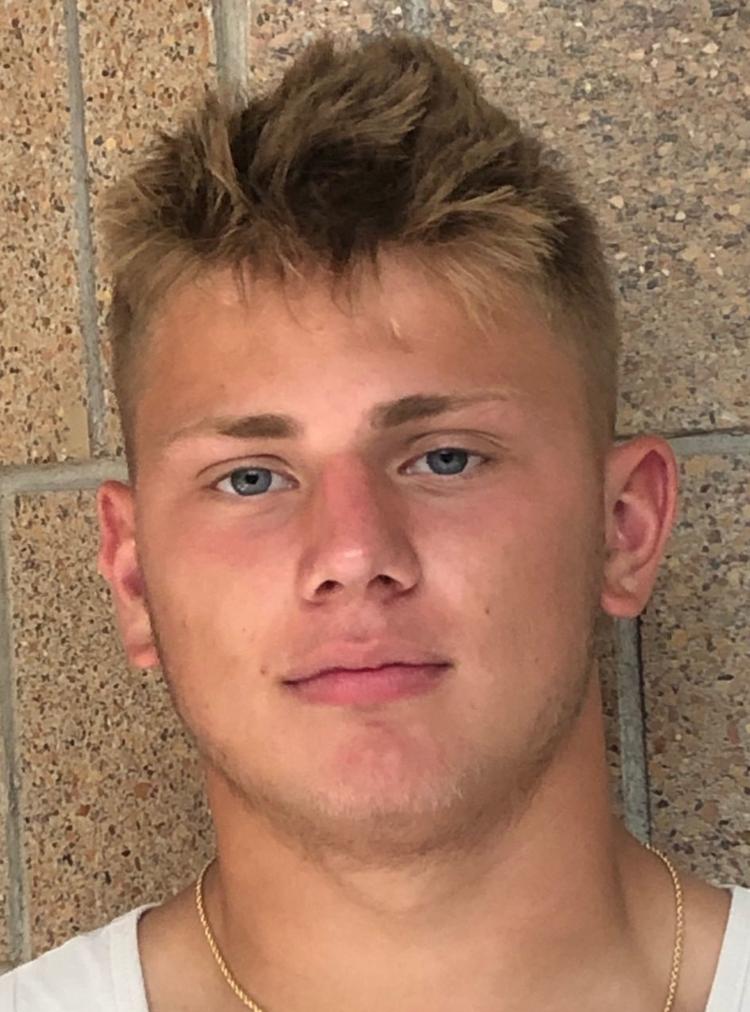 "They will bring nine on every play," Muellenberg said. "I've seen them with a six-man front and bring three linebackers," Muellenberg said. "So they will try to overwhelm us at the line of scrimmage, like teams have tried before, and I'm hoping we can fight them off with our offensive line."
Size will favor Bangor, which has both Manke (6-5, 245 pounds) and Michael Reed (6-6, 305) on its right side. The Cardinals average 9 yards per rushing attempt, so Turtle Lake should expect difficulty against both Carter Horstman (1,894 rushing yards, 29 rushing TDs) and sophomore Mathieu Oesterle (933 yards, 12 TDs).
"Especially with the snow we have right now, this is what we're built for," Manke said. "We're here for big games like this. We are both big and physical, and it's going to be a big game in the trenches."
It doesn't take much of an opening for Horstman or Oesterle to take advantage, so the Lakers will always have to be aware of giving up the big play. Horstman is averaging 230.3 yards with 11 touchdowns over the past four games.
"I think our (offensive line) will handle it," Horstman said. "There are definitely some spots we can take advantage of. We just have to do what we do and follow our big guys."