BANGOR — There's a point in every game when sophomore running back Mahieu Oesterle can tell the Bangor High School football team's offense is starting to wear down its opponent, and the Cardinals know what to do from there.
"Once guys start arguing with each other, amongst teammates, then you start going right at them," he said. "Grind them right into the dirt."
After picking off Pepin/Alma quarterback Jordan Pearson twice to start the second half of Friday night's game, Bangor did just that.
The first-seeded Cardinals capitalized on both interceptions and turned them into points against a defense worn down by a powerful offensive line — a 44-yard touchdown run by senior Carter Horstman and a 43-yard touchdown by Oesterle in which he ran through multiple arm tackles — to seal a 28-0 win in a Division 7 second-round playoff game.
"The holes started getting bigger, and lanes started getting more clear," said Oesterle, whose team hosts third-seeded Turtle Lake (8-3) in a quarterfinal on Friday.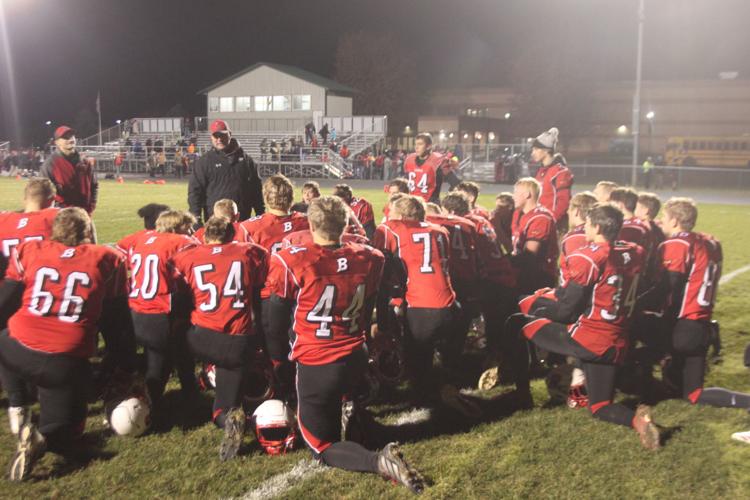 Horstman rushed for 223 yards and two touchdowns on 25 carries, and Oesterle added 93 yards and a score on 11 carries. Bangor (11-0) finished with 358 yards on the ground, 204 of which came in the second half.
"Took a little bit to get us started, but eventually we just started getting more and more momentum," senior lineman Michael Reed said. "I felt like we were just putting the hammer on them, finishing them off."
Defensively, the Cardinals shut out their sixth straight opponent and have eight shutouts on the season. Bangor has allowed just 24 points all season and hasn't given up more than 12 in a game.
"I was really proud of our defensive effort," coach Rick Muellenberg said. "We played defense for a long time. They did a really good job with that. They mixed some things up that we hadn't seen, kept us off balance a little bit. So hats off to them. But our defense, when they needed it, they came up with the big play."
Muellenberg could point to a number of those plays in a game where possessions, of which each team had six, were at a premium. Bangor's defense made a stop inside its 35-yard line on Pepin/Alma's first possession, got those two interceptions to start the third quarter and held strong on a fourth-and-goal from the 3.
"Our goal was to try to eat clock," said Pepin/Alma coach Mike Olson, whose team finished 6-5. "We had a couple nice, long drives. We just couldn't finish them. Hats off to Bangor. They got the stops on us, and they have an excellent team."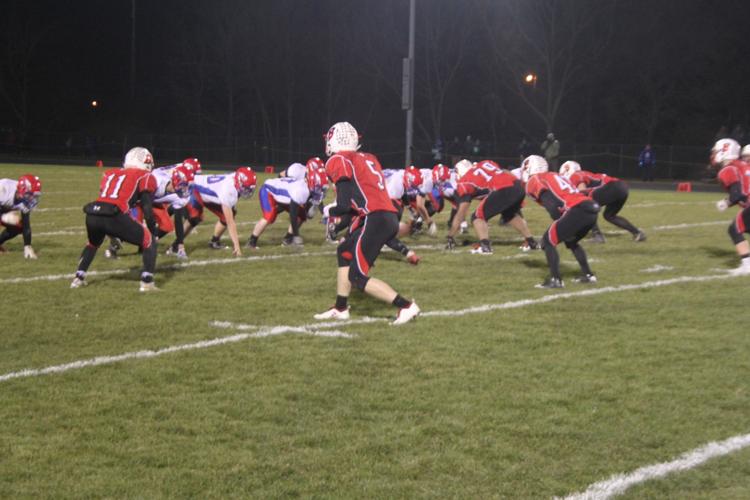 The Cardinals scored on the game's opening possession when Jayden Nachtigal capped off a seven-play, 52-yard drive with a 24-yard TD run. The teams traded long drives, in terms of both yards and time of possession, that came up empty before Bangor forced a Pepin/Alma punt to get the ball back with just over two minutes left in the half.
The Cardinals scored four plays later on an 11-yard run by Horstman, who wasn't disheartened by a slower-than-normal start for Bangor.
"We know when things don't go our way right away, we're not going to give up," he said. "We're built to get 4 yards a carry. When the going gets tough for everyone else, it's just right for us."
Muellenberg felt that touchdown, which put the Cardinals up 14-0 at half, was key for the offensive line.
"We kind of figured some things out at the end of the half with our outside run game," Muellenberg said. "We felt pretty good going into half that we had some things that we could do in the second half."
And it showed when Horstman and Oesterle rattled off their long runs.
Be the first to know
Get local news delivered to your inbox!