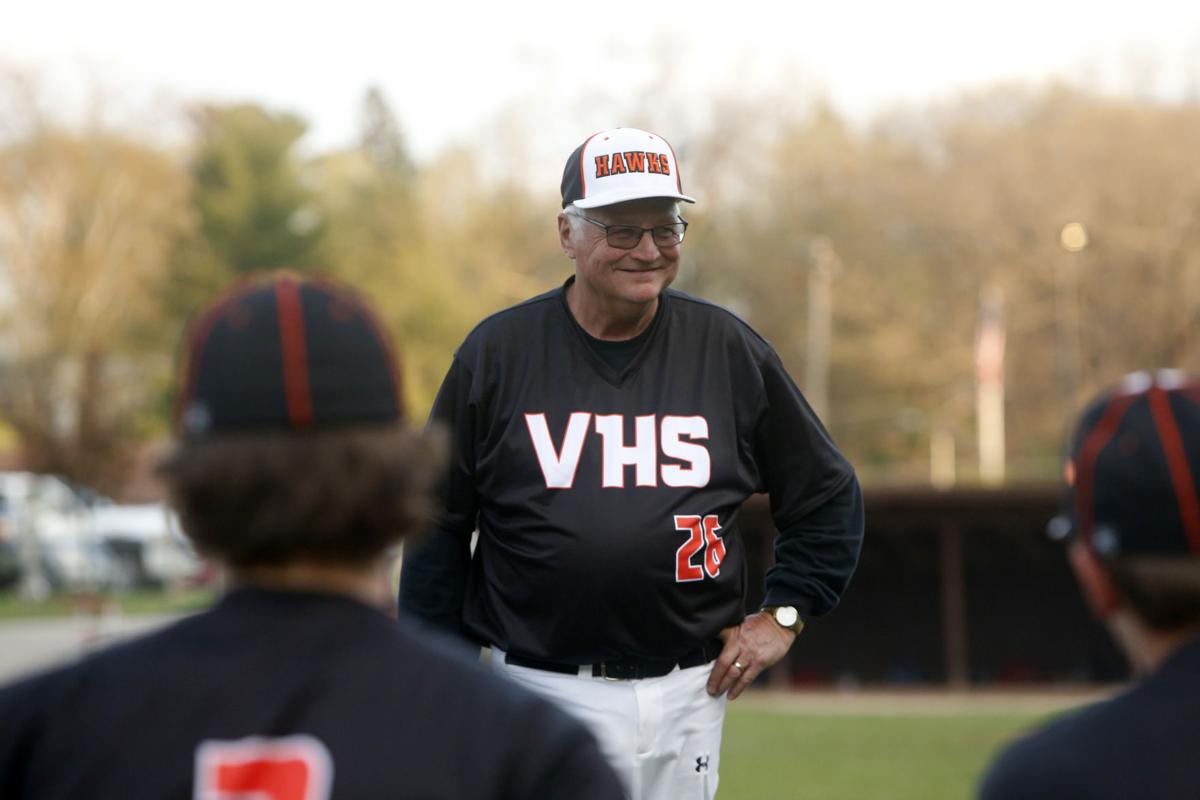 Bob Uecker, dubbed Mr. Baseball in Wisconsin for decades, has some stiff competition for that title when it comes to the Viroqua area.
In fact, Pete Swanson would likely win the popular vote over Uecker when it comes right down to it, as the 71-year-old has not only coached the Viroqua High School baseball team for 27 years, he started the powerhouse Viroqua American Legion program back in 1975.
To say Swanson lives for the heater, the 4-6-3 double play, the hit-and-run, would be an understatement.
As spring has turned into summer, however, the baseball diamond at Viroqua — known as the Park Bowl — has yet to hear a strike called, a home run hit.
The field, for the first time in decades, will not host a spring or summer game. The Class A state tournament scheduled here for later this summer? Canceled.
The coronavirus and subsequent pandemic has put baseball — and every other sport — on hold. For the record, you would have to go back to the spring/summer of 1937 to not find a high school or legion baseball game being played in this tradition-rich community.
"We have to keep everybody healthy and it will come back, the world we knew," Swanson said. "I think they (players) understand that. They are missing out, but you have to keep moving forward and keep going."
For Swanson and the high school team, which is virtually the same roster as the American Legion team most years, moving ahead is easier said than done. The high school team was coming off a 24-5 season, a year in which it won 18 consecutive games and advanced to the sectional semifinals before falling to Prairie du Chien 2-1 in extra innings.
Three seniors, all pitchers who would also play other positions, were back in the form of Dawson Swenson, Andy Bomkamp and Ryan Zemla. Of course, the 30-member team had plenty of additional talent and was ready for another strong run in 2020.
"We had a nice team and the kids worked so hard (in the offseason)," said the always-humble Swanson. "We had some pretty nice players and still have some nice players coming back (next year)."
The team got in one workout with pitchers and catchers before the Viroqua School District shut down its schools on March 16 because of COVID-19. Baseball, and other spring sports, were put on hold, then eventually canceled when the WIAA officially pulled the plug on the spring season on April 21.
"It was super hard to accept. We worked hard all winter," said Zemla, with baseball being the only sport he plays. "We were pretty solid, with a pretty hard-core group of guys. I didn't really think it would come to this, (but) it is more than what we can control.
"It is a bummer for us, but it's bigger than that. It is something we can't do anything about, so we just step back and do our best."
Watching the spring high school season erased by the coronavirus was difficult, but not having an American Legion season was the second of a one-two punch. It hit home hard, especially for Swanson, whose teams regularly played one of the most comprehensive and competitive schedules in the state.
Swanson, who played high school baseball at Seneca and was a longtime fast-pitch softball player, saying "We got ball in our blood," had built the Viroqua Legion team from nine players in 1975 to a roster of 30 split between two teams.
"We thought the kids needed something here," Swanson said of having summer baseball for high school-age kids. "I happened to get the Legion to start it, and we've never got around to quitting.
"The first years were tough. A lot of times we had nine kids. There were a lot of farm kids used to working and doing what they did. Then in 1978 and 1979, we had a group of kids that were really committed, and it has been that way ever since."
Committed and highly successful.
Viroqua has made 20 Class A state appearances, winning the state title three times with nine runner-up finishes and two third-place efforts. Overall, it owns the most state tournament wins (54) and is 54-36 in state tournament games.
It also earned a Division 2 national title, winning the Central Plains National Tournament in 2016.
"The WIAA stuff I pretty much saw coming, that was most likely going to happen," Zemla said. "Not with the Legion. It is weird waking up and not going down there, to the Park Bowl, every day. We would show up three or four hours early to games."
This summer, Zemla and Swanson both find themselves having more free time than in a long time. Zemla, who plays to major in business management at Winona State, contemplated playing baseball for the Warriors but has decided to focus on academics. For now, he's focusing on his other hobby, restoring and rebuilding cars of all types, and simply fixing anything with a motor.
Swanson retired from teaching in 2005 and ended a 28-year run as Viroqua's athletic director in 2009. He also spent 20 years in the National Guard (1971-91) in the 107th Maintenance Company, where he served in Saudi Arabia as part of Desert Storm.
So while he's worn plenty of hats, or caps, in his life, he's wearing a different one this summer.
"I have been doing some fishing, trout fishing. It is kind of fun," said Swanson, who serves as Commander of Legion Post 138 in Viroqua. "You have lived the life, somebody told me. All I can say is we are going to stay with it and hopefully next March everything will be better. I don't want to finish like this."
Be the first to know
Get local news delivered to your inbox!