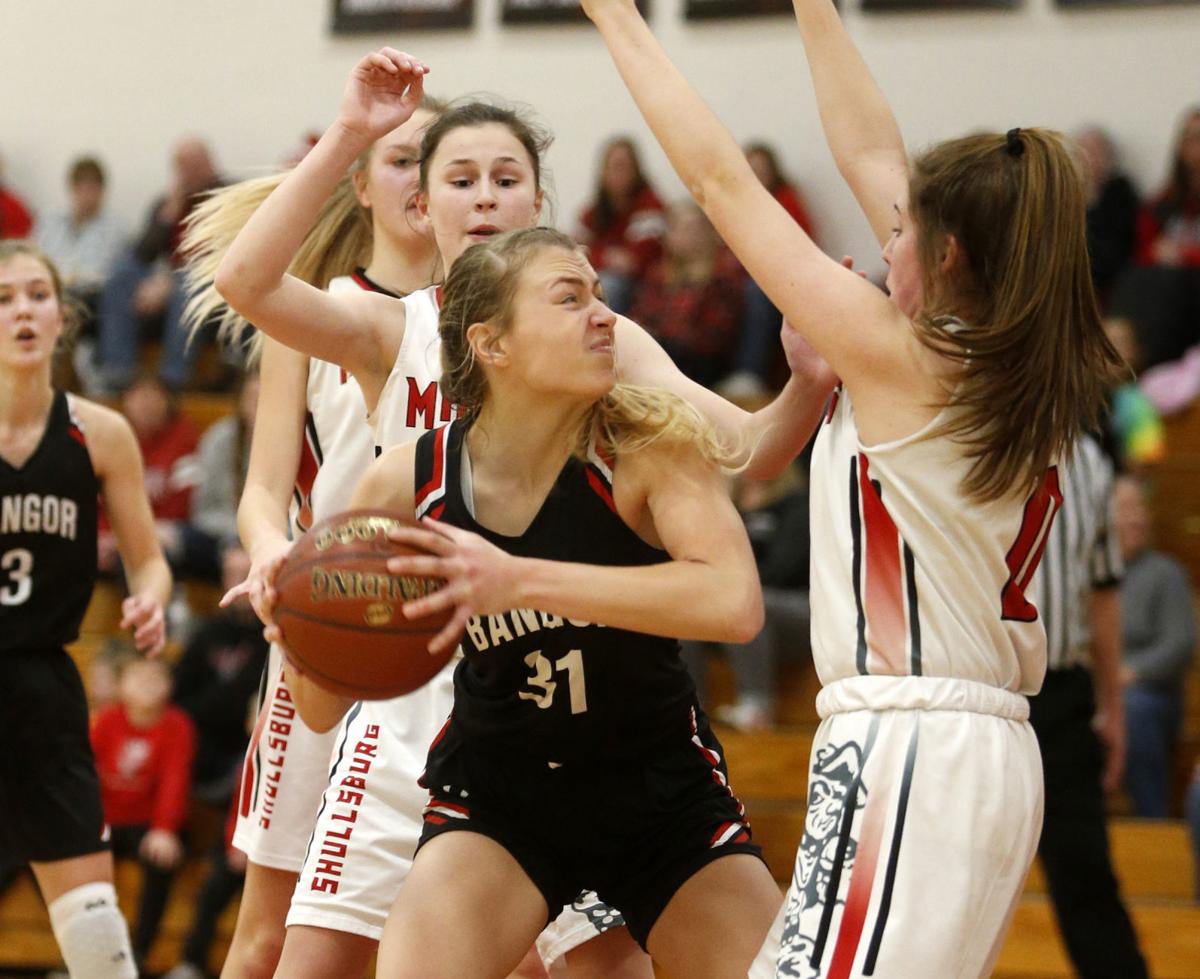 BANGOR — Karsen Kershner knows that even if her offense isn't there, she can always rely on her defense to impact a game.
Take Thursday for example.
The tall, lanky Bangor High School girls basketball senior had just as many blocks (five) as points as the Cardinals — ranked No. 3 in Division 5 by The Associated Press — suffocated Necedah, holding it to just five first-half points en route to a 39-19 victory.
"I know if I'm not going to get a lot of opportunities with my post moves … then I focus on my defense because I kind of just stick in the middle," Kershner said. "Then I'm ready for if someone gets beat off the dribble or gets screened, and I am there for help," Kershner said. "It just kind of gets us back into the set defense again and settles us down."
"Defensively, she's always been an impact for us as far as altering things inside, whether she blocks the shot or just alters the shots that they are having," said Bangor coach Merlin Jones, whose team was 16-1 overall and 9-0 in the Scenic Bluffs Conference entering Tuesday's game at New Lisbon.
It was the type of performance that says a lot about Kershner as a player. She didn't force anything and didn't panic despite facing constant double- and triple-teams. She often made the correct choice and found open teammates instead of trying to attack with two or three players on her.
"(Against Necedah), we really didn't need the offensive production from her because she played within the means of what we were doing," Jones said. "Early on, obviously, they had two to three girls come flying at her when she was on the low block.
"She accepted to step away onto the perimeter and the high post and become more of a passer. … We were able to get some isolation one-on-one with other girls because of it."
You have free articles remaining.
It's something that Kershner is more than comfortable doing because, as she puts it, she "can normally see over everyone" because of her height (nearly 6 feet tall), and she has teammates that she knows will get the job done if she passes it to them.
"What I love about this group is that I know, if I'm being double- and triple-teamed, that my other teammates will step up and shoot the 3s or take it in or dump it back down to me," Kershner said. "We just work really well. I think that's what it is. I think just as a team we know how to play with one another, since we have been playing with each other since we were little."
The Cardinals are a balanced team, and one that is still young — Kershner is the only senior — but experienced. Many players — such as sophomore Aliyah Langrehr, junior Megan Miedema and junior Haley Jones — played a role last season for a team that reached a WIAA regional final. It also seems like the Cardinals have something special in sophomore Taylor Jacobson and freshman Nora Tucker. Both look like they have the skill set to be significant contributors moving forward.
"Taylor has the drive and the determination," Kershner said. "We just have a good bond, and I know she's always ready for the kick out. She can shoot, drive it in and has good control with the ball and aggressive on defense. Just a good teammate and a good player. And Nora, we all knew she was going to make varsity as a freshman even before the coaches said anything. She's just a strong player and understands the game."
It's a unique group that reminds Jones a little bit of Bangor's 2017-18 state championship team.
"As a group, they get along very well," Jones said. "They realize that tonight might be their night, but another night it could be someone else's.
"A couple of our state teams we had this, but we were still based on a couple of set players, where this group it seems like there is more of a team unity to it. They understand that we will play with whatever the other team gives us because they can't take everybody away."