HOLMEN — It looked like the Holmen High School girls basketball team put together a game-changing run during the first half of its first game of the season on Thursday night.
Then Eau Claire Memorial showed the Vikings how to put together a definitive game-changing run on the way to a 65-50 nonconference victory.
Holmen (0-1) withstood eight first-half 3-pointers and used 10 straight points early in the second half to take a 46-44 lead with 12 minutes, 9 seconds left, but scored only four points the rest of the way as the Old Abes finished strong.
Junior Haley Valiska scored 12 points, and junior teammates Lexi Jeffers and Emily Porath added 11 apiece, but the Vikings couldn't build on the run down the stretch.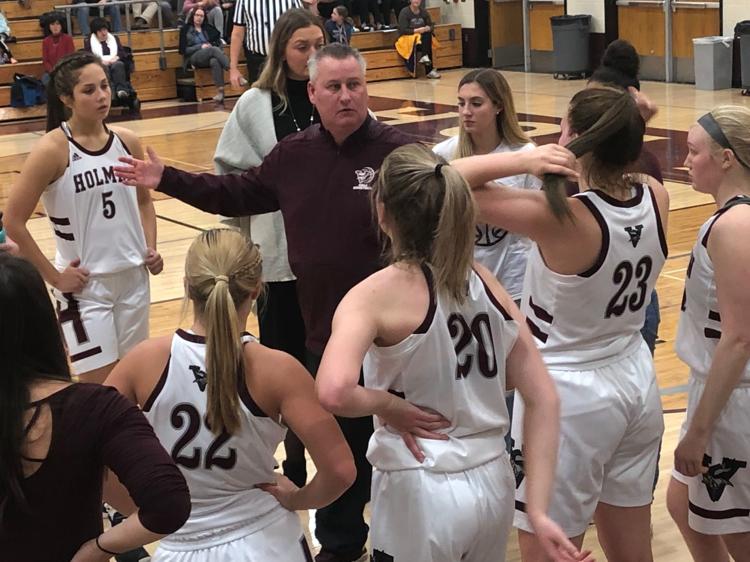 "We were down nine a bunch of times, then we came back and took that lead," Holmen coach Nate Johnson said. "I'm proud of the kids for coming back like that, but we gave up a lot of points, and they really had a shooter on their side."
You have free articles remaining.
That shooter was senior guard Sydney Brennan, who made six of the Old Abes' 10 3-pointers and scored a game-high 26 points.
Brennan beat the first-half buzzer with a 3 to give Memorial a 40-34 halftime lead and scored again early in the second half to push the advantage to 44-36 before Holmen put together its best stretch.
Four players scored during the 10-0 run, which was started by a Jeffers 3-pointer and ended with a Jeffers free throw.
In between, Ellie Kline converted a drive to the basket, Braidyn Ruetten turned a Kline pass into an easy basket, and Valiska finished in transition with a layup after Megan Mumaw-Flury stole the ball near midcourt.
The Jeffers free throw gave Holmen the 46-44 lead. Memorial scored the next five points before a Valiska jumper cut the Vikings' deficit to 49-48.
The Old Abes then scored 16 of the last 18 points to put an exclamation point on the victory.
Holmen failed to exploit a height advantage with starters Sydney Jahr (6-foot), Jeffers (6-1) and Ruetten (6-foot), and while it did make five 3-pointers, Johnson was looking for more of an inside presence.
"We need more interior touches," Johnson said. "We emphasized that a lot, but part of it was Memorial sagging on us a little. We have some kids who can shoot the 3, and that's nice, but we have to play more inside-out.
"I know we'll get better at that."