Aquinas High School girls basketball coach Dave Donarski was on his way to Belleville, Wis., with a few of his assistant coaches on Thursday evening.
The purpose of the trip was to get a feel for how good Belleville (12-7) and Cambridge (15-3) — two potential foes in the Blugolds' WIAA Division 4 sectional — are just a couple of weeks from tournament time.
But conversation on the way there — and probably on the way back — likely included a lot of Onalaska, the team's MVC opponent Friday night at the 1,200-seat Reinhart Athletic Complex.
The Blugolds (15-0, 8-0) are ranked first in Division 4 and the Hilltoppers (14-2, 7-1) fifth in Division 2. They've been battling at the top of the conference the last six seasons, and this game definitely has championship implications with four MVC games left to play.
"It's exciting," Donarski said. "Coaches and players are pretty amped up, and I think the atmosphere is going to be great again."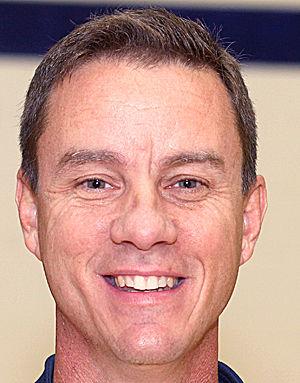 Onalaska has won six straight games since a 56-42 loss to the Blugolds on Dec. 18. It started with a win over G-E-T (15-2, ranked 10th in Division 3), and continued with five wins by an average of 28.2 points.
The Hilltoppers were impressive — both offensively and defensively — in a 64-34 win over Holmen in their last game.
"We played a little fast, a little rushed the first time (against Aquinas)," Onalaska coach Shane Schmeling said after his team beat the Vikings. "I think we're ready to play with them this time.
"If we play defense like we did (against Holmen), it will keep us going in case we have any offensive lulls."
Onalaska hasn't experienced many offensive lulls with senior Emma Gamoke (16.3 ppg) and sophomore sisters Lexi (11.4) and Kenzie (8.4) Miller around. Senior Jalyn Dobbins (7.1) has scored 39 points in the last two games.
"They are significantly more dangerous with the way she has been playing," Donarski said of Dobbins. "We're going to have to do a good job with her and get her off the block."
The Blugolds, who have won 37 straight regular-season games and 31 MVC games in a row, will also have to challenge Dobbins on the perimeter after making six 3-pointers in the last two games.
The Hilltoppers are trying to end a seven-game losing streak to Aquinas, which was state runner-up last season and has an 82-10 record since Donarski took over as coach.
BANGOR GIRLS EYE FOURTH TITLE: Bangor, ranked fifth in Division 5, took a big step toward winning a fourth straight Scenic Bluffs Conference championship Monday with a 53-34 win over second-place Brookwood.
The Cardinals (15-3, 10-0), who play at Royall on Friday, have won 30 conference games in a row and have a 50-2 SBC record since the current seniors joined the varsity as freshmen. Bangor's three losses this season are to G-E-T, Melrose-Mindoro (16-0, ranked second in Division 4) and Aquinas.
Senior Emma Wittmershaus, a UW-Milwaukee recruit, leads the team in scoring at 16.5 ppg. Senior Jaclynn Freit (13.1) has averaged 16.4 over the last five games.