When talking about the Melrose-Mindoro High School girls basketball team, the conversation typically revolves around its talented starting five.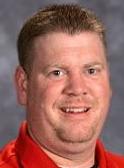 Talents like sophomores Emily Herzberg and Mesa Byom, one of whom has committed to a NCAA Division I program and the other has two Division I offers. Herzberg has committed to South Dakota State, while while Byom has offers from South Dakota State and Montana State. Then there is junior Katie Christopherson, who leads the Mustangs in scoring at 16 points per game. Factor in junior Erika Simmons and sophomore Calette Lockington, and the Mustangs have their own version of the 'Fab five' with all five starters averaging more than 10 points per contest.
They are big reason why the Mustangs are ranked No. 2 in Division 4 by the Associated Press after starting the season with 13 consecutive wins. Yet a little known freshman coming off the bench could prove to be the difference-maker come tournament time.
Teagan Frey averages a mere 4.5 points per game, but her contribution goes way beyond scoring.
"Teagan has been absolutely wonderful addition to our team," Melrose-Mindoro coach Joey Arneson said. "She does so many things so well for a freshman. It's remarkable. She's such a great kid, but she's so athletic that she fits in so well with the starting five. There's no drop-off when we put her in as our sixth person.
"We can stay with the same mentality offensively with her in there. We don't have to adjust anything. It has really helped us out as a team overall. She continues to get better every game. She's not concerned about scoring she just wants to be a team player. She gets about three to four steals a game and she just knows her role."
Frey gives the Mustangs a spark off the bench, something they didn't necessarily have last year and could have used in a 21-point loss to Aquinas in a sectional semifinal. So far this season, the Mustangs have rolled through their schedule. One of their signature wins came on Dec. 27, when Melrose-Mindoro posted a 70-35 win over Tomah in the West Salem Holiday Classic.
"I think we made a statement with that game," Arneson said. "It said that, 'Hey we are for real. We can play with the big dogs.'"
Arneson believes his players had a similar mindset heading into that game.
"I think it definitely played a factor in it," Arneson said. "We are always being compared to Aquinas and rightfully so, and this is a common opponent that Aquinas played and the girls said that they beat them by 15 points. That was the girls' goal, we wanted to beat Tomah by more than what Aquinas did."
The Mustangs will have another opportunity for a statement win when they play at Holmen on Jan. 29.
"This is a different team when we play in the big games," Arneson said. "The excitement level is there. We are certainly looking forward to Holmen. That's going to be our next test. We are really excited to be able to play a bigger school again. (We can) kind of see how we rank against the MVC schools."