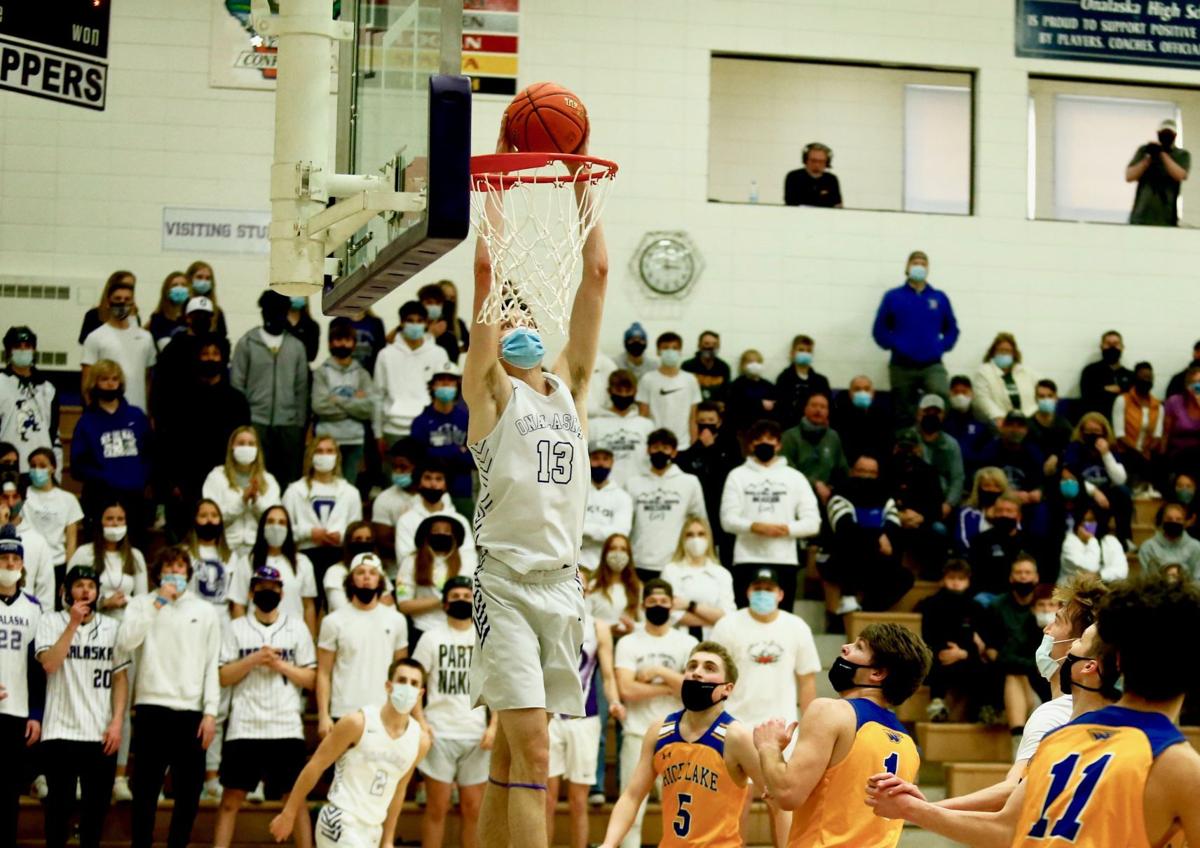 The Onalaska High School boys basketball team was one of the state's best in Division 2 all season and finished as the state runner-up after losing its only game of the season to Pewaukee in the WIAA championship game.
The three-headed monster of Gavin McGrath, Victor Desmond and Sam Kick played a huge role in that success, and all three were honored by The Associated Press as it released its All-State teams on Monday.
McGrath, a 6-foot-11 senior headed to play at North Dakota next season, earned high honorable mention, and Desmond and Kick earned honorable mention to the four teams the panel of sportswriters selects.
St. John's Northwestern Military Academies senior Brandin Podziemski was selected as the state's player of the years, and Racine St. Catherine's Nick Bennett was named as its coach of the year.
McGrath qualified for high honorable mention after getting votes — but not enough — for one of the four five-player teams. He averaged 12.9 points, 6.8 rebounds and 2.0 blocked shots per game while shooting 67% from the floor.
Desmond, a 6-7 forward, averaged 11.2 points, 5.8 rebounds and 2.2 assists. Kick chipped in with 8.8 points, 3.8 assists and 3.4 rebounds per game and was a leader for the 19-1 team as it allowed 41.7 points per game.
Bangor senior Hank Reader, Onalaska Luther junior Gavin Proudfoot and Blair-Taylor senior Matt Waldera also earned honorable mention.
Reader averaged 18.3 points and 5.5 rebounds for the Cardinals (19-3) and Waldera 17.8 points and 9.,8 rebounds for the Wildcats (23-2).
Proudfoot averaged 15.2 points and 8.5 rebounds for the Knights (19-2), who beat both Bangor and Blair-Taylor on the way to their first WIAA state appearance. Luther lost in the Division 4 semifinals.
PLAYER OF THE YEAR: Brandin Podziemski never had an off night. That was the beauty of the season for the St. John's Northwestern Academies senior.
The 6-foot-6 guard delivered at least 20 points each night and shot at least 50% in all but three games. His 974 points are the seventh-best single-season total in state history.
With the prolific season, he became the 44th boy in state history to score 2,000 points, accomplishing the feat without the benefit of playing at the varsity level as a freshman.
Racine St. Catherine's senior Tyrese Hunter and Brookfield Central senior David Joplin were also considered for the award.
The biggest accomplishment in his mind, however, was playing 27 games — he missed one — during a season played in a pandemic. Not everyone was so fortunate.
"It was a good season," he said. "It doesn't matter to me unless we win, so I'm kind of bummed that we didn't win, but looking at individual success as well as team success probably the brightest moments would be being able to play (so many) games."
Podziemski led St. John's to a 21-7 record that included a regional championship. The team reached the sectional final in Division 3 where it lost to eventual state runner-up Lake Country Lutheran.
He finished the season ranked second in the state in scoring with 35.1 points. He also averaged teams-highs in rebounding (10 rpg), assists (5.6 apg), steals (4 spg) and blocks 1.4 (bpg). He recorded a career-high 50 points on 18-for-36 shooting in a 90-86 quadruple overtime loss on Jan 30 to Pewaukee, which went on to win the Division 2 state title.
Podziemski shot 60.4% (353 of 584), including 43.4% (108 of 249) from three-point range. He also shot 81.6% (133 of 163) from the free throw line.
He reached his scoring average with 21.6 shots per game.
That efficiency is part of the reason he is considered a four-star recruit. He is weighing scholarship offers from Kentucky, Illinois, Miami, Vanderbilt and Wake Forest.
COACH OF THE YEAR: After a year of uncertainty and frustration brought on by the COVID-19 pandemic, Racine St. Catherine's realized its goal of winning the Division 3 championship on March 5. It was Nick Bennett, whose last name is synonymous with basketball excellence in Wisconsin, who held together this talented team through challenging times. And the man who replaced the legendary Bob Letsch at St. Catherine's in 2016 was rewarded by being named the Associated Press Coach of the Year in Wisconsin.
Bennett, who started for his father, Jack, on UW-Stevens Point's 2004 and '05 NCAA Division III national championship teams, usually prefers to stay out of the limelight. But he admitted that this honor is especially meaningful to him.
"Absolutely," he said. "I know how many great coaches have come through this state. I am truly humbled because I grew up in this state. This state is very near and dear to my heart. I made connections that are going to last me a lifetime. So when I look around at the coaches who got this award — and have not gotten this award — I go, 'Holy cow, I don't belong with these guys!' "
St. Catherine's piled up victories, but it was so much more difficult this season. Because of a City of Racine ordinance in response to the pandemic, the Angels were prohibited from playing or practicing at their John F. McGuire Gymnasium. Instead, they practiced within the cramped confines of the Lincoln Center just outside of the city and played all their games on the road.
Then, on Jan. 23, Hunter suffered an injury to his right ankle that was so severe that it was originally thought he would miss the rest of the season. He ended up sitting out six games and was clearly not the same player for the rest of the season.
Just after that, Bennett dealt with quarantine issues that reduced his numbers so much that he was forced to promote two freshmen for a couple of games just to have depth.
Others nominated for coach of the year included Oshkosh Lourdes' Dennis Ruedinger, whose team won the Division 4 title; Wauwatosa East's Tim Arndorfer, whose team won the Division 1 championship; Pewaukee's David Burkemper, a former University of Wisconsin player who led his team to the Division 2 crown; and DeForest's Craig Weisbrod, who led his team to the Division 1 state semifinals after the Norskies began their season in January.
The Milwaukee Journal Sentinel's Mark Stewart and Journal Times' Peter Jackel contributed to this story