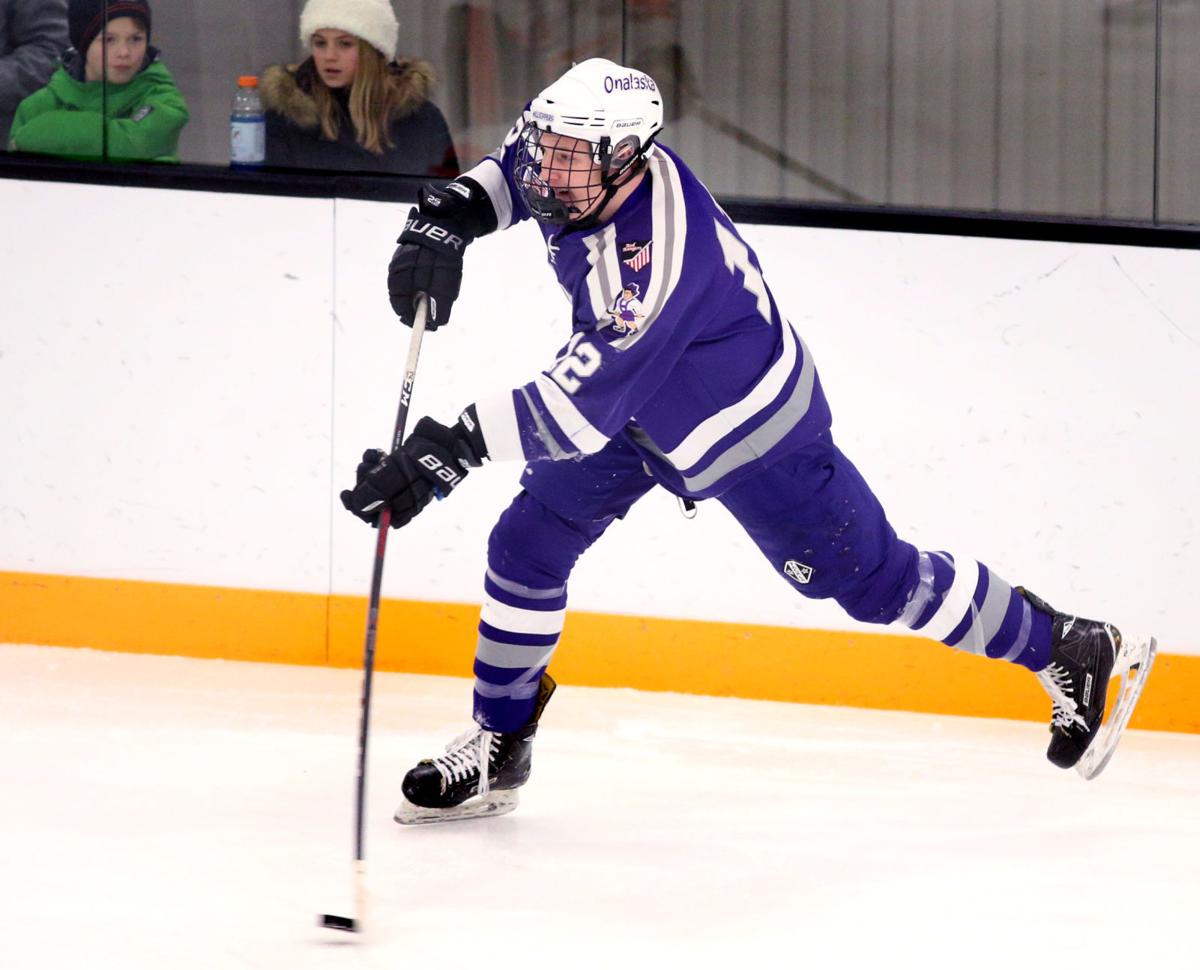 ONALASKA — Be in the right place at the right time, and good things are likely to happen. Carter Stobb knows this as well as anyone.
When paired with a keen eye for those spots and the ability to finish plays, it's clear how the senior forward has become a potent goal-scorer for the Onalaska boys hockey co-op.
"I mean, this one, he can shoot it," Hilltoppers coach Tim Franzini said. "... He knows where to go. (We try) to find some open space for him because if he's got a good look, it's going to get there."
Through 13 games, Stobb has a team-high 19 goals — eight more than fellow senior Tommy Duren, who is the only other Hilltopper with double-digit goals — to go along with 13 assists, matching senior CJ Lass with a team-high 32 points.
Stobb's numbers are impressive in their own right — especially when considering he has scored goals in 10 consecutive games after finding the back of the net late in the Hilltoppers' 5-1 win over West Salem/Bangor on Tuesday — but when compared to his production a season ago, the stats really pop.
In 24 regular-season games last year, Stobb had 14 goals and 16 assists.
"He was still a great player last year, but he's improved a ton," said Lass, who has led the Hilltoppers in points the past two seasons. "... You can tell he's been shooting pucks a lot. His shot is a lot more accurate and harder. He's been in the weight room."
The Hilltoppers losing production from graduated seniors certainly has played a role in Stobb's leap. But the difference, according to Stobb, was a strong offseason and a confidence boost.
You have free articles remaining.
Stobb saw plenty of time on the ice outside of practice with the Hilltoppers — including playing for the NAPHL's Janesville Jets 18U team and the NA3HL's Coulee Region Chill — and experiencing firsthand what it takes to play at the next level motivated him. In particular, he felt pushed to improve his speed and agility.
"I feel like I had a lot to prove this year," Stobb said. "... I've always kind of had the hands and the shot. I just needed to get the legs moving. That's my biggest thing."
Adding that to his game, Stobb figured, would serve as a nice complement to his 6-foot-2 frame, which already made him a threat in the middle of the Hilltoppers' offense. As Stobb began to make strides, confidence followed — a confidence that is clear when he weaves through defenses.
"I feel like that confidence really gave me that boost to get better," he said. "Once you start seeing the whole process, you start to realize you can really do it. It just motivates me to get better every day."
That's what Franzini, who came out of retirement to coach the Hilltoppers, loves about Stobb. Franzini has seen Stobb grow as a leader and can count on the senior to make his teammates better in a number of ways, as has been evident this season.
Stobb's rise as a goal-scorer has given the Hilltoppers someone they can turn to when others are struggling to finish, something Franzini said the team is currently experiencing. Moreover, Stobb's nose for goals forces teams to pay attention to him, which can open lanes for the rest of the veteran team that knows how to score.
Lass and Duren, who have been major contributors in each of their four years with the Hilltoppers, are just as potent as Stobb, and juniors Mason Manglitz (nine goals, 15 assists) and Jordan Degaetano (seven goals, 11 assists) are more than capable with the puck.
None of the Hilltoppers care who does a majority of the scoring — Stobb, Lass and Franzini all agree that they have an unselfish team — so long as they are winning.
The Hilltoppers, at 10-2-1, have certainly done plenty of that so far this season, and Stobb has been a big reason for it.