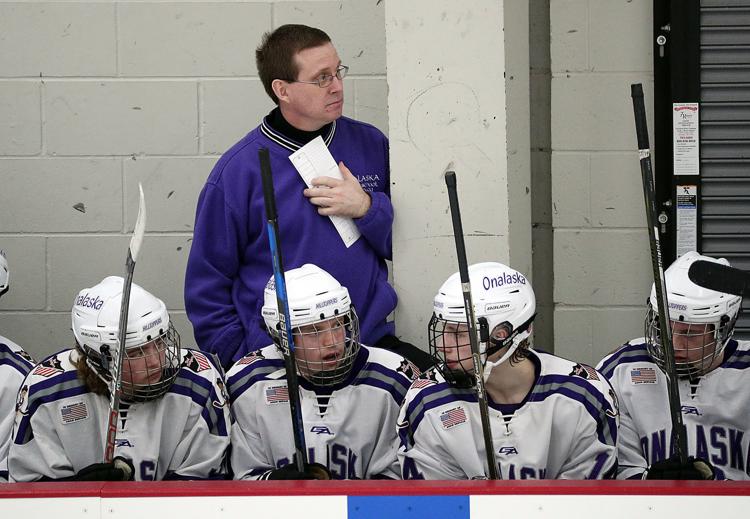 After coaching the Onalaska High School boys hockey team and its current state as a co-op with Central and Logan the past 15 seasons, Tim Ebner stepped down as the team's coach on Tuesday.
Ebner coached the Hilltoppers to 286 victories, four WIAA state tournaments and one state runner-up finish. Ebner said the time felt right for he and longtime assistants Dean Lounsbrough and Todd Wizner to let someone else — or another group — take over directing the program.
"We, as a staff, have been talking about this over the last few years," Ebner said. "We've been here quite a while, me for 22 years and the last 15 as head coach, and when you have done it that long, you think about it whether it's time for someone else to come in.
"I still enjoy it, but it came down to a matter of priorities."
Ebner's son, Tyler, plays hockey at Gustavus Adolphus (Minn.), and that's one reason for Ebner to step away from Onalaska. Tyler will be a sophomore next season.
"I want to be able to go and watch him, and I need some flexibility to do that," said Ebner, who coached Onalaska as its own program for 14 seasons before welcoming Central and Logan into it last year and qualifying for the state quarterfinals. "That was probably the main thing for me after he went through his freshman year last year, and I was only able to get to a third of his games."
But Ebner, Lounsbrough and Wizner have combined their skills as coaches to produce a consistent winner in Onalaska, which has won at least 18 games in six consecutive seasons and is 115-22-2 during that stretch.
Ebner isn't completely stepping away from coaching and won't rule out expanding his coaching resume in the future. But the timing for this break, he said, is right.
He continued his role as a coach for Team Wisconsin in the spring and has no plans to abandon a new coach or staff if it wants his input on anything that has taken place during his tenure.
"I've done a lot of things to make sure it is as smooth of a transition as it can be for the next coach," Ebner said. "Our summer program is in place, we have a schedule done and referees set up."
The Hilltoppers went 21-3 last season before bowing out in the state quarterfinals, and there is plenty of talent returning to the ice next winter.
Ebner said 41 players have expressed interest in competing next season, and many of them played big parts in the state berth in February.
Forwards CJ Lass (22 goals, 26 assists) and Tommy Duren (19 goals, 26 assists) both return for their senior seasons. Forwards Carter Stobb (14 goals, 16 assists) and Mason Manglitz (16 goals, 14 assists) also return.
"There is a good nucleus of forwards coming back and three of the five top defensemen coming back," Ebner said. "So you are sitting in a pretty good spot there, so next year should be another very good year."