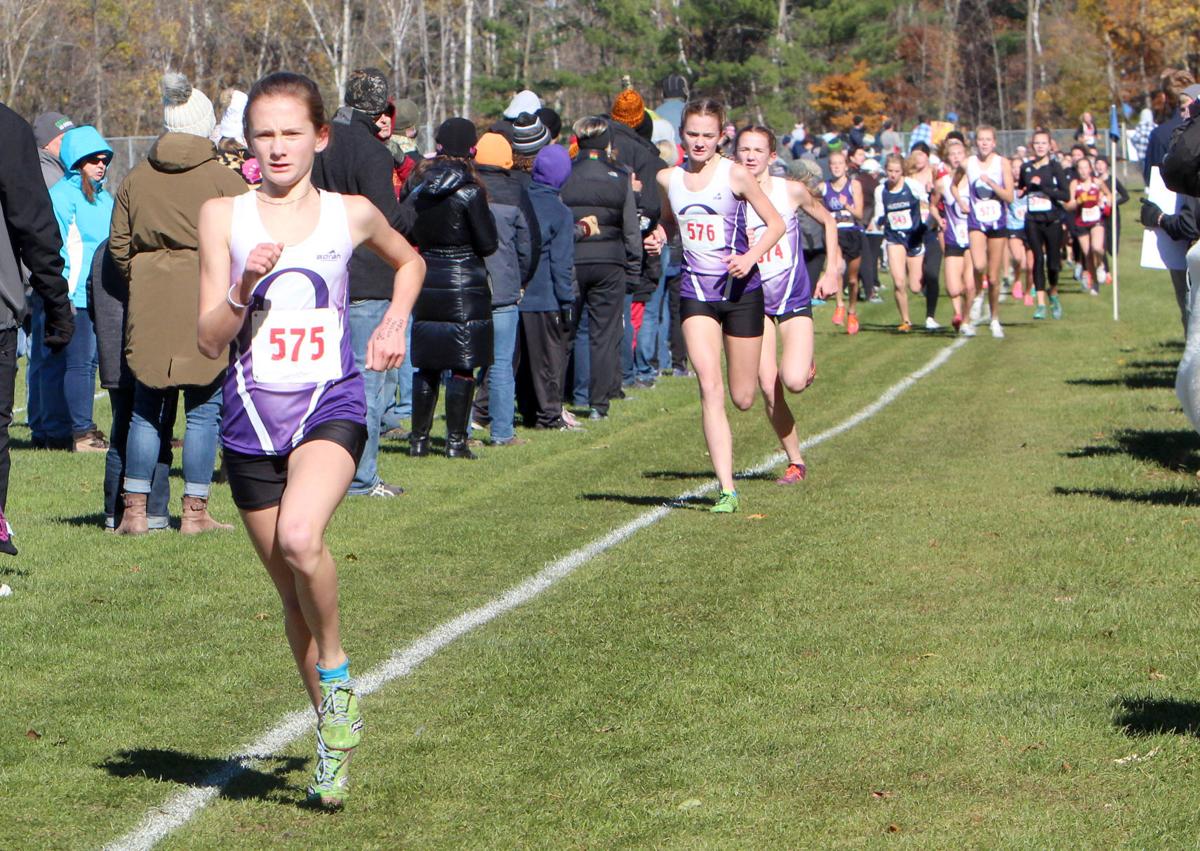 ONALASKA — For Kora Malecek, the WIAA state track and field meet was a confidence boost.
To be clear, the star Onalaska High School sophomore distance runner has always been confident in her abilities, but everyone has that moment where everything just clicks. That moment came in the 3,200-meter Division 1 final at Roger Harring Stadium in June. It wasn't just the fact that Kora won the race and became a state champion as a sophomore, but she did so in dominating fashion — winning by more than 11 seconds — and without seemingly breaking a sweat.
"State track was one of the boosters that I think I needed just mentally to be like, 'OK I can do this,'" Malecek said. "It's easy to say, 'This is what I could have done or this is what my time would have been.' But once you get out there and do it (win) now I know that I can. I know what it feels like to push yourself harder in a race and come out on top."
The rest of the area first received a taste of the new Kora Malecek when she kicked off the cross country season by shattering her own course record of 18 minutes, 46.3 seconds at the Gale Johnson Invitational by nearly 80 seconds (17:29.2). The next week, Malecek finished with another sub-18 time, as she won the Verona Invitational (17:52.6), edging her sister Amalia — who came in second — by nearly 2 minutes. It appears, Kora is starting to put herself in her own class.
"At this time last year, Kora would not have been able to do what she is doing this year," Onalaska coach Darin Shepardson said. "Kora has a lot of faith in the system and has great teammates to work with and to run with. There are definitely things that Kora has to do on her own because outside of some of the guys, nobody can run what she is running. … She's now run twice on two legitimate 5K courses a 17:30. So I'm excited to continue to see what Kora does."
Malecek has faced some adversity this year.
Nearly a month ago at the All-American Invitational at Luther College on Sept. 14, Malecek had to do something to which she is not accustomed: Watch her team from the sidelines.
She was forced to miss the race due patellar tendinitis, and she would be the first to tell you that she had a tough time with it.
"Yeah I got a little stressed out about that," Kora said of her injury. "This is like the first major injury that I had to miss something for. (Coach) Shep really helped me a lot with it. He calmed me down, and then he let me know that it wasn't going to be the end of the world if I was going to miss the meet. Shep was great about it. He said it's not about one race. No one race or a week of training is going to decide your season."
It's an injury that Kora has continued to monitor, but one that isn't expected to hamper her too much, as she tries to help Onalaska — after two straight third-places state finishes — win a state title. The Hilltoppers have taken a deep team to state twice, but this is its most experienced group. Shepardson, in fact, is confident that "any one of these girls could easily be on other team's varsities, if not the No. 1 runner."
It's an impressive group, one that has been running as a group for years and one which constantly pushes each individual to get better.
"It's kind of funny because this is the same group we have had for a while now," Kora said. "So we all are used to running with each other and being with each other and I think it's awesome because we are all close together and we are really highly competitive. We all push each other, because all of us want to keep moving up, keep improving. It's easy when you have a great team of individuals.
There is always something that somebody on the team is going to be better at like Lydia (Malecek) and Ellie (Smith) are really good at fast stuff on the track or like Carolyn (Kearns) and Jillian (Lonning) are really good at long distance. There are always people you can try and go with to become better in certain areas."
For Kora, the individual accolades are nice, but it's that state title that would mean more.
"For me, getting a state team state title would be better than the individual stuff that I won," Kora said. "That would be something you remember. Shep says he remembers his team races and I remember the races where we pulled off something great as a team rather than ones that I PR'd. I talk about the ones that I won less than the ones we won, because it feels so much better when you are celebrating with people, so it would rank a lot higher If I could help my team win a state title."
Be the first to know
Get local news delivered to your inbox!