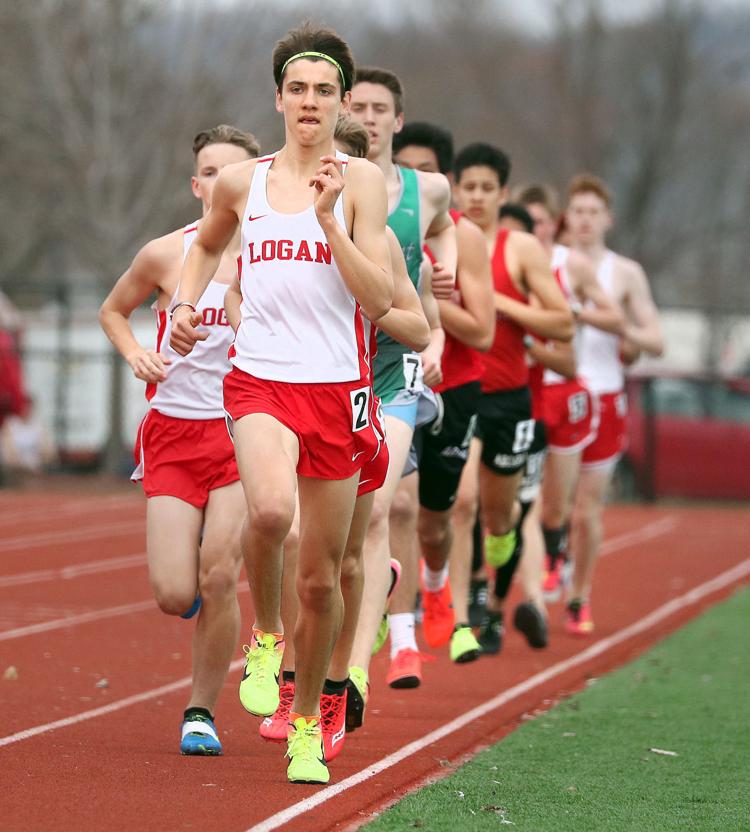 Zach Slevin wasn't sure he could be in the same group as the top cross country runners of the MVC or even Wisconsin this season until last spring.
Slevin, a junior at Logan High School, found his confidence when finishing second to Hudson's Max Ball in the 3,200-meter run during the Knights of Columbus Relays at Veterans Memorial Field in April.
His newfound confidence should help him contend for an MVC championship Thursday at West Salem's Maple Grove Venues. Slevin placed fourth last season after finishing 17th as a freshman.
Slevin says he put Ball "on a pedestal." But after finishing less than a second behind him in that race, Slevin had a change of heart.
"I think I'm a contender now," Slevin said. "It's helped me through that season and through this cross country season. I'm running with people I never imagined (possible)."
Two weeks later, Slevin beat teammate Dylan Mitchell for the conference championship in the 3,200.
Rangers coach Pat Mulrooney, whose team is ranked sixth in Division 2 by state coaches, could also see Slevin's confidence boost.
"I think he is running with a great deal of confidence right now," Mulrooney said. "That goes with success. Winning breeds success, success breeds winning. Zach is — I don't want to pretend that he is far and away elite — he is really improved."
Slevin is coming off a win Saturday at the Colby Invitational, but he took the title in an unconventional way.
The main objective for the Rangers was to check out the course that they'll be running on next weekend for the sectional meet. According to WIAA rules, teams are not allowed to practice on sectional courses, but are allowed to compete if a host school has a regular-season meet.
With that goal set, Mulrooney had Slevin start out the race a little slower and run with the middle of the pack.
Slevin admitted he was in unfamiliar territory by running about 30 seconds behind the leader at the 1-mile mark, but took the lead — and held it — with about 400 meters to go.
As the focus shifts to Thursday's meet at West Salem, Slevin and the Rangers know they'll be pushed by Aquinas and Onalaska in the attempt to win a second straight championship.
Among those who got first-team MVC honors last year who are returning include Aquinas senior Ethan Gregg and second-teamers Aiden Robinson and AJ Ervin for the Hilltoppers.
The Blugolds are ranked third in Division 3, and the Hilltoppers have not competed in a meet since Sept. 29 in Waverly, Iowa.
In that time, Onalaska's boys and girls have been focusing on rest and recovery.
"Every team has to make decisions on how to fit meets in with the training," Onalaska coach Darin Shepardson said. "We take that time to do some good quality work. In a normal week, we might have one good solid workout going into a meet. With the extra time that we've had, we've been able to put in two solid, hard workouts a week. For us, we look at it as an opportunity to do some polishing work that we need."
Onalaska's girls are ranked second in Division 1 and return four of the top six runners from last year's meet. Sophomore Kora Malecek won and sisters Lydia and Amailia were fourth and fifth. Teammate Ellie Smith was sixth.
The Hilltoppers also had current sophomores Rachel Hosch and Caroline Kearns finish among the top 14.
Other runners that could be the mix near the front include Tomah's Hannah Wilcox-Borg, Logan's Marlie Borg and Greta Trapp, and the Central senior trio of Megan Degenhardt, Kenzie Fellenz and Jane Pinkowski.