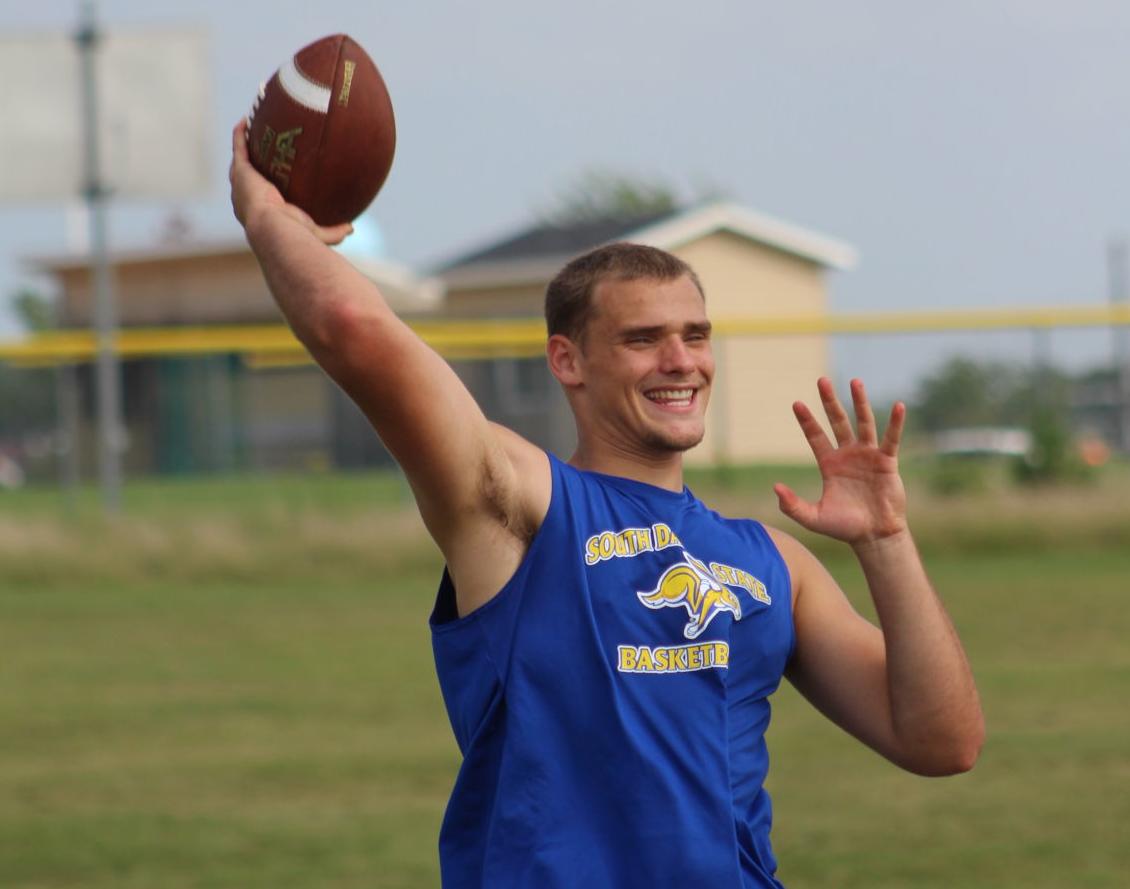 CALEDONIA — The torch has been passed from brother to brother, Owen King to Noah King.
Noah King will take over quarterback duties for the powerhouse Caledonia High School football team, which begins its season at 7 p.m. Friday in a nonconference game at Plainview-Elgin-Millville.
Noah King, a junior, hasn't had many repetitions at quarterback, as his older brother ran the record-setting offense for three seasons, but with Owen now playing basketball at South Dakota State University, Noah — and his Warriors teammates and coaches — are confident he can be just as successful.
"He really steps up really nicely," Caledonia center Arick Bauer said. "He should fill his brother's shoes really good."
Noah was a bit more humble.
"I'm very eager," Noah said. "I don't think … I don't know if this is my team. Everyone is working really hard and working together. It's not really anyone's team. It's everyone working together."
Noah replaces Owen, who was an undefeated quarterback for three seasons, going 41-0 while leading the Warriors to three MSHSL Class AA state championships.
Sure, Noah was a part of that, but not as quarterback.
"I've been getting reps from the first team now, more than last year, and just getting back into the groove after not playing much last year," said Noah of the biggest noticeable differences between last year and the preseason. "The coaches do a good job of rotating everybody in. You get some (reps) when you're the back up, but last year, mostly not playing due to (a back) injury, I didn't get a lot of reps, because I didn't practice.
"It's been exciting, and it's been going pretty smoothly," Noah added. "We're all getting on the same page, and we're all communicating well."
The biggest difference Warriors coach Carl Fruechte sees in Noah is his development in leadership. He attributes that to stepping up on the basketball court in AAU summer play and with Owen having moved on to college basketball.
His leadership showed on the practice field this week. The Warriors were in top-shell form, meaning the players wore helmets and pads, but wore gym shorts instead of padded football pants.
Noah threw passes to several wide receivers, and when a receiver made a mistake, he showed encouragement toward his teammates with his father, Brad, by his side. Brad King, the Warriors' basketball coach, is an assistant football coach.
"All summer he's been off the charts," Fruechte said. "When he makes a little mistake right away he's, 'Hey, guys. That's my bad. I'm going to do better.' Just really encouraging to the guys. When they need a little pick me up, he's doing a great job. Yeah, his leadership is off the charts. Just really, really proud of that."
Sophomore Isiah Reinhart will be the backup quarterback.
"High school sports, there's always a turnover," Fruechte said. "Obviously I learned that a long time ago that you can't compare kids and athletes. They're just going to be the best Noah and the best Isiah that they can be, and that's what we really tried to do throughout all of our coaching career."
One of the receivers who caught passes was Noah's younger brother, Eli King, who hasn't even taken a high school class to this point, yet is working with the varsity squad.
Eli has worked out some at the varsity quarterback position when Reinhart had a sore elbow in the preseason, but Fruechte wants to put the brakes on Eli's high expectations.
"We just want to make sure he's in the loop," said Fruechte, who is entering his 14th season. "We're going to bring him along slowly. I prefer to just keep him down (at the junior varsity level), just to get him comfortable and just confident."
In terms of expectations, Fruechte believes this team has the talent to get back to the MSHSL state tournament. But, he wants to take it one week at a time.
"It can't be a long distance," he said. "It's got to be a short distance goal so that they can see it and obtain it. It's one week at a time. I know people don't like to hear that, but that is the honest-to-god truth."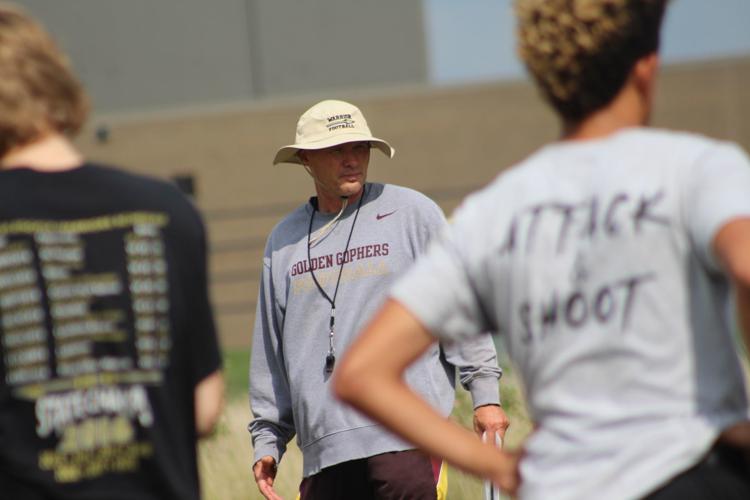 BRINGING BACK THE HAMMER: When Fruechte started his coaching tenure at Caledonia, he bought a sledgehammer. He painted it the school colors, black and gold, and rewarded it to the player who performed well that particular week. The hammer took a hiatus, but makes a return this week when it'll serve as a trophy to play for between the Warriors and Bulldogs.
"I think it'll really set the tone for us," Nick McCabe said. "We have to go out there, get the first win, and work off of that."
Be the first to know
Get local news delivered to your inbox!