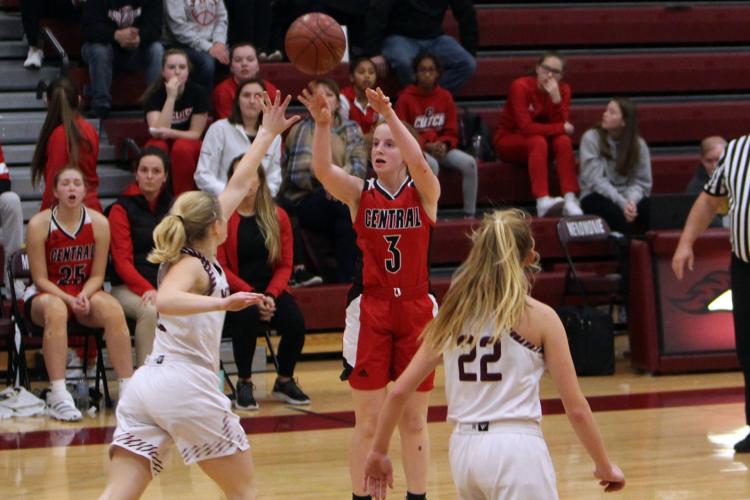 MENOMONIE, Wis. — In a blink of an eye it was over.
A quick seven-point spurt in the first minute of the overtime period was all the Central High School girls basketball team needed to take down Menomonie 71-62 in the season opener for both teams in Menomonie on Thursday.
Central's Ally Pangier used a shot fake and baseline drive to get the Red Raiders a bucket on the first possession of the extra period. After an empty Menomonie trip, Pangier was wide open in the left corner as Rachel Peterson kicked the ball out of the post for a 3-point basket. Brittney Mislivecek forced a steal as Menomonie attempted to break the press and she scored in transition as the Red Raiders jumped ahead 64-57 all in less than a minute of play in overtime.
"I think I saw the passion I want to see," Central coach Quartell Roberson said. "We could have played like that the whole game. I wish we would have come out (to start) the game like that, but that's the type of team we could be."
Menomonie (0-1) got a basket from Emma Mommsen on an assist from Emily Schwartz with two minutes to play to pull within five but Central (1-0) closed it out on a 7-3 run.
"They did a nice job especially in the second half adjusting a little bit where they were able to get Peterson the ball in the post and she made a good kick out read and the girl hit a shot," Menomonie coach Storm Harmon said of the Red Raiders. "You tip your cap to that. We probably over helped just a little bit off of that."
Menomonie held a 57-55 advantage with 21 seconds to play after Olivia Steinmetz made one of two free throws. After calling a timeout, Roberson decided to give the ball to his freshman guard. Mislivecek went around a screen on the right wing and weaved through the Menomonie defense, creating a quality look for herself to tie the game with 12 seconds remaining in regulation.
You have free articles remaining.
"She's been playing well all night, so I felt like it was the right time to get her ball — give her some confidence," Roberson said of Mislivecek. "I think she's going to be a great player."
Central held an eight-point advantage with 5:30 to play in the game but Menomonie fought back. Trailing 50-42, Menomonie scored seven straight during a four minute field goal drought from the Red Raiders.
Helen Chen's 3-pointer with 1:31 remaining in regulation gave Menomonie a 54-53 advantage. It was Chen's sixth triple of the game as hit seven on the night.
A bucket by Peterson gave the Red Raiders back the lead with 1:12 to play but then Bella Jacobsen on the next possession put Menomonie right back in front by one as she drove into the lane and hit a short jumper.
 Central had four players in double figures as Brittney Mislivecek had a 18, Whitney Mislivecek added 13 while Pangier scored 11 and Lily Wehrs 10.
Chen led the Mustangs with 21 points, making five 3-pointers in the second half. Mommsen added 17 points with team-high 11 coming in the first half.
After securing a seaon-opening win, Roberson is hoping to see more of what he saw in overtime as the Red Raiders took over and put an end to the game quickly.
"If we play like that more often we're going to be a great team," he said.