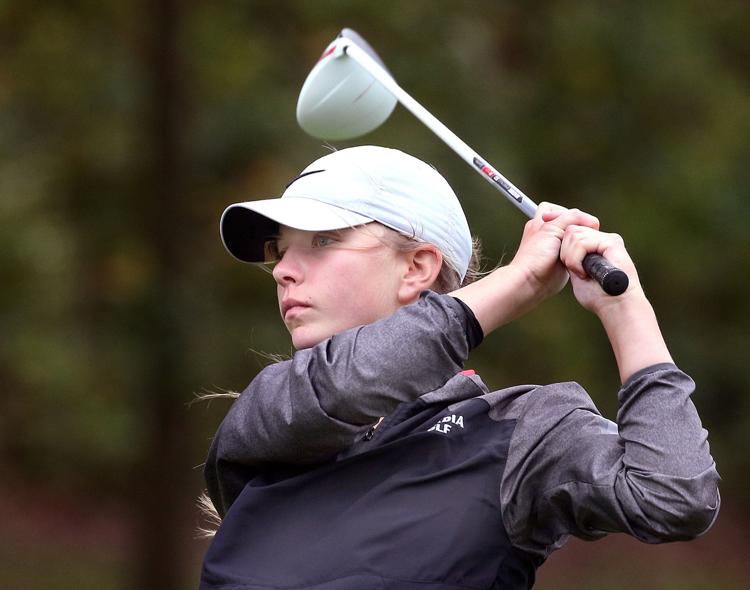 HOLMEN — The Arcadia/Independence girls golf team placed second in a WIAA Division 2 regional it hosted at Drugan's Castle Mound on Wednesday.
The Raiders, who are ranked fourth by state coaches, shot a 388 to trail only Osseo-Fairchild/Fall Creek (373) and lead four local teams that qualified for the Prairie du Chien Sectional next week.
Senior Rylee Haines led Arcadia/Independence with a 13-over-par 85 that was good for third place overall. Sophomore teammate Hailie Tulip shot an 88 and was fourth.
The individual medalist was Colfax senior Abby Moe, whose 79 was one shot better than Osseo-Fairchild/Fall Creek senior Ariel Heuer.
Arcadia/Independence will be joined at the Prairie du Chien Sectional on Oct. 8 by third-place Black River Falls (417) and fourth-place G-E-T (419). The Tigers were led by senior Karyn Mills, and the Red Hawks by sophomore Emily Nelson, both of whom tied for sixth place at 99.
Junior Zoie Pehler added a 100 for Arcadia/Independence, and senior Jenna Quackenbush and junior Gabbi Antonelli shot 104s for Black River Falls.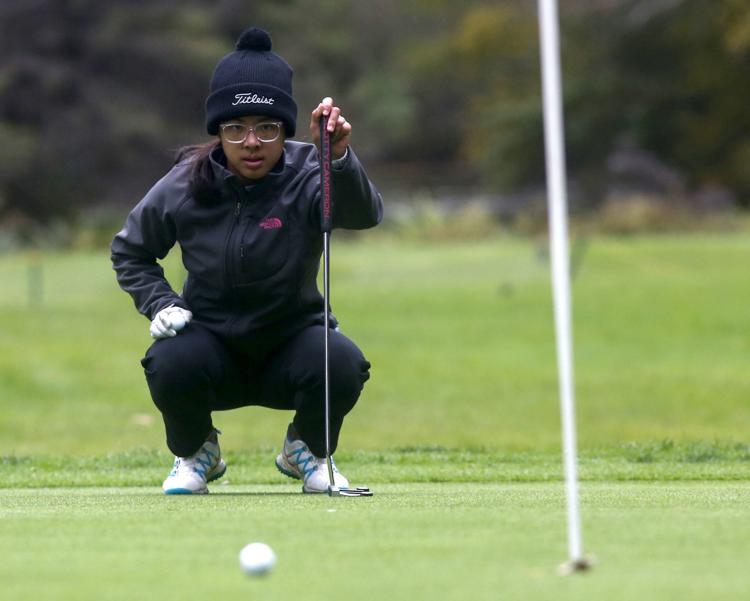 You have free articles remaining.
Register for more free articles.
Stay logged in to skip the surveys.
Wisconsin Rapids Regional
WISCONSIN RAPIDS, Wis. — Tomah, behind a runner-up performance by freshman Brin Neumann, finished second to earn a spot in the Stevens Point Sectional, and Onalaska kept alive its hope to qualify for a fifth straight state tournament.
The Timberwolves shot a 355 and the Hilltoppers a 379 to finish second and third behind Stevens Point's 350. Neumann was second to Stevens Point's Abby Nickel (83) with a 12-over 84.
Senior Sarah Peterson added an 89 and sophomore Sophie Pokela a 91 for the Timberwolves, who also received a scoring round from freshman Amelia Zingler (97).
The Hilltoppers had four of the top 14 golfers and were led by junior Amber Nguyen's 92. That was good for a ninth-place tie individually.
Sophomores Allison Balduzzi and Kiya Bronston both shot a 95, and junior Malia McGarry shot a 97 to tie Zingler.
Holmen, which finished sixth with a 432 and did not qualify for the sectional as a team, did advance to golfers to Stevens Point.
Freshman Emily Nelson (102) and sophomore Alexis Hoffman (104) both qualified as individuals.