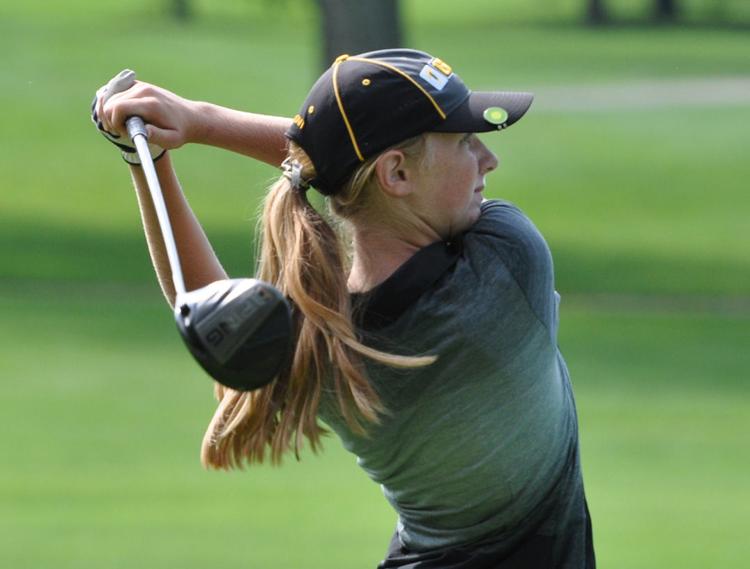 Before the season began, Tomah High School girls golf coach Tonya Gnewikow went on a hunt for ball markers, but she made sure not to buy just any run-of-the-mill marker.
Gnewikow was looking for markers with animals, such as bees, frogs or elephants, on them. Sometimes she picked out markers with flowers or sayings like, "Read it, roll it, hole it."
The markers serve as an incentive to Gnewikow's team, which is about to begin the WIAA postseason. The golfer with the fewest putts at the end of each match gets their pick out of Gnewikow's stash. Thus far, the reward system has worked just as Gnewikow hoped it would.
"Sometimes before they even tell me what they shot as a score, they're like, 'Coach, I had 14 putts,'" Gnewikow said. … "They name (the markers), and then they get one and they're like, 'Oh, that ball marker needs a friend.'"
It's led to an improvement on the course, too. This season, the Timberwolves' low-putt average is two strokes better than a year ago, and it's helped Tomah embark on one of its most successful seasons, including its first MVC title since 2014, even though its top three golfers are a sophomore and two freshmen.
The Timberwolves won six out of seven MVC meets this season and set a school record with a team score of 324 at the Viking Invitational in Holmen. Sophomore Sophie Pokela shot an even-par 72 this season, something Gnewikow had only seen from her girls in practice rounds in her 15 years as Tomah's coach. And Gnewikow likes how many fairways and greens her team is hitting, in addition to its stellar putting.
"We have some good things happening this year that we haven't in the past," Gnewikow said.
Gnewikow credited much her young team's success to its work over the summer. Particularly, she said, her golfers played in more summer tournaments than any of her previous teams.
You have free articles remaining.
"They were having a lot of success (at tournaments)," Gnewikow said. "I was hoping that would carry over through the season."
It did, and now the Timberwolves look to carry that momentum into the postseason.
The WIAA tournament begins this week, and Tomah will travel to Wisconsin Rapids on Wednesday for a Division 1 regional; the match will be played Thursday if the course is not playable because of weather Wednesday. The top four teams and top three individuals from non-qualifying teams advance to the Stevens Point sectional.
Tomah enters as the regional's top team — its team season average (174.6818) is less than half a stroke better Stevens Point (174.9167) — and has the sixth best team average in the state. Gnewikow doesn't want her team to get caught up in the rankings or to look ahead to a potential sectional or state berth, though.
"(I'm trying to) have them play the game that they played all season," she said. … "One at a time is our approach here."
Gnewikow is confident in her team heading into the postseason. She believes her team learned a lot from its one conference loss, which came after a rain delay to Onalaska, and notes that each of Tomah's top five golfers have led the team at various times in the season, which she attributes back to putting.
Freshman Brin Neumann is currently the Timberwolves' low putter and is the team's No. 2 player. Pokela close behind Neumann in putting and is the team's No. 1 player. Jayda Zhu, Tomah's No. 5 player, paced the team in a match in which she was the Timberwolves' low putter.
"It was just a good reinforcer," Gnewikow said. "No matter if you have a bad shot here and there, you can always recover if you have two or less putts each hole."
Onalaska, Westby/Viroqua, Holmen and Sparta will also compete in the Wisconsin Rapids regional, as will Central/Logan's Anna Whitford-Hawkins and Mya Colburn as individuals. The Hilltoppers, who have made a state appearance each of the past four years, are ranked third in the regional.
"We've kind of struggled throughout the year, but hopefully it will come together and will have a good day (Wednesday)," said Allison Balduzzi, Onalaska sophomore and its No. 2 player. "We need to stay really strong, and it's going to be hard making it to state, but it's definitely possible."