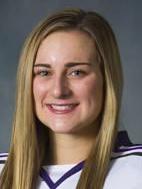 ONALASKA — Kiya Bronston isn't the team captain for the Onalaska girls hockey co-op. That designation goes to senior Jaidyn Groshek, and the Hilltoppers' alternates are seniors Paige Christenson, Taylor Fox and Olivia Lassa.
But coach Mark Thorn has a mantra that applies well to the sophomore Bronston.
"You don't need a letter on the sweater to be a leader," said Thorn, whose team is 8-7 after a 4-2 win over Rochester Mayo on Thursday. "... (Bronston's) actions, her performance, the way she is engaged — kids follow that example."
That example has been a good one for the Hilltoppers so far this season.
Bronston has a team-high 26 goals — twice as many as Groshek, who is second on the team — through 15 games. She has stamped out any concerns about a potential sophomore slump after a solid freshman year.
Bronston finished the 2018-2019 season with a team-high 24 goals to go with 16 assists. She figured to take on more responsibility as a sophomore — particularly with the graduations of Kaley Manglitz and Emily Brueggeman, who were first and third in total points, respectively, last season. Thorn has been pleased with Bronston's progression, though he isn't particularly surprised.
Bronston comes from a hockey family — her brothers and sister have played, and her father has coached — and already had the skills needed to succeed on the ice, including her vision and her skating ability. By simply putting in the time, Thorn said, improvements have come naturally for Bronston.
"Where we've seen a great deal of improvement on is the work ethic that she brings to practices. She's become much more conscientious of what it takes to perform well in a game," Thorn said. "She now is realizing that it also is important to bring that to practice, as well."
Thorn said that's a sign of Bronston's maturity, something he also saw before the season began.
"When we sat down and talked (about) this year, I didn't see her goal production decreasing at all. But she really wanted to focus on playing more of a team game," Thorn said. "She wanted to make sure that she was also assisting and increasing her number of assists."
Bronston already has 21 assists, surpassing her freshman season total and establishing her as an all-around threat, which in turn opens things up for her teammates.
"I look at Kiya, and I see her following in the mold of Kaley Manglitz last year," Thorn said. "They were linemates together. She let a lot of her leadership on the ice do the talking."
Thorn hopes his team will be playing its best hockey come February and can make a postseason run as it did last season, when the Hilltoppers nearly made the state tournament but fell to the Sun Prairie co-op 5-4 in overtime in the sectional title game.
Bronston is sure to play an important role in that.
Be the first to know
Get local news delivered to your inbox!