MADISON — The first two holes for the Aquinas High School girls golf team at the WIAA Division 2 Madison Edgewood Sectional didn't make Tuesday look promising.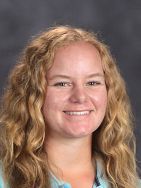 The Blugolds started their pursuit of a second straight appearance in the WIAA state tournament with three bogeys, four double bogeys and three triple bogeys.
"My assistant coach and I have jokingly said that we are back-nine team, and that one of these days it was going to hurt us," Aquinas coach Andy Foley said. "Thankfully this time we were able to settle in."
The Blugolds did settle in and wound up firing a team score of 368 that was good for second place at Yahara Hills Golf Club and a qualifying spot in the state tournament at University Ridge Golf Course in Verona, Wis., on Oct. 9-10.
Junior Annie Balduzzi didn't just lead Aquinas, but she led the field as medalist with an 8-over-par 80. Balduzzi started with a pair of double bogeys before recovering for a 39 on the front nine and 41 on the back.
"She had a great drive on two and was on the fringe in two," Foley said of Balduzzi, who finished fourth in last years state tournament. "But she three-putted when she got on the green, the dreaded three-putt, so she doubled. But then she just found her groove after that. Being a seasoned veteran, she was just able to use her experience."
For Balduzzi, it was her experience and some veteran savvy that played a crucial part on Tuesday — especially on the back nine.
"The way that course is set up with a significant amount of wind on the back nine ..." Foley said. "You had to adjust your alignments and had to stay out of trouble. She made the most of her practice rounds and her experience. She had been there before went to state as a freshman and a sophomore."
Balduzzi was backed up by rounds of 94 from Shealyn McCoy and Olivia Fox, and those helped the Blugolds finish 15 shots ahead of third-place Jefferson and 18 ahead of fourth-place G-E-T.
"Shealyn and Olivia definitely put us in a great spot," Foley said. "Definitely relied on our experience today and it once again came through."
The Blugolds leave for Madison on Sunday morning for the traditional practice round, but first they will be celebrating homecoming on Friday and Saturday. But regardless of the upcoming busy weekend, Foley knows that experience is going to once again pay off.
"Another interesting dynamic is that they have homecoming. God help us that we don't have many late nights," Foley said. "The meet is a grind. It's three straight days of being on their feet and playing golf. It helped we played it last year, but still we just have to be ready and willing to grind it out."