When Central/Logan gymnast Caelen Lansing sets a goal, she doesn't stop working until she achieves it.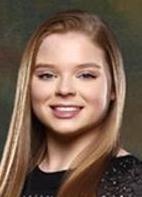 Lansing has the local gymnastics scene buzzing because of dominating performances so far during her junior year, which marks her second season competing at the high school level. Her love for the sport and constant time put in the gym has earned the admiration of others, including her coach, and she has been doing it with one goal in mind — competing at the next level.
"My ultimate goal for working so hard is that I really want to do college gymnastics — that is my goal," Lansing said. "I've been working extra hard to get to that level, but I didn't start ramping it up until recently."
Lansing's decision to attend summer gymnastics camps for the first time and become a frequent gym goer has paid off. In the Wisconsin High School Gymnastics Association's (WSHGA) first edition of the state honor roll, Lansing's name appeared four times in the top five in different events.
The gymnast, who started the sport at the age of 5, currently has the best mark in the state in the floor exercise (9.6), which is no surprise to Central/Logan coach Krystal Young.
"Her floor routine is definitely one to see," Young said. "Anytime we go anywhere, everybody stops to watch even if we're just practicing in the gym. More often than not, the entire gym stops to watch because her routine is absolutely beautiful."
While Lansing's floor routine may make onlookers stop in their tracks, her talent as a gymnast goes far beyond one event. Besides having the state's best score on the floor, Lansing sits third in the vault (9.3), is tied for third in the uneven bars (9.025) and is third in the all-around (36.675).
While Lansing's scores on the honor roll are impressive, they aren't her best this season. Since the honor roll was released, she has improved her top all-around score to 36.8, while bumping her bars score to 9.275 and vault to 9.35. Her highest beam score is an even 9.0.
And overall, the person most surprised by Lansing's top-notch performances so far is herself.
"It's a surprise to me because it's kind of weird to picture myself like that," Lansing said of being one of the state's top gymnasts. "I've been getting a lot more used to it, but it does come with pressure though, and then I just have to be able to trust myself and not overthink anything."
Young wasn't as surprised as Lansing was with the scores she has put up, especially after all of the work that she has put into the sport.
"She's an incredibly hard worker and I think her hardest critic is herself," Young said. "She's been pushing so hard to be better to get to that ultimate goal of being a college gymnast."
Be the first to know
Get local news delivered to your inbox!