Caelen Lansing will go to any length to compete in gymnastics, even if it means performing without the use of her right arm.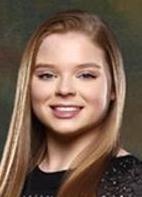 The Central/Logan gymnast has made herself one of the best in the state — she has an all-around score of 36.8, which is the seventh highest in the state — but has recently had to reconfigure some of the routines she started performing years ago.
After faltering on her bars dismount during practice, Lansing landed on her right arm, causing her to tear the ulnar collateral ligament in the elbow. The two popping sounds and amount of pain she initially felt caused her to believe she would be done for the season. But with luck on her side, her junior year of competition isn't quite finished.
"Right after I was injured, I thought I was done competing (for the season)," Lansing said of tearing the UCL, which is critical for elbow stability. "I realized that what I'm doing at this point, I could've been not doing it at all, so I'm just appreciating that I am still able to do this."
Lansing, with the help of Central/Logan coach Krystal Young, has reconfigured her floor routine in a way in which she doesn't use her right arm. The same can be said for her new beam routine.
Lansing's original floor routine that she started the season with led her to a high-score of 9.6, but her new routine isn't far behind after she received a 9.475. Creating a new floor routine at this point of the season wasn't easy, as every tumbling pass had to be taken out, including Lansing's favorite skill — the double back.
Lansing's new routine includes more bounding or, "a lot of flips in a row," according to Lansing. Although she can't do the skills she was accustomed to doing before, being able to participate at all for the remainder of the regular season is something she is grateful for. Before being able to reconfigure her floor and beam routines, the gymnast had to take a few days of rest to let her elbow start the healing process, which wasn't an easy thing to do.
"Her mom once told me that a day without gymnastics is like a day without sunshine for Caelen," Young said. "Once we talked it over and figured out that she could still be out there in some aspect, she really turned around and focused on what she could do, not on what she couldn't do."
The road to recovery after a UCL tear isn't an easy one — it includes wearing a brace during gymnastics, and time spent in physical therapy. The process, so far, has been going well, but Lansing admits that going through this would have been much more challenging without the support of her teammates, coaches and family.
Although Lansing's floor and beam routines may be a bit toned down compared to the level she was performing at before her injury, Young is continually impressed by Lansing's extremely high level of dedication.
"It's so much more impressive that she was able to complete a whole floor routine with no hands," Young said. "She's so talented and has such a big bag of tricks. I think she's inspired others, too, because they can see what is possible when you're really committed to a sport."