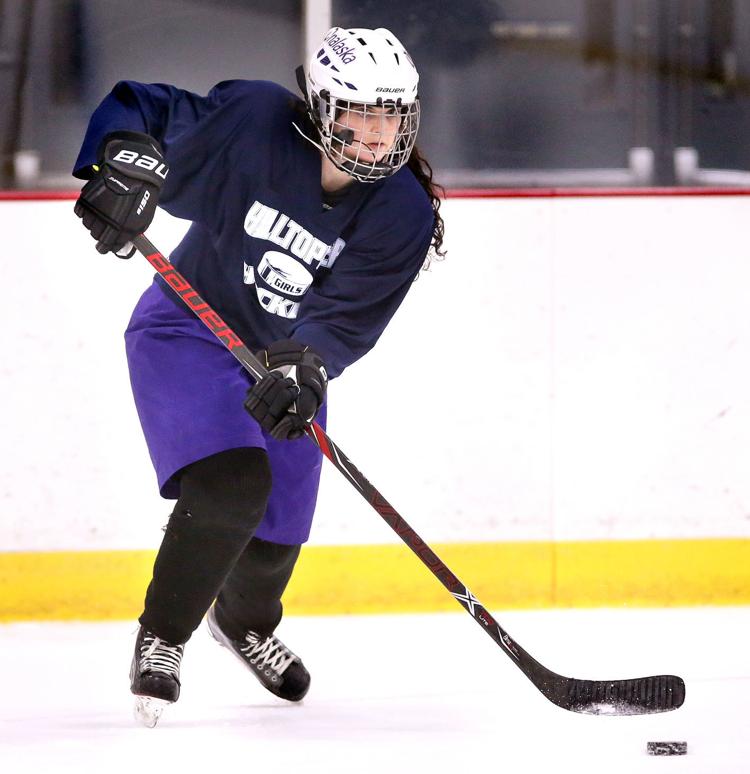 Maybe it was because she grew up with two brothers and a father who didn't hide his competitive spirit.
Maybe it was because in order to fit in, or to be part of the game — any game — they were playing in the back yard, she had to be as knock'em down tough as they were.
Whatever the reason, Kaley Manglitz has learned how to escape her somewhat shy, introverted personality, and don an aggressive, I will-do-whatever-it-takes persona when athletics becomes part of the picture.
As in football, hockey and soccer.
Being a tough kid doesn't make you one of the area's best girls hockey players, however. A passion to succeed — as a team and as standout senior forward — plus a willingness to push yourself hard each and every time on the ice does.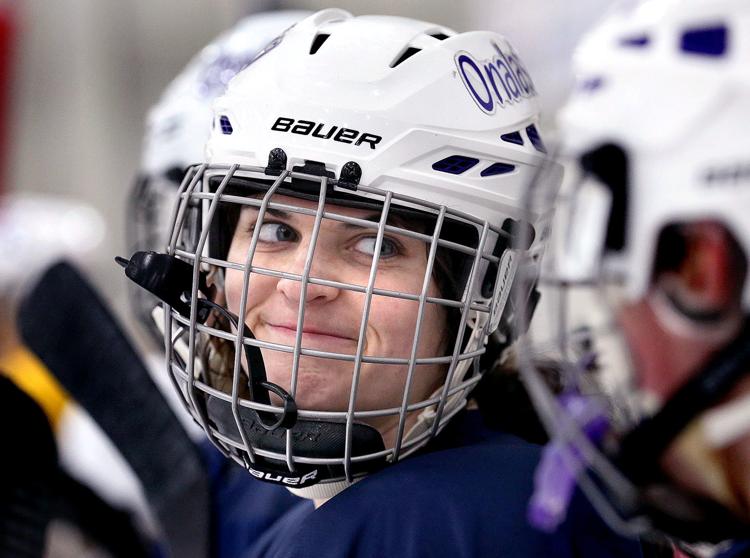 Those are just two reasons why the 18-year-old Manglitz is having a standout season with 19 goals and 21 assists — leaving her tied for the second-most points in the state entering Saturday's action — for the Onalaska High School co-op girls hockey team.
A team that has turned its season around after a slow start, having won four of its last five games to push its record to 8-7-1.
A team that is far more than just Manglitz, as freshman Kiya Bronston (19 goals 14 assists, fifth in the state) and senior Emily Brueggen (8 goals, 17 assists) for one of the area's, if not the state's, most explosive lines.
A team that has also shined recently on the defensive end, thanks to Jaidyn Groshek, Paige Christenson, Taylor Fox and a fearless sophomore goaltender in Izzy Lassig.
"I can tell you that Kaley is very interesting, very aggressive, but also very shy — very much an introvert, personality wise," said Onalaska's fourth-year coach, Mark Thorn. "It is a very interesting leadership trait because she leads by example rather than by yelling and screaming.
"But there is a switch in her, when she gets on the ice that is all that is important to her. It is all-out."
Her father, Kent, knows that very well. Kent Manglitz, an assistant coach for the Hilltoppers, saw that competitive spirit in Kaley as she was growing up, battling brothers Austin and Mason, for family bragging rights.
"Growing up with two brothers — we were always out in the yard doing things — she always wanted to be a part of the action," Kent Manglitz said. "She was pretty aggressive that way."
So when Kent, and others, saw Kaley smash a football with one swift swing of her leg, being a part of the rough-and-tumble sport of high school football became a reality, as she was the Onalaska's varsity kicker the past several seasons. Once the football left her foot, the velocity and trajectory of the pigskin made her gender irrelevant.
"It is not just one person, not in any sport," Kaley Manglitz said. "In hockey, it's not just one person, but assists from one or two other people. It is all about connecting well and figuring out how to best work with each other."
After just a few minutes talking with Kaley, it's easy to she's wired with the team-first mentality. She fully understands — and is reminded often by the coaching staff — that her multiple opportunities to score each game come from the defense's hard work in getting the puck to the Hilltoppers' offensive threats. Once Kaley Manglitz, Bronston or Brueggeman get the puck on their stick, look out.
It's simply fun to watch, Lassig said.
"It is exciting. I mean, as you see them soar down the ice with the puck and you think, 'please get a goal,' then we can take a lead in the game and it really changes our attitudes and how well we play," said Lassig, who owns an 8-7-1 record, 3.34 goals against average and .878 save percentage.
"To see them go down the ice like that is just exhilarating for me because I think they can do this, they got this."
The Hilltoppers to line didn't click right away, especially in the early part of the season when the team started 2-4-1. That's when Thorn and his staff started juggling some players around, and hit on a line that not only understands each other, they understand how to score.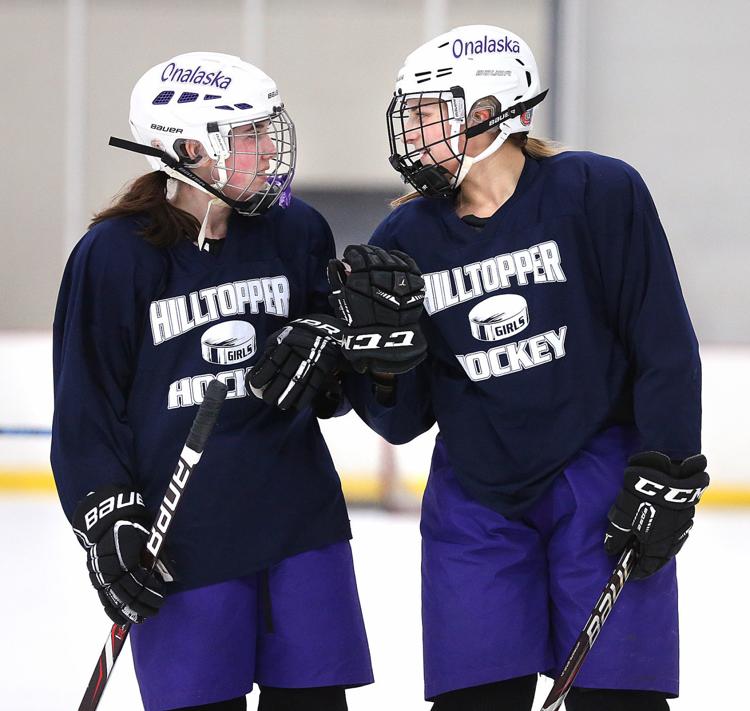 "At first, I think it was kind of hard getting used to everyone. One we did the right drills, it was like the whole team really started to get to know each other and we became a better team," Bronston said.
Part of the reason for the turnaround, Thorn says, is leadership from within the team, especially the upperclassmen. And a leader of the leadership committee is Kaley Manglitz.
It's her swan song, and she wants to help the Hilltoppers to return to the state tournament, a place they have not been since 2015.
"For me, it is I hear this: 'I have never been to the state tournament,'" Kent Manglitz said. "Not only does she want to be successful, she wants her team to be successful."
And for a reason you might not expect, unless you think back to those backyard games.
"Both of her brothers have been to some type of state tournament," Kent Manglitz said. "Austin with the (Onalaska) high school team and Mason with pee wees and bantams, so it is her last chance.
"She will do whatever it takes. I think that has really driven her. She has a passion to win."
Kaley Manglitz, who intends to play college soccer at Saint Mary's University in Winona, said she's driven by the thought of watching former Onalaska greats Theresa Knutson, who went on to play Division I hockey at UConn, or Jacyn Reeves, who is a senior at Ohio State.
"Like following behind Theresa (Knutson) or Jacyn Reeves, the top scorers (all-time) for Onalaska, and seeing them being on top makes we me want to get to state like they did and follow in their footsteps," Kaley Manglitz said.
"We definitely can see our confidence rising now and I think the girls are starting to believe we have a chance of going there."
While a number of factors have played into the confidence surge, she may not be ready to thank her brothers for helping her achieve the level she has.
"Having brothers is really tough, but it also shows you the mentality it takes (to be tough). You can't take anything personal because they were just messing with you."