ONALASKA -- Everything about the scene at the Onalaska Omni Center athletic fields on Thursday night felt like a playoff game: the intensity, the crowd, and even the chill in the October evening air.
While the WIAA postseason doesn't officially start until next week, the visiting Holmen High School boys soccer team embraced the opportunity for one more tune-up before the playoffs, earning a 2-0 victory over host Onalaska and claiming the program's third consecutive MVC title.
Senior Matt Espelien netted both goals for the Vikings, scoring on a transition breakaway in the 42nd minute and burying a penalty kick in the 62nd minute.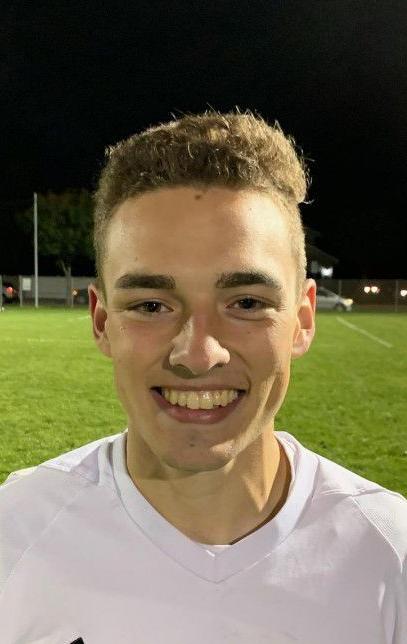 "A guy like Matt, some days he's hot and some days he's not, and he was definitely hot tonight," said Holmen coach Guy Turner, whose team's conference record of 12-0-2 clipped the Hilltoppers (10-1-3) for the title. "He knew that a big game, under the lights, he had to make some big plays."
Each goal required Espelien to stay calm, and to be able to pick his spot to beat the goalkeeper.
"I think composure is one of the biggest things that helped us in a game like this," Espelien said. "Opportunities like those, especially in a game like this, don't come easy, so regardless of who puts it in, it's important to capitalize in those situations."
You have free articles remaining.
Not that the Holmen particularly needed it, but the WIAA seeding committee gave the Vikings a little extra motivation when the Division 2 playoff bracket was released this past weekend.
Holmen (13-0-5 overall) found itself seeded third in its Divisioon 2 regional, behind not only a New Richmond team at No. 2 that it had tied earlier in the year and beaten twice a season ago, but also the top-seeded Hilltoppers (15-2-4).
The two teams played to a 1-1 draw in Holmen on Sept. 19, so the chance to not only claim the conference title but show that perhaps the seeding committee got it wrong was not lost on the Vikings.
"Hopefully we'll have a chance to play here in three more games," Turner said of a potential rematch in the sectionals on Halloween. "While an undefeated season and an undefeated conference (record) doesn't always warrant a No. 3 seed in my opinion, we have a chip on our shoulder and since that moment, we decided to play a little different."
Espelien said that the intensity has been ratcheted up over the past week — both in practice and in games like Thursday — in preparation for what the Vikings hope is a return trip to the WIAA state tournament.
"We ran really hard and pushed each other. Tensions were a little tight, but I think for a good reason," Espelien said. "I think we all knew that we had something to prove. (The No. 3 seed) wasn't where we wanted to be, so we have to work hard to get back where we want to be."
Having allowed just one goal over the past four games — all wins — Turner said that Holmen's in a good place heading into Tuesday's regional matchup against sixth-seeded Menomonie.
"We had a great result against Sparta (a 7-0 win on Tuesday) and a great result tonight, and we wanted to make a statement," Turner said. "Our motto is 'Always Rising' and we're starting to rise and peak when we need to."