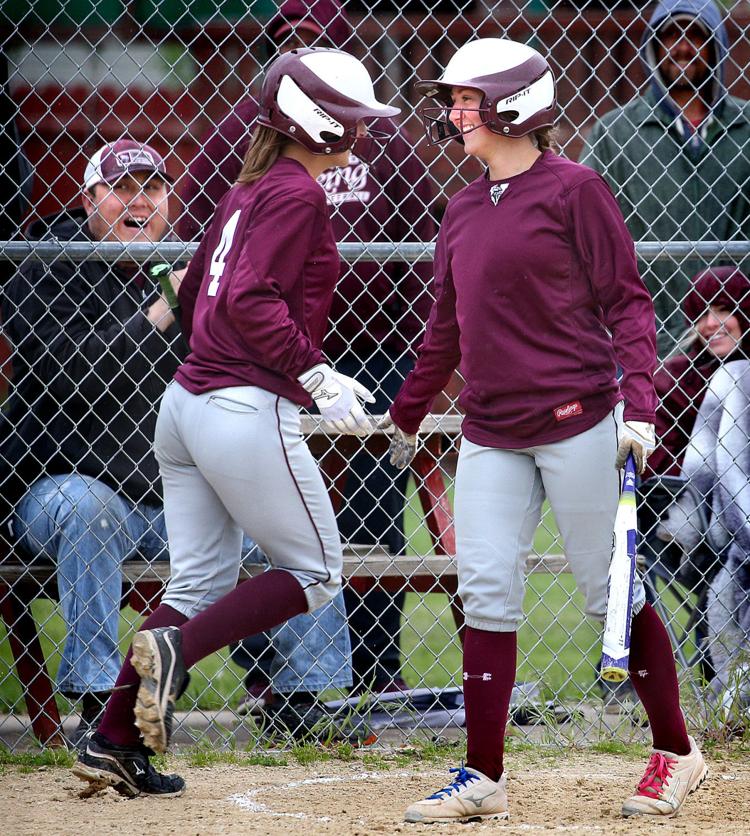 HOLMEN — Sammie Chapman couldn't have asked for a better final at-bat on the softball field she has called home for the last four seasons.
While there is an outside chance that Chapman could step up to home plate again, it is more likely that her three-run home run that sent fifth-seeded Holmen High School back to the WIAA Division 1 regional finals on Tuesday was her final plate appearance on the field near Viking Elementary School.
Chapman, a senior shortstop, blasted a three-run home run over the fence in left-center field to finish off the Vikings' 10-0 five-inning semifinal victory over 12th-seeded Central. It was Chapman's first homer of the season, and it sent Holmen (20-6) into a regional final at fourth-seeded DeForest at 4:30 p.m. on Thursday.
"We were up 7-0 with a couple of runners on, and I think we felt pretty good about the game," Chapman said. "I wasn't under any pressure, and I was just looking for a good swing.
"It felt like I hit it pretty far, but I thought it was just a fly ball."
It was also just a piece of the hitting focus Holmen had while playing what could be considered a dangerous 12th seed in Central (6-14), which won three of its final four regular-season games. The Vikings were so focused that they were ready to keep hitting after Chapman ended the game.
"They didn't know the game was over," Holmen first-year coach Jason Yusten said with a chuckle. "They went to home plate to congratulate (Chapman), and then they came back (to the dugout) to keep going."
Chapman's home run, which brought home left fielder Hannah Lazarescu and catcher Ellie Kline before a fifth-inning out was recorded, gave her four RBI as the Vikings beat the Red Raiders for a third time. It was also the team's 14th hit.
"This was a game where we had to get our bats going," said Yusten, whose team was 10-2, placed second in the MVC and will need to beat the Norskies and have someone upset top-seeded Verona to get another home game. "They did that against (Zoe) Heintz today."
The Vikings used six hits to score five runs in the fourth inning after scoring twice to break a 0-0 tie in the bottom of the third.
Lazarescu was 3-for-3 with two doubles and three RBI, while center fielder Kenzie Winker and right fielder Ashley Krueger added 2-for-3 performances. Kline was also 2-for-2 with an RBI, and Winker drove in two.
Chapman, who bats second and plays shortstop, also had an RBI double as the Vikings beat the Red Raiders a third time and bounced back from two nonconference losses to Marshfield on Saturday.
Central managed just two hits against senior Delaney Sacia, who struck out six and didn't walk a batter. Another strong effort will be needed Thursday against DeForest.
"We really have to be solid on defense," Chapman said. "That's easy to do with Laney pitching sometimes, but we will have to stay clean on defense (to keep advancing)."