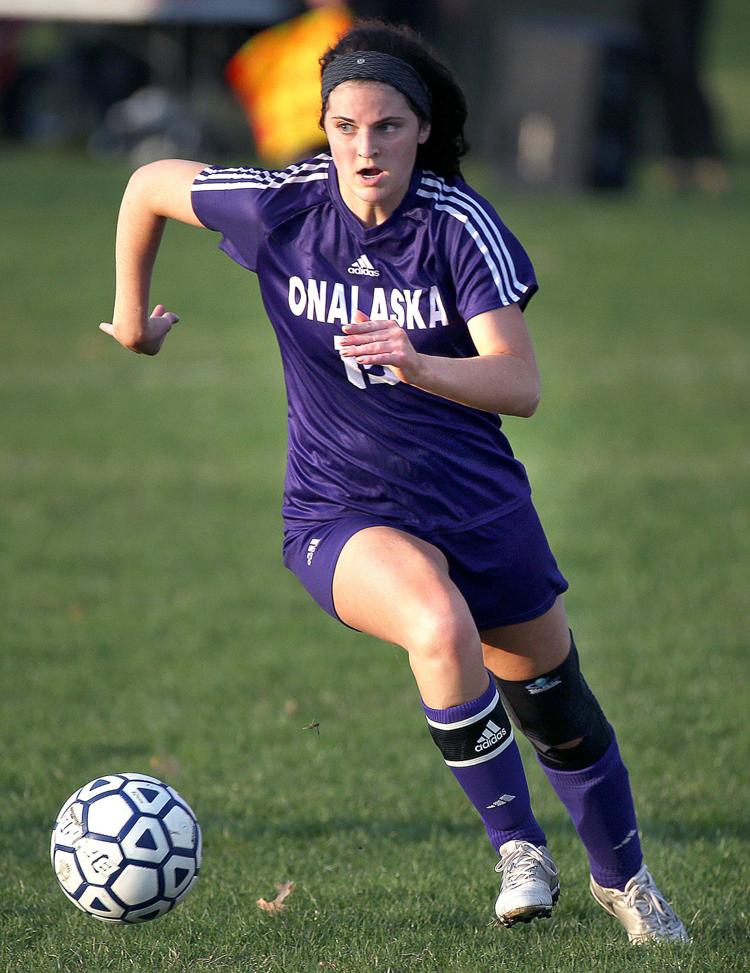 A dual-sport toddler seems like a silly idea, but Onalaska High School senior Kaley Manglitz was just that.
Manglitz first laced up a pair of ice skates and glided across a hockey rink at 2 years old. By the time she was 4, Manglitz was scoring goals on the soccer field like she was a natural.
"My dad played hockey when he was younger, so it was like a family thing," she said. "I really don't know how I started soccer.
"My parents just signed me up for it one day, and I ended up being pretty good."
Manglitz quickly grew into a force to be reckoned with in both sports, but her competitive drive pushed her even harder, and that led to a four-year career as a kicker for the football team.
Even though Manglitz got her start in athletics due to familial influence, her love for sports has grown into something that she can't imagine her life without.
And little did she know just a few years ago what kind of athletic impact would be left on her high school by the time she completed her run as a three-sport star.
That run is coming to an end, but she will do whatever she can to extend the soccer season and keep the Hilltoppers in control of the MVC lead.
Onalaska takes a 7-2-2 overall and 7-0 conference record into Thursday's game against Aquinas (7-3, 4-1) at Fields for Kids after Manglitz scored the only goal in a 1-0 victory over Holmen on Tuesday. Thursday's contest kicks off at 7 p.m.
Choosing a favorite
Stats play a role in determining success, and Manglitz has no problem producing those.
In her senior year of hockey, Manglitz finished fourth in the state in assists (24) and tied for eighth in goals (23). So far in soccer, she's netted a team-high 13 goals and seven assists.
And even though she didn't pick up football until she was in her mid-teens, Manglitz became the team's highest scoring kicker in history with 163 points.
"She's a rarity, no doubt," Onalaska girls soccer coach Tyler Ludeking said. "To have an impact on three teams in three different sports. … That's unique.
"I don't know if she could tell us what her favorite sport is because she's the kind of player that loves all sports, and it's awesome for Onalaska."
Ludeking was right, Manglitz has a hard time deciding which of the three is her favorite but ultimately it comes down to soccer.
"Maybe it's soccer," she said. "But then, sometimes, it's like I want to go back to hockey because I miss it. It really depends on the season."
Even though settling on a favorite is challenging, Manglitz chose to continue with soccer in college and plans to play at NCAA Division III Saint Mary's University in Winona.
Leading by example
Manglitz, Ludeking and Onalaska football coach Tom Yashinsky all agree on one thing — Manglitz is a leader, but not a vocal one.
After having Manglitz on his team for four seasons, Yashinsky was able to see her grow into a more vocal — but still quiet — athlete that was benefitting from a boost in confidence due to her success.
"She just became a little more confident and outgoing," Yashinsky said of Manglitz's development. "She's a quiet young lady, but she grew a lot as a person, and it's really cool to see what sports did for her."
Manglitz has been growing her leadership skills by being named the captain of the girls soccer team. The decade-plus of experience in athletics has led her to grow into her own style of leadership, which is one that doesn't require a loud voice.
"I'm not very vocal, but I like to lead by example," Manglitz said. "In a game, if I'm doing bad, I can sense that the rest of the team goes down. But if I'm playing really good, others play good, too.
"We just connect together."
Playing with a passion
Being a year-round athlete doesn't come easy. Besides practicing in every season — including summer — Manglitz has had to balance the demands of school work on top of athletics.
While time during the day is dedicated to being at school and then practicing one of three sports in the evening, Manglitz typically dedicates the evening hours to study and do homework. Even though the packed schedule can be challenging to keep up with, she knows she wouldn't have it any other way.
As Manglitz's career in high school sports creeps closer to its end, the one driving force of passion that made her want to start as a toddler and continue into college is more abundant than ever.
"(Sports are) just part of my passion," she said. "It's something I need to do because I have so much love for it. I just have a passion for (sports) and I like standing out and hearing my teammates cheer me on.
"It's just an awesome feeling."