BLACK RIVER FALLS — In a key Coulee Conference boys basketball matchup, it was Black River Falls High School's defense — and Ethan Anderson — that made the difference Monday night.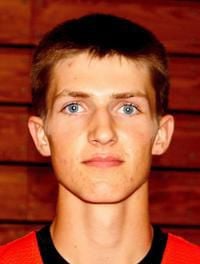 The Tigers rallied from a six-point halftime deficit, then used yet another strong all-around game from Anderson to turn back Gale-Ettrick-Trempealeau 65-60.
It was the Tigers' fifth consecutive victory, pushing Black River Falls' record to 8-4 overall, 4-1 in the Coulee. G-E-T fell to 6-4, 4-2.
"I just think our kids really dug in and stopped giving in to some things. We started winning the loose ball battles and were not giving up second and third looks (at the basket) that we were giving up in the first half," said Black River Falls coach Dave Cowley.
"We played a really good first half, too, it's just the nerves got the best of us a couple of times. We have been waiting for this to happen. We have shown spurts of being really solid, but have had a hard time putting together a complete game. We did that tonight."
Anderson led scorers with 28 points, hitting eight field goals — including a pair of 3-pointers — and all six of his free-throw attempts. He wasn't the only Tiger doing some damage, as Jacob Woods (13) and Elliott Bird (11) also reached double figures.
Christ Thompson led G-E-T with 20 points, including a pair of 3-pointers, while Blake Thiesse added 14.
NONCONFERENCE: Cashton 88, La Farge 27
CASHTON — The Eagles decided this one early, moving out to a 56-17 lead by halftime in a game which 11 different Cashton players scored. Kristt Hilden led the way, scoring 32 points — including nine 3-pointers — for Cashton, which drained 12 3-pointer as a team. Carter Hall added 11 points for Cashton, while Brett Butzler finished with 10, and Kole Ripley and Isaac Henmmersbach each added nine.
GIRLS BASKETBALL: Prairie du Chien 43, Viroqua 26
VIROQUA — Prairie du Chien's Hope Meyer scored a team-high 13 points in a road win. Gabby Ritchie and Macey Banasik both scored 11 points for the Blackhawks.
Claire Anderson made seven of the Blackhawks' 10 total field goals en route to an 18-point game.
As a whole, PdC (8-6) limited Viroqua (0-13) to a 7-for-27 night from the floor.