VIROQUA — The Holmen High School boys golf team put the finishing touches on an MVC championship while Sparta sophomore Austin Erickson took care of an individual title he'd been chasing Monday at Viroqua Hills Golf Course.
The Vikings completed a clean sweep of conference events by shooting a 322 and placing all five of its golfers in the top 10. Third-place Cody Dirks, a junior, led the way with a 7-over-par 78, while sophomore Carson Brock checked in fourth (80) and freshman Sam Evenson fifth (81) for Holmen, which won its first conference championship since 2014
Tomah placed second in the championship meet and in the season standings after shooting a 323 that was led by freshman Hunter Neumann's 77. The Timberwolves finished third or better in every MVC meet and took second place by three points over third-place Sparta.
Erickson's individual championship was won with a 74 on Monday. He played the back nine at 2 under by playing bogey-free and recording birdies on the par-5 11th and par-4 16th.
His season score of 81 points gave him enough of a cushion to hold off Brock (77) and Dirks (72). Tomah senior Trey Gnewikow (67½) and Brett Von Ruden of Sparta (57½) rounded out the top five individuals.
BASEBALL
MVC
Central 5, Logan 2
The day started out abnormally for the Red Raiders and the Rangers, as the game was moved to Copeland Park due to wet playing conditions at Logan.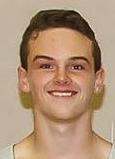 Trevon Van Egtern, Zach Fellenz and Mikey Miller all had two-hit games for the Red Raiders (6-12, 5-5).
Andrew Fischer threw six innings for Central, and he struck out seven Rangers. Matt Johnson picked up the save.
The Rangers (4-12, 3-6) were led by Alex Gavrilos, who drove in both runs. He was also the starting pitcher.
Coulee
G-E-T 3, Viroqua 0
Viroqua 4, G-E-T 0
GALESVILLE — Viroqua's Andrew Wedwick threw a perfect game in Game 2. He had four strikeouts and hit an RBI double in the third inning.
Ryan Hannah also had an RBI double in the third for Viroqua, where it scored thrice in the second inning.
In Game 1, the Red Hawks scored all of their runs in the fourth inning. Carter Severson had an RBI single. Blake Thiesse struck out six Viroqua batters and allowed one hit in 4⅔ innings.
Ridge and Valley
De Soto 6, La Farge 0
STODDARD — The Pirates were 6-for-24 as at team, and Isaiah Zink had three of those hits. De Soto scored all of its runs in the first three innings.
Dairyland
Melrose-Mindoro 7, C-FC 6 (9)
Melrose-Mindoro 1, C-FC 0 (5)
MELROSE — The Mustangs started by scoring three runs in the bottom of the ninth inning of a game that was suspended earlier this season and closed with junior Dawson Rommel throwing a no-hitter.
Nate Hruza, Ethan Kastenschmidt and Kyle Stair all drove in runs after the first game was picked up with Melrose-Mindoro (6-3, 4-2) trailing by two runs with one out in the bottom of the ninth. Stair's RBI single scored Tucker Sbraggia to win the game.
Stair also drove in Sbraggia in the second game with a sacrifice fly in the third inning. That's all Rommel needed as he struck out five and walked two to give Melrose-Mindoro its sixth straight victory.
Nonconference
Prairie du Chien 5, Aquinas 3
PRAIRIE DU CHIEN — The Blackhawks scored three runs in the bottom of the fifth inning to knock off the Blugolds, who took a 3-2 lead with a two-run third.
Dylan Coleman singled twice and drove in two runs for Prairie du Chien, and Nick Schlicht drove in two runs for Aquinas.
SOFTBALL
Dairyland
Melrose-Mindoro 9, Lincoln 3
MELROSE — The Mustangs used a three-run triple from Khloe Spors and another triple from Calette Lockington to pick up the victory. Rion Riggall struck out eight for Melrose-Mindoro.
Ridge and Valley
De Soto 15, La Farge 5
STODDARD — De Soto scored in all five innings Monday to take the 10-run win. Four Pirates doubled.
Rachel Gianoli was 2-for-3 with three RBI, and Jenna Trussoni allowed two earned runs on three hits during her four-inning outing.
BOYS TENNIS
Nonconference
Winona Cotter 6, Sparta 1
WINONA — Senior Patrick Wagner scored a 6-4, 6-1 win over Matt Besek at No. 1 singles for the Spartans (5-7).