HOLMEN — The Holmen High School softball team swept G-E-T by scores of 3-2 and 7-5 in a nonconference doubleheader on Thursday.
The Vikings (17-5) ran their winning streak to five games with two wins over the Red Hawks (13-6), who had won six of their past seven. Holmen won the first game in the bottom of the eighth inning before winning a five-inning second game.
Senior Jayda Staige struck out six and allowed five hits in pitching a complete game in the opener. She also drove in the winning run in the eighth. Emily Szak was 2 for 4, and Sydney Jahr hit an inside-the-park home run for Holmen in the first game.
Genna O'Neill pitched the first game and hit a home run during a 2-for-4 performance for the Red Hawks.
Holmen's Kaylin Metzler was 3 for 3 with a double and four RBI in the second game, which was won by pitcher Marci Jacobson (three strikeouts, no walks, three hits allowed in 3⅓ innings). Ellie Kline doubled, walked and scored twice for the Vikings.
Lindsey Lettner was 2 for 2 with a walk and scored twice in the second game for G-E-T. Ryann Duffenbach drove in two runs and scored another for the Red Hawks, who finished second in the Coulee Conference.
Westby 4, Onalaska Luther 0
WESTBY — Jayda Berg threw a three-hitter to help the Norsemen (17-1, 11-1) win their fifth straight game and clinch the conference title.
Berg, who struck out 13 and walked none in seven innings, was also 1 for 3 at the plate with a double.

Hanna Nelson was 2 for 2 with two RBI, while Kenzi Stellner and Autumn Ward drove in a run apiece for Westby, which scored one in the second, two in the fourth and one in the fifth.
Sydney Rowan was 2 for 3 for the Knights (9-9, 4-8).
FOUNTAIN CITY, Wis. — Maddie England and Emma Fortier drove in runs to give the Cardinals a 3-0 lead going into the bottom of the fourth inning, but the Pirates scored four unanswered runs to take the lead.
Bangor (14-4) tied the game in the top of the sixth, but C-FC (19-4) responded with four runs in the bottom of the inning.
England was 1 for 2, Fortier was 1 for 3, and Jadyn Larson had the only other hit for the Cardinals, who committed two errors.
GALESVILLE — The fourth-seeded Red Hawks scored eight runs on nine hits in the second inning before holding off the surging fifth-seeded Rangers.
Trailing by three in the top of the seventh, Logan had the bases loaded with one out. But G-E-T turned a 1-2-3 double play to end the game.
The Red Hawks, who improved to 9-9, will play at top-seeded West Salem on Tuesday.
The Rangers finish the season at 5-13.
Sparta 4, Black River Falls 2
SPARTA — The third-seeded Spartans responded to a run from the sixth-seeded Tigers in the top of the first inning with two in the bottom of the inning and another in the second.
Brett Stuessel — who allowed two runs, one earned, on nine hits while striking out seven in seven innings — earned the win for Sparta (6-13), which took advantage of four errors and will play at second-seeded Arcadia on Tuesday.
Stuessel was also 2 for 4 at the plate with an RBI.
Cameron Gust and Garrett West drove in a run apiece for Black River Falls (2-16).
Westby 9, Onalaska Luther 7
WESTBY — The Norsemen got out of a bases-loaded situation with no outs in the seventh inning to eliminate the Knights.
Westby scored four runs in the bottom of the fifth to tie the game at 5 and went up 9-5 with four more runs in the sixth. Luther scored twice in the top of the seventh and loaded the bases before Westby turned to relief pitcher Hudson Lipski, who struck out the side to end the game.
Freshman Logan Bahr was 2 for 4 with a double and two RBI, and senior Hunter Kasten went 2 for 5 for the Knights. Senior Tyler Fluegge was 2 for 4 with two doubles and two RBI, and Dillon Yang added a pair of RBI for Luther.
Boscobel 3, Prairie du Chien 2
PRAIRIE DU CHIEN — The second-seeded Blackhawks finish the season at 10-8.
Melrose-Mindoro 11, Kickapoo/La Farge 1 (6)
MELROSE — The Mustangs, who improved to 14-6, will play at top-seeded Aquinas on Tuesday.
Bangor 13, North Crawford 0 (5)
BANGOR — The third-seeded Cardinals (11-3) grabbed an early lead with six runs in the bottom of the first and four in the second, while Hank Reader allowed only three hits in five innings.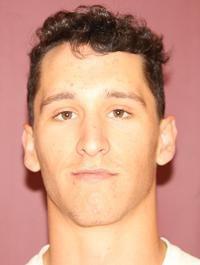 Reader, who was also 1 for 3 at the plate, struck out 10 batters and only walked one.
Sam Wittmershaus was 2 for 3 with four RBI, while Evan Wolfe and Ashton Michek drove in two runs apiece.
Bangor will play at second-seeded Seneca on Tuesday.
ONTARIO, Wis. — The Eagles scored in every inning but the third, and pitcher Bowdy Dempsey reached safely four times with the highlight being a fifth-inning home run.
Dempsey was 3 for 3, drew a walk and scored three times as Cashton advanced to the semifinal round. Outfielder Brett Hemmersbach also reached safely four times and was 3 for 3 with three singles and a walk.
Right fielder Ethan Klinkner was 2 for 3, reached three times and scored twice for Cashton. Second baseman Presley Brueggen doubled twice and scored twice.
Blair-Taylor 5, Eleva-Strum 4
BLAIR — The fourth-seeded Wildcats, who improved to 9-10, rallied from a 4-0 deficit and scored the go-ahead with two outs in the bottom of the sixth on an Eli Swenson double.
Isaiah Washington was 2 for 3 with a triple and an RBI for Blair-Taylor, which will play at top-seeded Independence/Gilmanton on Tuesday.
Tomah 3, Adams-Friendship 2
TOMAH — The Timberwolves won when Braeden Pierce led off the bottom of the seventh with a walk, moved to second on a sacrifice by Drew Brookman and to third on an error. An intentional walk to Evan Long was followed by a long single from Caden Harmel, who brought Pierce home with the winning run.
Harmel and Hunter Miller combined on a one-hitter for Tomah (9-10). Harmel started and pitched three no-hit innings with two strikeouts, and Miller struck out two the rest of the way.
Catcher Tucker Francis was 2 for 3, and Josh Georgeson and Luke Duncan had run-scoring hits.
DE SOTO — A five-run third inning gave the Pirates the lead they needed to win their second straight game and improve to 11-5.
Josh Boardman, Bryce Grelle and Vincent Buchner each drove in two runs, while Andrew Thompson was 4 for 4 and scored three runs.
Aquinas 14, River Valley 0
In a game that ended in the 60th minute, the second-seeded Blugolds were led by senior Amelia Topolski, who had five goals and one assist at Field for Kids.
Freshman Danica Silcox and junior Finley Harkness scored three goals apiece, while senior Fiona O'Flaherty had two.
Aquinas will host third-seeded Lodi on Saturday.
WEST SALEM — Helen Black scored three goals for the third-seeded Panthers (6-7), who also received two from Marina Thompson and two assists apiece from Sydney Hammes and Ella Jordan.
Audrey Godlewski, Elly Goodenough, McKenna Ferguson and Katie Murphy also scored for West Salem.
The Panthers will play at second-seeded Madison Edgewood on Saturday.
Melrose-Mindoro/G-E-T 2, Wautoma/Wild Rose 1
MELROSE — Fourth-seeded Melrose-Mindoro/G-E-T will play at top-seeded McFarland on Saturday.
Madison Edgewood 10, Arcadia/Independence 0
MADISON — Seventh-seeded Arcadia/Independence had its season come to a close.
Eau Claire Memorial Sectional
EAU CLAIRE, Wis. — There were no automatic qualifiers for the state tournament, which takes the top four No. 1 singles and doubles finishers and the No. 2 singles and doubles champions.
Onalaska's Micah Bornitz qualified for the championship match at No. 4 singles and won it over Eau Claire Memorial's Seth Roosevelt 6-1, 7-5 to finish his seaosn with an 18-0 record. Bornitz qualified for that match with a 6-4, 6-2 semifinal victory over Menomonie's Noah Reckin.
Onalaska's Max Klein handed Tomah's Jonah Nick a 6-3, 5-7, 10-8 defeat in the third-place match of the No. 3 singles bracket. Both players were swept in the semifinal matches.
Onalaska's Calyn Ngeth and Matt Hinitt matched Nick's third-place performance by finishing on a victory at No. 3 doubles. Ngeth and Hinitt beat Eau Claire Memorial's Grant Johnson and Gavin Sorensen 6-1, 6-3 in the semifinals and Stevens Point's Jack Diekelman and Sam Kulick 6-3, 4-6, 10-6 for third place.
Onalaska's Alvin Hsieh and Austin Noble got off to a good start in their third-place match at No. 2 singles, but a 6-3 win in the first set was followed by 7-6 (5), 10-7 losses to Menomonie's Joaquin Gamez and Kai Wei Chen.
Onalaska scored 26 points and placed fourth as a team. Eau Claire memorial won with a score of 44 and was followed by Hudson (32) and Menomonie (30).