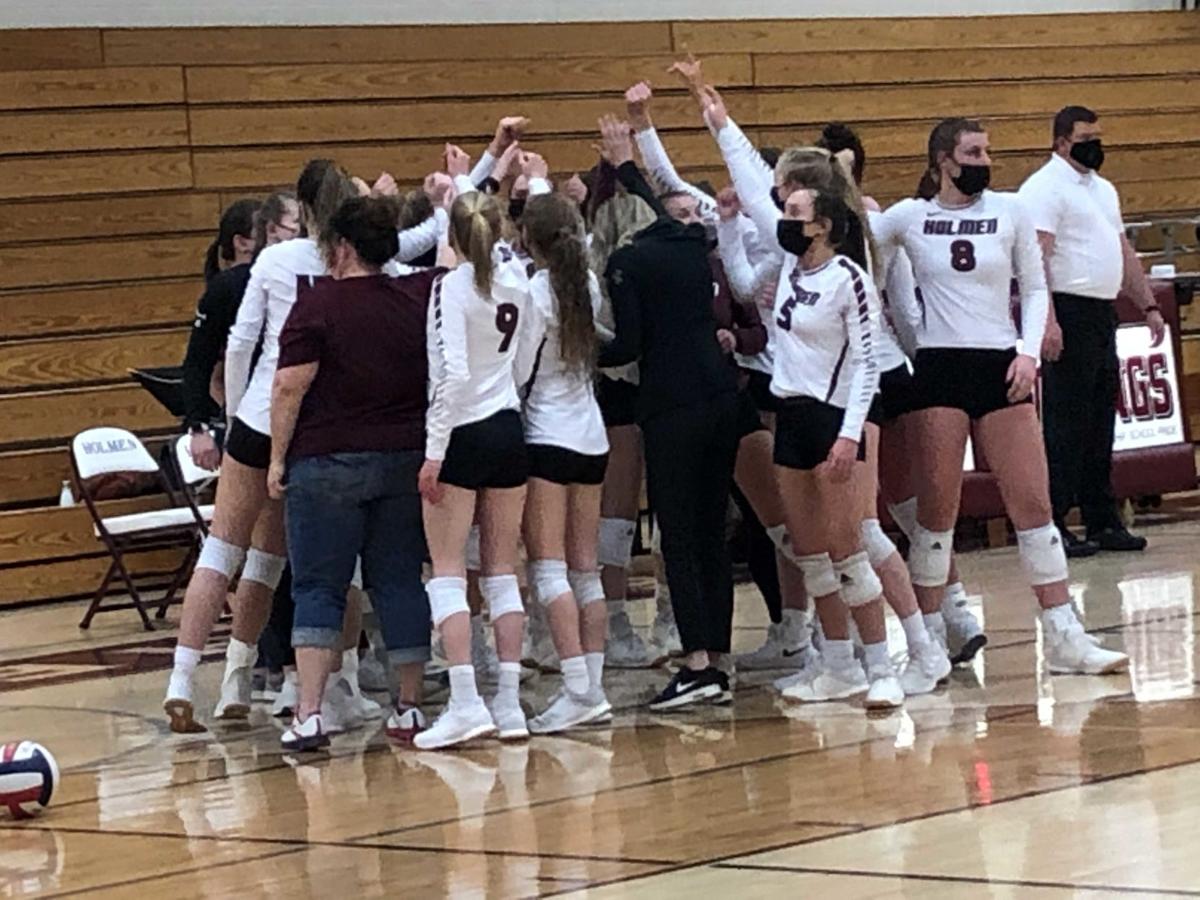 SPARTA — The Holmen High School volleyball team won its ninth straight match of the alternate season by beating Sparta 25-5, 25-15, 25-27, 25-10 on Tuesday.
The Vikings, who are 9-0 in the spring after splitting two matches in the fall, were led by 11 kills from senior Raegan Boe and 10 from senior Sydney Jahr.
Junior Ellie Kline had 28 digs and seven aces, while jahr added 23 digs and three aces.
Junior Marissa Pederson had 23 assists and 14 digs, while junior Chloe Hammond added eight kills and four blocks.
The Vikings host a WIAA Division 1 regional on Saturday as the No. 1 seed. Holmen plays fourth-seeded Logan at 9 a.m., while second-seeded Central plays third-seeded Sparta at 11:30 a.m. The championship match follows.
Eau Claire North 3, Logan 0
EAU CLAIRE, Wis. — Senior Lauren Boge had 13 digs for the Rangers, who lost 25-13, 25-20, 25-21.
Freshman Ava Dettwiler had 11 digs, nine assists and a team-high six kills, while senior Avery Werner had a team-high 15 assists to go with four kills.
Jamison Jungen assisted on the tying goal and scored the winner for the Vikings.
Jamison set up senior Spencer Malone for Holmen's second goal at the 70-minute, 54-second mark before taking a pass from teammate Gage Pioessi and scoring at 84:43 to put the Vikings ahead.
Freshman Solomon Szymanski tied the game at 1 with an assist from freshman Eston Eberlein before assisting sophomore Xavier Moseti to give the Rangers a 2-1 lead in the 69th minute.
Matt Levandoski also scored for Holmen, and Pioessi assisted on that goal.
Senior Eli Carr had 12 saves for Logan.
BANGOR — The Cardinals posted a straight-set victory over the Falcons with scores of 25-19, 25-5 and 25-13.
Junior Madisyn Herman had 12 kills for Bangor, which also received 20 digs from senior Megan Miedema and 15 assists from senior McKenna Riley.
The RiverHawks pulled off a sweep in the doubles matches to take care of the Rangers at Central.
Katie Johnson and Kayla Holman (No. 1), Maggie Hannum and Sophie Hannum (No. 2) and Maddie Masewitz and Ella Lysne (No. 3) all won in straight sets to highlight Central's performance.
Rachel Jones (No.1) and Odessa Barreyro (No. 2) won singles matches for the RiverHawks, and Sydney Roswall (No. 3) and Tatyana Roberts (No. 4) won for Logan.
WAUKESHA, Wis. — Freshman Shefali Ramakrishnan represented the Logan/Central co-op and came away with a 14th-place finish in the 100-yard butterfly at Waukesha South.
Ramakrishnan completed the race in 1:00.39 and earned three points for the team. Edgewood won the team championship with 350 points.