The Onalaska High School baseball team did it again on Wednesday.
The Hilltoppers took a six-run lead, lost a six-run lead and then scored twice late to score a 10-8 victory over Aquinas at Holy Cross Seminary Field.
Onalaska (9-7, 8-3) beat the Blugolds (20-2, 9-2), who are ranked third in Division 3 by state coaches, for the second time this season and overcame a five-error performance in doing it.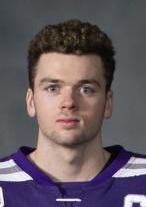 August Brandt hit a home run for the Hlltoppers, and Jared Everson hit one for the Blugolds. Everson, a University of Minnesota commit, was 2 for 3 with a double, home run, walk and three runs scored. Catcher Calvin Hargrove was 3 for 4 with two RBI, and Mike Lium was held hitless but managed to drive in two runs and score twice.
Center fielder Mason Manglitz was 4 for 5 and scored twice for Onalaska, which scored three times in the first inning and three more in the second against Aquinas pitcher Chris Wilson.
Pitcher and second baseman Bryce Hoeft was 3 for 3 with three RBI for the Hilltoppers, who also received two hits apiece from Griffin Schultz and Wade Fox. Onalaska stole six bases, and Schultz and Manglitz had two each.
SPARTA — The Rangers (2-11, 2-7) snapped a nine-game losing streak by scoring four runs in the first two innings and cruising behind the pitching of Johnny Leaver and George Luckner.
Leaver pitched six innings and allowed one earned run on six hits and four walks while striking out three. Luckner pitched the seventh and struck out one while retiring the side in order.
Leaver was also 2 for 3 with two RBI, and Gabe Katchee added a 2-for-3 performance with an RBI.
The Spartans (5-9, 0-9) made five errors, and its two pitchers walked six batters. Nick Kent and Chris Jacobs were both 2 for 3.
Wauzeka-Steuben 6, De Soto 3
WAUZEKA, Wis. — The Pirates (9-4, 8-3) gave up four runs in the fifth and sixth innings, and the Hornets stopped them from winning their third straight game.
Sophomore third baseman Bryce Grelle was 1 for 1, walked three times and drove in a run for De Soto, which scored in the top of the fourth to tie the game at 2-2. Junior Gabe Walz and senior Vincent Buchner also drove in one run each for the Pirates.
Alex Scoville and Andrew Thompson both went 2 for 4 for De Soto.
Cashton 6, Brookwood 1 (5)
ONTARIO — Aiden Cook and Bowdy Dempsey hit consecutive home runs in the fifth inning to highlight the first game, which included three fifth-inning runs for the eagles to break open a close game.
Dempsey, who held the Falcons to one hits and struck out 12, also doubled in the second inning and was one of four Cashton players with two hits. Cook, Conner Butzler and Jack Kleba also had two.
Kleba was 3 for 3 with a double and three runs scored in the second game. Dempsey walked twice and scored twice, and Ethan Klinkner tripled.
The Rangers scored all of their runs in the first two innings, and Jojo Davis held the Hilltoppers to three hits while striking out four.
Jazzy Davis hit her second home run in as many days for Logan (5-11, 3-8), which has won three of its past four games. Chariell Butler and Jojo Davis each had two hits for the Rangers, and freshman Adrianna Lien drove in two runs.
Onalaska (8-14, 5-6) was led by freshman Ellie Walls, who was 2 for 2, and Ava Smith struck out eight batters.
Wauzeka-Steuben 7, De Soto 6 (9)
WAUZEKA, Wis. — The Hornets scored in the bottom of the ninth inning to win via walkoff after tying the game at 6 by scoring twice in the bottom of the seventh.
Jordan Young hit a home run and drove in two runs for the Pirates (12-3, 10-2), who lost their share of first place in the conference and fell a half-game behind Seneca (10-1). Gracyn Beck and Jena Gianoli also drove in a run apiece for De Soto, which held its biggest lead at 6-2 after scoring twice in the top of the fifth.
Beck doubled, and Gianoli tripled for the Pirates.
MAUSTON, Wis. — The Blackhawks completed an unbeaten regular season in conference play with a shutout and win in straight sets during all matches.
Dustin Kenyon beat Zach Lund 6-1, 6-0 for a victory at No. 1 singles, and teammate Dalton Buros took care of Mason Hawkins 6-3, 6-1 at No. 2 singles.
Viroqua's No. 1 doubles team of Ben Gillen and Eric Jerdee beat Airic Jopling and Sean Muchenberger 6-1, 6-4, and its No. 2 doubles team of Ethan Tubbin and Ben Kane beat Sam Oliver and Ethan Mould 6-1, 6-2 at No. 2.
The Blackhawks host the conference tournament on Thursday.