VIROQUA — Hunter Vikemyr turned in a near-perfect start for the Viroqua High School baseball team in the first game of a doubleheader Monday against Coulee Conference rival G-E-T.

Vikemyr fanned 20 Red Hawks in a 2-0 win to kick off the doubleheader, and then the Blackhawks got going offensively in a 10-1 victory in Game 2.
Vikemyr allowed just one hit, a single from Alex Pearson, and hit two batters, but had his strikeout pitch working all game. Sixty-nine of his 99 pitches were strikes, and the offense got runs in the first and sixth innings to make his impressive start hold up.
In Game 2, the top half of the order had nine of Viroqua's 11 hits, including three from Vikemyr. Andrew Wedwick was 2-for-4 with a home run and three RBI, while Mason Skrede doubled twice.
Pearson had two hits, including a double, in the nightcap.
Black River Falls 8-11, West Salem 6-5
WEST SALEM — Alijas Whitegull had two hits, including a double, two RBI, and drew two walks to spark the Tigers' offense in the first game of a double header. Chase Yaeger, who also doubled, finished off the final two outs pitching and got the save.
Keegan Kuehl was 3-for-4 with a double for the Panthers in Game 1.
Sawyer Parker and Garret West each had two hits and three RBI for Black River Falls in Game 2, and the Tigers scored four unearned runs, capitalizing on five West Salem errors.
Kuehl tripled, while Trenton Foreman and Josh Hauser had two hits apiece for the Panthers.
Westby 9-12, Arcadia 2-3
WESTBY — Alex Gluch tallied four hits between the two games, while Sam Strangstalien notched five, including a triple and three RBI in the second game.
Strangstalien had 11 strikeouts in five innings the first game.
Hunter Ward struck out eight in the second game for the Norsemen.
MVC
Holmen 14, Aquinas 2 (6)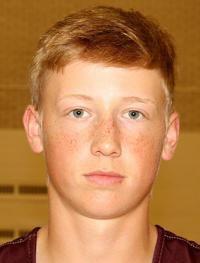 The Blugolds snatched a quick lead in the first inning at Holy Cross Seminary, but Holmen scored 14 unanswered, including eight in the fifth inning.
Kyle Koelbl was 4-for-5 with a triple and five RBI, while Brandon Flury added three more RBI. Logan Stauffer had two hits, and Ben Byom struck out 13 in a complete game.
Jack Coleman had a two-run double for Aquinas.
Central 7, Sparta 0
SPARTA — Dylan Lapic put up a strong start, going 6⅓ innings and striking out seven, as the Spartans never put together a sustained rally.
Andrew Fischer and Hunter Elsen each went 2-for-4 with double and an RBI for Central, while Trevon VanEgtern had two hits.
Adam McKee doubled and tripled for Sparta.
Onalaska 12, Tomah 3
TOMAH — The Hilltoppers got hot in the final three innings — scoring four, three and four runs, respectively — to build a comfortable lead over Tomah.
Carter Stobb had three hits and batted in three runners to lead Onalaska as Evan Gamoke went 2-for-2.
Tyler Torkelson, Dakota Riedesel and Joe Hesse each had two hits for Tomah.
Scenic Bluffs
Bangor 2, Cashton 1
Bangor 8, Cashton 3 (7)
BANGOR — The Cardinals clinched the Scenic Bluffs title outright by sweeping Cashton.
Bangor was able to win Game 1 after a single from Mathieu Oesterle (2-for-3, double) drove in Trevor Jones (2-for-3).
Game 2 turned from a planned five innings to seven after Cashton created a 3-3 tie in the fourth. Bangor was able to pull ahead, though, after receiving doubles from Noah Freit and Carter Horstman. Jones, Freit and Horstman all finished with two hits apiece.
Cashton was led doubles from Carter Hall and Bowdy Dempsey.
Ridge and Valley
De Soto 12, North Crawford 2 (5)
STODDARD — The Pirates scored nine runs in the first three innings and didn't let up.
Brock Venner was 3-for-3 with a triple and three RBI, Riggin Beck doubled and drove in two runs, and Isiah Zink batted in two runners.
SOFTBALL
Coulee
Onalaska Luther 9, Westby 8
WESTBY — Cynda Protsman was able to get the final out of the game to stop a seventh-inning comeback attempt by Westby (8-11, 5-7).
The Knights (8-11, 5-7) had nine runs by the fifth inning, and the Norsemen were able to push four across in the bottom of the seventh. Protsman led Luther by doing 2-for-3 with a double as Aly Werner doubled.
Westby was led by Claire Griffin's 2-for-3 performance, which included a double.
Arcadia 10-7, Black River Falls 2-5
ARCADIA — Abby Suchla turned in two strong pitching performances, and Lynzy Sendelbach tallied six hits between the two games to power the offense.
Sendelbach had three hits and a double in each game, while Hannah Suchla went 2-for-3 with two RBI in Game 1, and Ali Pronschinske went 3-for-4 with a homer in Game 2 for Arcadia (10-3, 9-3).
Norma Dick had a two-run homer in the first game, and two more hits in the second for Black River Falls
Scenic Bluffs
Cashton 20, Bangor 15
CASHTON — The Eagles built a 16-1 lead going into the fifth inning, but then Bangor stayed patient as Cashton pitchers struggled to find the strike zone and put together a 13-run rally. Cashton responded with four more runs in the bottom half of the inning and come away with the wild win.
Cashton's Hailey Huntzicker was 5-for-5 with a double and two RBI, while Haylee Connelly was 3-for-5 with a double and three RBI, and Allison Brownell was 3-for-5 with a double and a home run. The Eagles notched 25 hits.
Bangor, which had five hits, got two from Madison Brownell.
Ridge and Valley
De Soto 11, North Crawford 1 (6)
STODDARD — The Pirates tallied 14 hits, including four from Mya Helgeson.
Jordan Young hit a three-run homer in the first inning, while Riley Anderson doubled as part of a two-hit day. Zoey Boardman also had two hits.
Young pitched the first five innings and struck out 10.
BOYS GOLF
La Crescent 162, Wabasha-Kellogg INC
HOUSTON — The Lancers posted the top four scores of the day at Valley High Golf Course.
Grant Nutter led the way with a 1-over-par 36 on the back nine, followed by Owen Davison (39), Alex Ferrier (43) and Ryan Lemke (44).
BOYS TENNIS
Nonconference
Logan 7, Black River Falls 0
Ben Fowler won the No. 1 singles match 7-5, 7-5 over Black River Falls' Paul Barbe, recording one of the team's seven wins on the night.
Logan's Avery Schams and Garrett Simmons went 6-1, 6-0 against Kyle Gilbertson and Kobe Nichols to win the No. 1 doubles match.