If you shoot too quickly, you might think your chances are better. They are not.
If you take a long, steady aim, the target not only travels farther from you, it loses altitude and becomes difficult to shatter.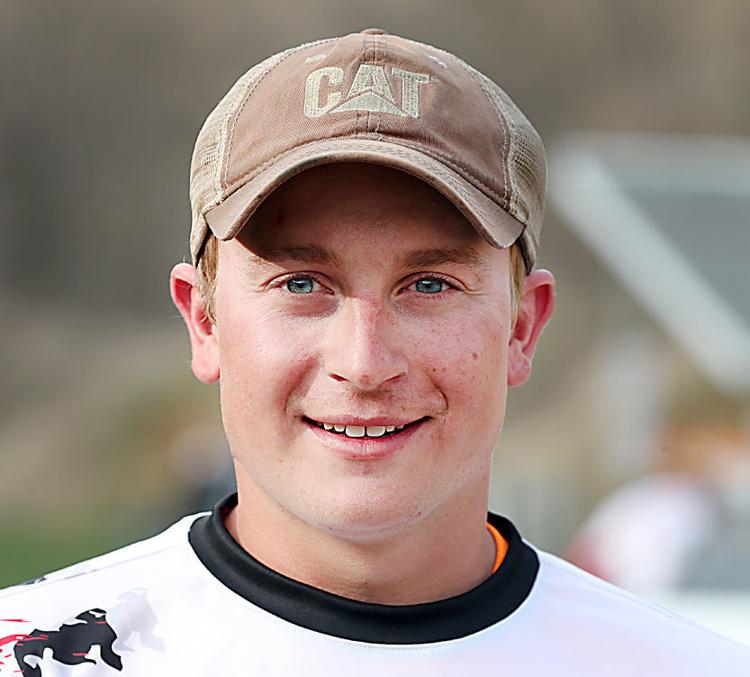 Experience and practice is what leads to a perfect shot in the increasingly popular sport of trap shooting. And, of course, a great deal of skill.
Then even more practice, as in hundreds of rounds.
"From doing it myself, I love seeing young guys and gals out here getting involved in the sport," said Cole Woods, 22, the coach of the Central/Logan co-operative trap team, which is in its third year.
"We explain to them the timing on it. Basically hit it (target) before it hits the crest. When you see a streak as it comes out (of the trap house), you teach them not to shoot at the streak but trace a line."
It may sound easy, but hitting a clay target from different angles as it comes flying out of a trap house at 40 to 44 mph is very challenging. That, Woods said, is part of the appeal as you not only have to judge the speed, direction and even the impact the wind may have on a target.
"You know when you watch golf on TV, and they have that line that traces the ball in the air? You want to picture that line as it (target) comes through the air and follow it," Woods said.
Competitors shoot five times from five different spots, then move to another station where they repeat the format. A competition therefore consists of two 25-shot rounds, or a total of 50 attempts.
Information is recorded, then simultaneously fed into a website where teams compete against each other on a real-time basis.
"They are competing virtually, so right now all of their scores are being sent online," Woods said during Monday night's competition, the second week of a five-week season, "so they are competing against schools across the state."
Joe Beran, longtime activities director at Central High School, certainly appreciated the virtual aspect of the event.
"It is kind of neat they are competing against another team, but there is no travel cost," Beran said.
There are expenses involved with having a trap shooting team, but the team, along with the Chaseburg Rod & Gun Cub, have come up with creative ways to cover most of the cost. The Central/Logan team was proudly wearing its new jerseys on Monday, with logos from each school on each sleeve. That doesn't offset the cost involved, but the 30 sponsors on each jersey do.
And if they are at a high enough level, competitors have an opportunity to get more than a team jersey.
"It starts out as a club sport, but this will be the first year they are able to letter," Beran said. "Usually when we start programs like this, I always tell them if they can keep it established for three years, we will look at kids getting a letter the third year."
Earning that varsity letter is quite a challenge, said 12-year-old Aubrey Hass, a seventh-grader at Longfellow.
"It is fun, and it challenges me. I really like to be challenged," Hass said. "The toughest part, at first, was probably the angles. There is a certain thing you do; you have to swing through them.
"When I first started, out of 50, I hit four. Now, the best I shot is 40 out of 50."
Woods, a five-time Wisconsin State High School state champion who once shattered 187 consecutive targets, said being a high level trap shooter is 90 to 95 percent mental.
"Once they get the basics down, it comes down to how they are thinking," Woods said. "Keeping a clear mind and just calling their shots.
"Your eyes will focus on the target and your hands will bring that bead of the gun right to the target."