It had been a while since first-year Aquinas High School volleyball coach Danielle George had experienced the taste of playoff action with the Blugolds.
In fact, it had been nine years since she walked away from the Blugolds' sideline after a WIAA Division 3 sectional semifinal loss to Wisconsin Heights in 2008.
That's why Tuesday night felt so good.
The second-seeded Blugolds swept 15th-seeded Onalaska Luther, 25-18, 25-14, 25-20 in a a regional quarterfinal match at Reinhart Athletic Complex in front of an estimated crowd of 500.
The Knights (1-14) only recorded one regular-season win, but they threw that aside and came ready to play.
"This time of year you always kind of call it your second season," said George, who stepped in to coach Onalaska in 2015 and split two postseason matches there. "It's do-or-die time and that can go well for you, or it can work against you."
"There was no give-up in them (the Knights) tonight. Kudos to those girls and coaches, they certainly did not hand it to us. We had to work for it."
The Blugolds started out fast in each set — they led 8-2 in the first set, 6-3 in the second and 4-2 in the third — but the Knights clawed their way back in each set. Onalaska Luther challenged the Aquinas hitters at the net, recording a number of blocks, then turned that momentum into some solid setting.
"I saw us playing scrappy, and I saw us getting blocks up, and our passing was the best it has been all season," Luther coach Kayla Eisenmann said. "I think it was the playoffs, just playing with heart, knowing this could be our last game. We really finished our season on a high note."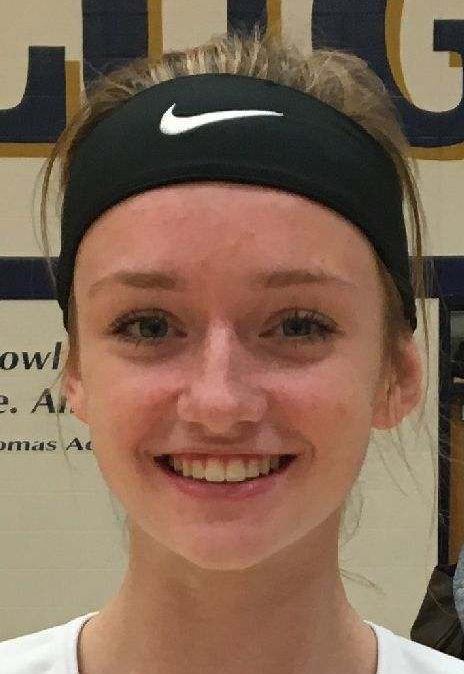 In the end, Aquinas, specifically sophomore outside hitter Lexi Donarski, was just too strong. In fact, the Iowa State basketball commit took over the match at times with her devastating spikes, specifically in the second set when the score was tied at 14. Donarski had three kills to spark an 11-0 run to help Aquinas take the set.
"We knew it was going to be a serve-pass game," said Donarski, who led the Blugolds with 11 kills and 11 digs. "Once we were able to sharpen up our serve receive, we were able to run a better offense. We knew they had some good hitters, so we really had to set up our defense around them."
That Blugolds' defense finished with eight blocks, as Donarski, Kyah Steiner, Courtney Becker, and Ceci Miskowski made it tough on the Knights.
"Those two (Steiner, Becker) can put up a pretty intimidating wall, for sure," George said. "They are still working on a few things, but it's nice to know when the ball is going their way, they are going to take care of it."
The third set was closely contested, but once again the Blugolds and Donarski were able to separate themselves. Donarski had a kill and an ace to push the Aquinas lead from 20-17 to 22-17, which proved to be the difference maker in the third set.
"Luther played well tonight," Donarski said. "We had to play well to earn our points, they didn't just give us points, we had to earn every point."
The Blugolds host seventh-seeded Arcadia — which defeated Osseo-Fairchild in straight sets in its opening match — on Thursday. George knows they have some things to work on if they want to make another deep postseason run.
"We got a lot of weapons we can utilize, but if we are passing 10, 12, 15 feet off the net, then the struggle is real for anybody," George said. "Our focus is one match at a time, taking care of the serve pass game, our blocking schemes so we can continue to go to the next level."