The Aquinas High School volleyball team didn't panic when junior Lexi Donarski was helped off the court with a badly sprained ankle Tuesday night.
No one associated with the team thought it would, by the way, but the response to that in a 25-19, 25-23, 25-16 victory over Onalaska at the Reinhart Athletic Complex has to be reassuring for the Blugolds.
Donarski, an Iowa State University basketball recruit, is a key ingredient to the team's 22-2 overall and 7-0 MVC records, but the Blugolds didn't lose focus even for a minute against the Hilltoppers, who pushed them to a five-set decision the first time the teams met this season.
The good news from late Tuesday night was that the injury was a sprain and not a break — it didn't look good — meaning Donarski won't miss as much time as feared.
"Lexi is a huge asset for this team, and we knew we had to up our game without her," Aquinas junior Taylor Theusch said. "Everybody picked up their game tonight.
"It was hard to play without her."
Aquinas is the state's second-ranked Division 3 team for many reasons, and Donarski is merely one of them.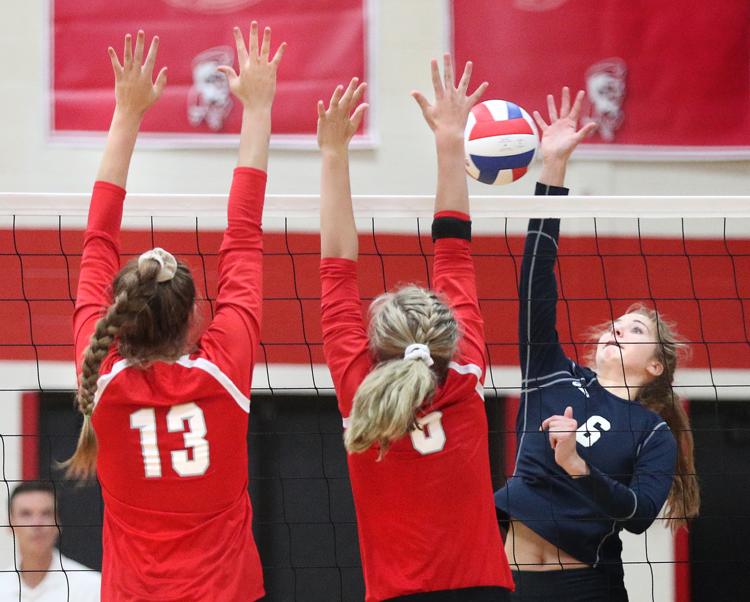 The Blugolds have athleticism, talent and depth on their side, and that combination is why coaches think the only better Division 3 team in the state is Stratford (26-0).
"Everybody was like, 'Yep, we can do this,'" Aquinas coach Nellie George said. "One person doesn't carry a team, and while she does a lot for us, doing what they did is what you have to do to be successful."
Senior Ceci Miskowski, junior Courtney Becker, sophomores Natalie Warren and Victoria Nolte and freshman Jacy Weisbrod all made strong plays at the net, and that is nothing new for anyone who has watched this team all season.
The Blugolds have depth as they march into the second half of the conference season.
"If we have one kid struggling, I feel like we have a good backup that we can rely on and have confidence in," George said. "At a school this size, that's a pretty amazing thing."
The Blugolds need that to battle with the likes of Holmen to remain at the top of the MVC. The Vikings have a lot of firepower, too, but Aquinas found a way to come back from a set down and beat the Vikings in five sets.
Senior libero Megan Scheidt said Aquinas players never lost confidence against Holmen and simply came to the realization that they had to concentrate on playing to team strengths.
That takes a group effort, and the Blugolds used a group effort to take down Onalaska just like it did Holmen. Becker's eight kills led the way against the Hilltoppers.
The 6-foot middle blocker played a big role in the team advancing to the WIAA Division 3 regional finals last year and will need to duplicate that for the Blugolds to win another MVC title and try to qualify for a sectional berth. Her athleticism and control at the net make her a force for opponents to handle.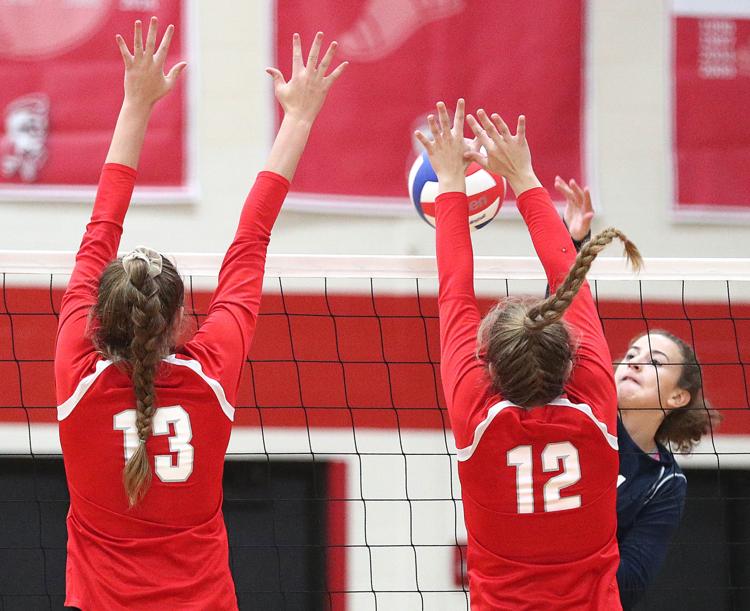 "Courtney is so athletic," Scheidt said. "She can work with a ball no matter where it comes from because she is such a good athlete, and she is unstoppable at the net when she is swinging and blocking like she did (on Tuesday)."
Theusch played with Becker at Cochrane-Fountain City High School before the two transferred to Aquinas as sophomores and is more familiar with Becker's strength than any other Blugold.
"Her basketball IQ is really high, and that's one of the things that makes her such a good basketball player," Theusch said of Becker, who has Division I basketball scholarship offers from UW-Green Bay, North Dakota State, Bradley, Drake and Colgate. "It's the same with volleyball. She can jump high and hit the ball really hard, but she is a really smart player and always knows what she needs to be doing."
The Blugolds will be without Donarski for a little while, but they showed against the Hilltoppers that, with players like Becker, Theusch, Scheidt, Warren and others, they will be just as tough to beat.