HOLMEN — Madeline Korish was excited at the suggestion of joining a wrestling team, but her first-hand introduction to the sport brought out a much different emotion.
"It was terrifying," the Holmen High School sophomore said with a smile. "I was so nervous that I would mess things up and people would laugh at me.
"But I feel like I'm getting the hang of it, and I really like it."
Korish is one of 24 girls who committed to the Vikings' program before the season began. Four changed their mind, but the rest are still in the picture and learning as much as they can about a new sport together.
Eleven girls from Holmen competed in matches against other girls at the Bi-State Classic on Dec. 29 at the La Crosse Center. Twenty-five competitors from 11 schools — Melrose-Mindoro/G-E-T and Prairie du Chien each had two entrants — had at least one Bi-State match as they reached the middle of the season.
Holmen's Mykalia Olson, PdC's Maya Trautsch and Mel.-Min./G-E-T's Skylar Wieczorek all won twice that day in the first girls showcase the event has had.
It was another positive step for a group being coached by Kelsie Speltz, a 2014 Holmen graduate and Winona State University senior who will be student teacher (physical education) at Holmen High School in the spring semester.
Speltz, then Kelsie Jarzemski, also wrestled at Holmen, but she was in a much different situation as the only girl on the team and only having the option to wrestle against boys. She posted a 9-14 record while wrestling at 113 pounds as a senior.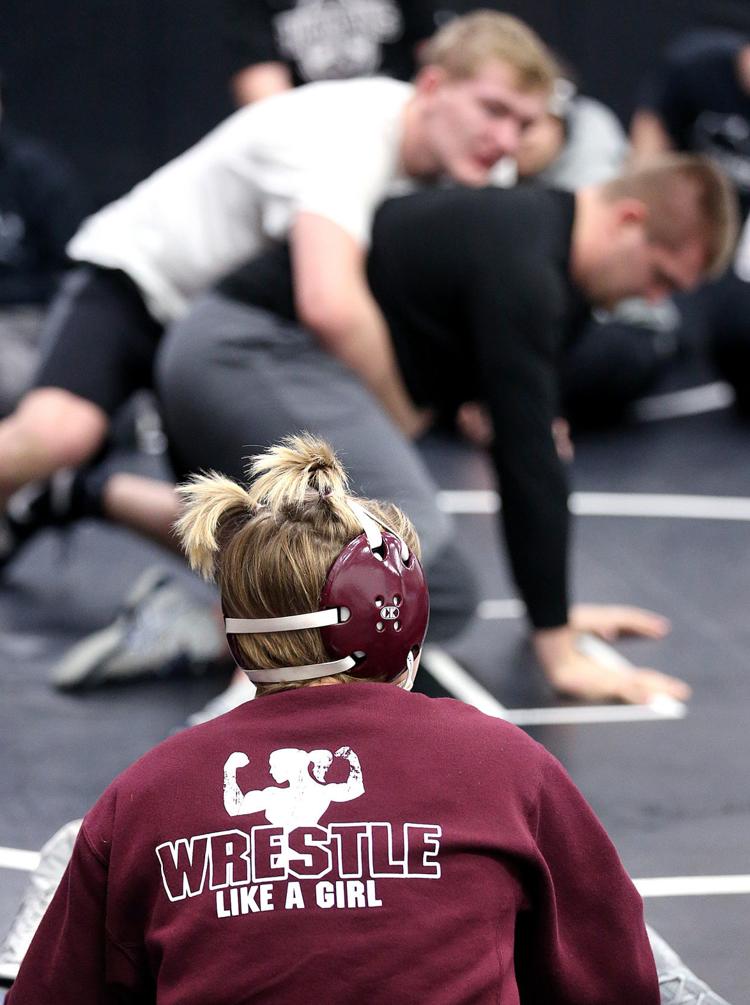 Speltz jumped in and started working with a handful of girls who joined Holmen's program last season and received the chance to expand her role as a coach with more interested competitors this season.
"I love the program and what it offered me," Speltz said. "I wanted to give back and offer the same thing I was offered to these athletes."
She said keeping the girls interested in the sport and sticking with the team hasn't been difficult. Part of that, she said, is the camaraderie being built.
"They are here as a unit and experiencing all of this, most of them for the first time, together," Speltz said. "It's been a learning experience for all of us, and it feels like it's going great."
The team has wrestled in three weekend events and another hosted by Melrose-Mindoro/G-E-T. Girls have also picked up dual matches against other girls and junior varsity matches against boys.
The season culminates with a tournament at Wausau West on Jan. 19, and that is part of the Wisconsin Wrestling Challenge Series. The event has a girls championship division that coincides with a boys tournament.
That seemed like a long way off when the girls began practicing in November.
Getting through the first couple of weeks of a long season was going to be the hardest part, especially for those trying the sport for the first time. Conditioning, conditioning and more conditioning is always the first step of the season.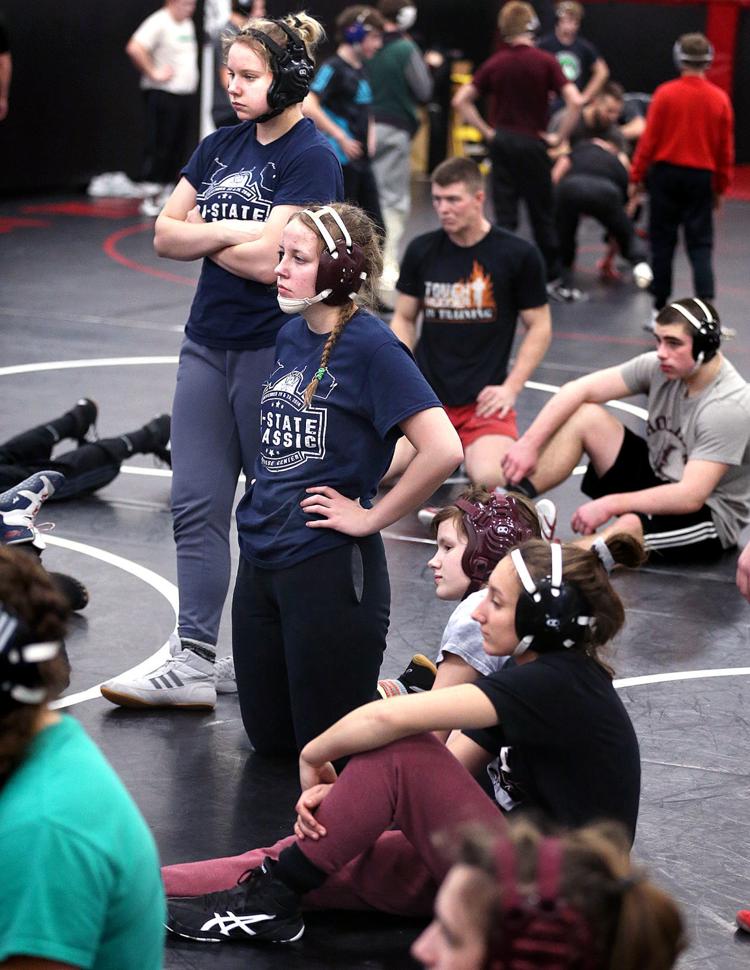 "Oh, my gosh," Olson said when asked about the first week of practice. "It was intense, it was a lot of conditioning and a lot of running.
"It was a lot of using your entire body for workouts, and that tires you out a lot faster than you think."
Olson, you would think, had an idea of what she was getting into after spending two years as a team manager for Holmen coach Jason Lulloff. But even a look from that close didn't prepare her.
"It's definitely a lot harder that I expected and a lot more than what I thought the boys did when I was a manager," the junior explained. "This is a whole new level of sports for me."
Sophomore Jasmine Gabbard chose wrestling to complement her training with the soccer team. Junior Megan Zittlow is doing the same as an established star in track and field after winning the pole vault at the MVC meet and becoming a Division 1 qualifier for the state meet.
Zittlow also was on the team last season and returned to keep training at a high level over the winter months. She also helped spread the good word to increase numbers for this season.
"We didn't have this many girls last year, so it was different, and I like this better," Zittlow said. "There are a lot more people to wrestle, and that's more challenging."
Gabbard said one of her challenges has been setting up shots on takedowns. Each successful attempt helps with confidence, she said.
"It comes a lot more (natural) during matches than during practice," Gabbard said. "When I'm in a match, I'm thinking about winning, and I'm doing everything I can to win."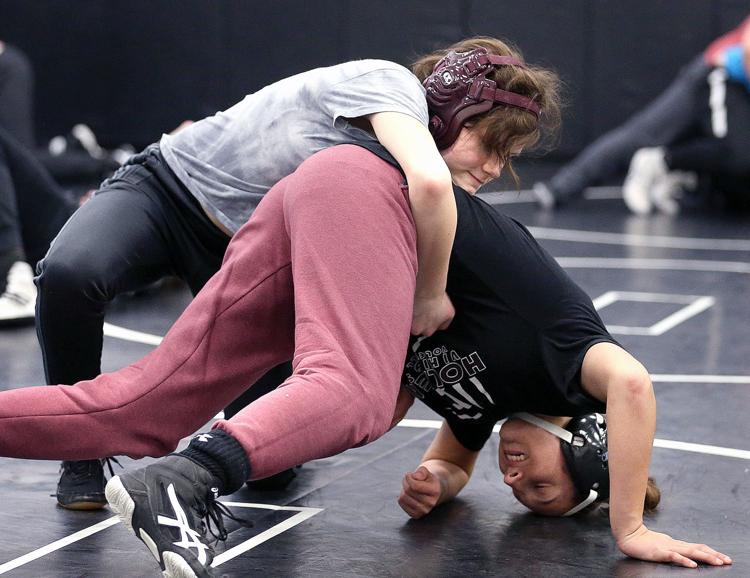 Gabbard and Korish also like the release of aggression that accompanies workouts.
"Getting on the mat is a great way to let loose and not have any other worries," Korish said. "If I do have worries, I can let them out when I wrestle."
Then, Korish smiled before continuing.
"I also have siblings, and I definitely take less anger out on them now."
Those interviewed said the mental aspect of wrestling was the toughest thing to grasp. Learning positioning and strategy certainly takes time, but finding the ability to have the right mindset can be the biggest obstacle to overcome for those being introduced to the sport.
That takes time to build. The important thing right now, Speltz said, is that they are still wrestling.
"They were nervous when they started, but they are sticking it out and starting to love it," Speltz said. "They are showing up, they are working hard, and they are dedicated.
"You can see the confidence building since the first tournament they wrestled."