Pete Peterson has been happy with his Melrose-Mindoro/G-E-T wrestling team's involvement with the Northern Badger Invitational for the last several years.
But there are many reasons for Peterson, who co-coaches the Titans with Ernie Brodsky, to be excited with the new challenge that awaits Friday and Saturday at the La Crosse Center.
Melrose-Mindoro/G-E-T, which won the Northern Badger last season, is back in the Bi-State Classic for the first time since it was just Melrose-Mindoro in 1997.
The Titans, ranked fifth in Division 2 by Wisconsin Wrestling Online, have been building toward this as both numbers and moments of success have grown steadily, and they will attack a new competition level as one of the 61 teams at this weekend's 35th installment of the event.
"It's exciting," said Peterson, who last coached at the Bi-State as an assistant at Central in 2003. "The Northern Badger was nice and a good tournament for us to win last year, but this is going to be different and really show us where we're at right now."
Peterson said there was a postseason benefit to wrestling in the Northern Badger because the Titans were heading north for regionals and sectionals. In addition to a good level of competition, it gave Melrose-Mindoro/G-E-T a look at what was coming down the road.
The Titans head south for this year's postseason, and that gave Peterson and Brodsky some added motivation to get back in the biggest tournament on this side of the state.
The challenge will benefit the entire roster, but it may give extra boosts to senior Jack Marley and junior Julian Purney, both of whom were WIAA Division 2 state qualifiers last season.
Marley has put together a 13-2 record at 120 pounds, and Purney, a state runner-up as a sophomore, is 12-2 at 126.
"They both have two losses, and they've come against elite competition," Peterson said. "They will see elite competition again at the Bi-State, but it will help get them ready for the end of the year.
"We are always trying to get better for regionals, sectionals and state. I'd rather have a guy with eight losses against good competition than a guy who is 40-0 and hasn't wrestled great competition."
Viroqua, which receives honorable mention in the Division 2 state rankings, also enters with high hopes after placing ninth at the Badger State Invitational in Madison on Saturday.
The Blackhawks crowned two champions and had a third-place finisher to boot for a nice burst of momentum entering Bi-State.
"We like to have a couple of little peaks throughout the season, and the time around Christmas is one of them," Viroqua coach Eric Anderson said. "When you go to Bi-State, you see some of the best wrestlers in the state and more. You want to match your kids up with them and see where they are."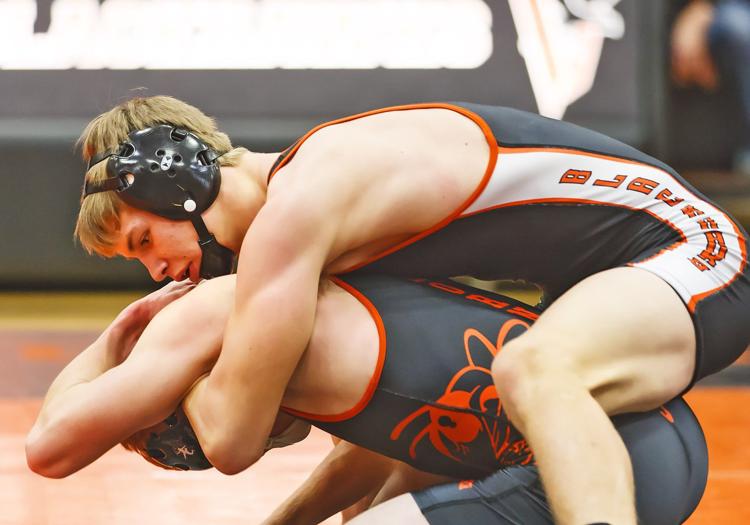 Cale Anderson (18-0), a 106-pound freshman and Eric's son, was one of Saturday's champions. Senior Ryan Hannah (13-0), a former WIAA Division 2 state champion, was the other at 145.
Hannah lost last season's championship match at state after winning as a sophomore. He has performed well at Bi-State but not nearly as well as he has on the state level.
Hannah, ranked first in his weight class, placed seventh as a freshman, eighth as a sophomore and sixth as a junior at the La Crosse Center.
"He's very focused," Eric Anderson said of Hannah. "He looked excellent (on Saturday) and confident in what he's doing. The way he moves on the mat is a real benefit because he's so smooth in everything he does.
"I've been coaching a long time, and he moves like no one I've ever seen."
Sophomore Tyler Hannah (16-1) was Viroqua's third-place finisher at 170. He was eighth in last year's Bi-State and lost three matches, but he's ranked first in his division this season.
The bracket could be a brutal one with the possibilities of Holmen's Kalyn Jahn (11-3), Iowa-Grant/Highland's Max Maylor (18-1) — who beat Hannah on Saturday despite being a state-ranked 160-pounder — and Goodhue's Mason Huesman (ranked second in Minnesota's Class A) all end up there.