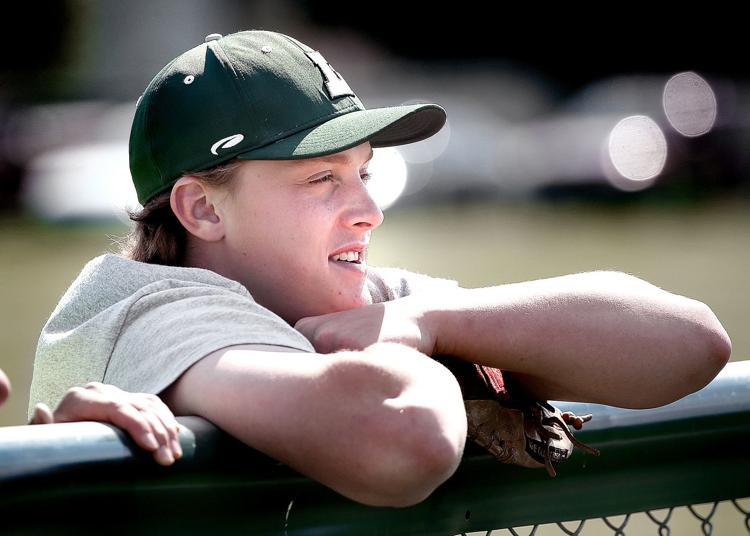 LA CRESCENT, Minn. — Thomas Kiesau didn't always bat ninth, but he has become accustomed to it.
The La Crescent High School senior actually likes it and takes pride that it is part of his role for a team preparing to play in the MSHSL state baseball tournament.
The Lancers (21-5) play Minnehaha Academy (18-4) in a Class AA quarterfinal at Dick Putz Field in St. Cloud, Minn., on Thursday, and their No. 9 hitter and center fielder has been a big part of the success.
"He has made amazing plays all year long," La Crescent coach Rick Boyer said of Kiesau, also a significant member of the football and basketball teams. "He had three of them against Caledonia (in the section tournament).
"On one, the ball was hit over his head and he ran after it and caught it. Another one he made a nice dive to get to it. He always makes plays like that."
But Kiesau, who will play football at Upper Iowa University next season, also hits the ball well and has done as much with his bat as his glove.
Kiesau enters the state tournament with a .338 batting average and 17 RBI. He has also scored 24 runs and stolen 10 bases to make the most of the chances that arise when he reaches safely.
"I've batted ninth both years I've been on varsity," Kiesau said. "There was a little talk this year of moving me up and a little last year, too.
"I wanted to stay at 9. I don't want to change anything because it's all working so well."
The Lancers have won five straight games since a surprising 5-4 loss to Plainview-Elgin-Millville during the second game of the postseason. La Crescent had allowed 15 runs in its previous 10 games, which was a continuation of the strong pitching it received all spring.
La Crescent enters the state tournament with a team earned-run average of 1.38. The staff is anchored by senior Bryce Weymiller (10-1), who has 81 strikeouts and a 0.51 ERA over 69 innings.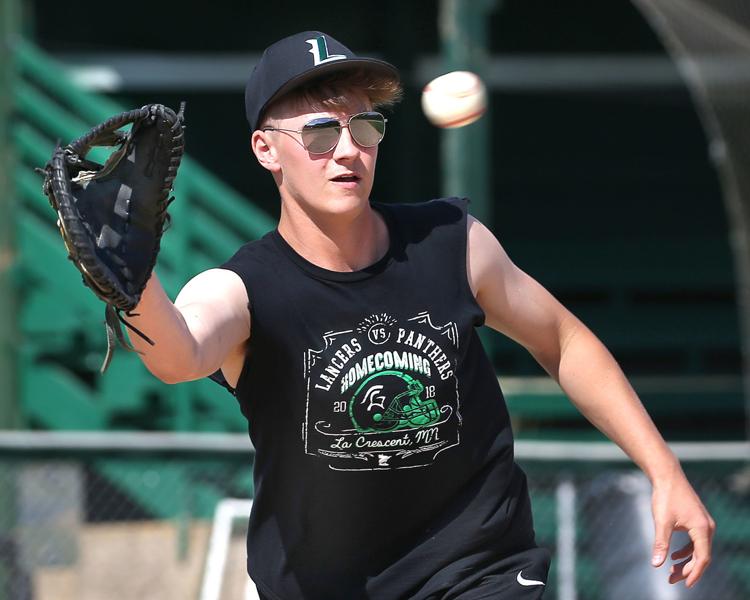 Register for more free articles.
Stay logged in to skip the surveys.
The Lancers also have junior Luke Schwartzhoff (4-0, 1.71 ERA, 35 strikeouts, 28⅔ innings) and senior Cade McCool (5-1, 1.82 ERA, 27 strikeouts, 27 innings) to go along with junior Isaac Petersen (2-0, 0.00 ERA, 17⅔ innings).
If there is a team built for a double-elimination tournament, it is La Crescent.
Minnehaha Academy lost its final two regular-season games but has run the table in the postseason. It is led by senior Noah Dehne, who bats .358 and has four home runs to go with 24 RBI.
The Lancers, who last played in the state tournament eight years ago and are making their eighth state appearance, can also look at a common opponent in Rochester Lourdes, which beat Minnehaha 4-0 and lost to La Crescent 3-0.
But there should be plenty of confidence in La Crescent's dugout already after shutting out Caledonia twice to win the section championship.
That wasn't really on the radar after losing to P-E-M, which required a reset of sorts to get ready for the next day.
"We were all shell-shocked," said Boyer, whose team won a state title in 2009 and finished second in 2011. "The best thing that happened for us was that we didn't have to turn around and play again right away.
"We got to regroup and remind the kids that they had to trust their abilities."
Kiesau said the confidence was there and the only hurdle to clear was a bad result.
"We were second in the Legion state tournament last summer, and they we were second in a (national) regional after that," Kiesau said. "We thought we could do this
"I like how we have so many guys who can step up and get a big hit or make a great play in the field or pitch a great inning."