CALEDONIA, Minn. — When you roll into the driveway, it looks a lot like a number of other farms located just outside Caledonia — an older, remodeled house, several buildings scattered around and even a windmill creaking from the wind.Even with three basketball hoops strategically positioned on a large cement slab, it doesn't belie what's inside the house or who lives there.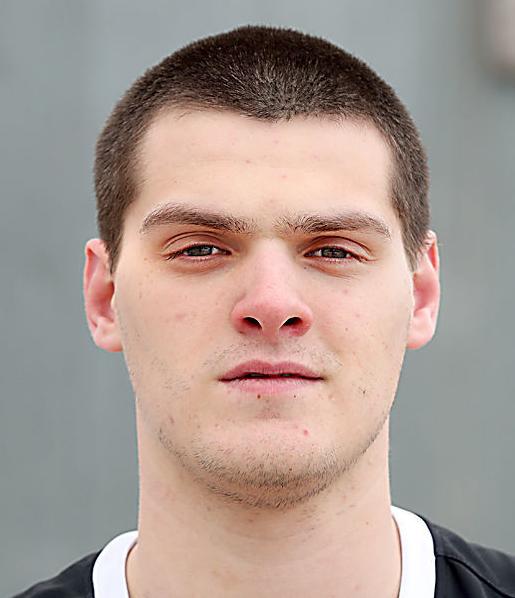 Once inside, you wouldn't notice anything is out of the ordinary, even with three eye-catching (at least for a hunter) whitetail deer mounts on the wall.
Then you step into the garage and everything changes. Everything makes sense. An indoor basketball court, complete with high ceiling, authentic wood floor and three breakaway rims, tells you the basketball season — at least for this household — has no end.
To the Brad and Susan King family, and to those who have seen their four children — Alexis, Owen, Noah and Eli — play sports, it has made sense from the very beginning. There has been a plan, discussed at length and agreed to by all, to pursue a sport — any sport — to the highest level. Chase the dream, if you will, and see where it takes you.
Or, more appropriately, them.
Owen King's journey, already long and winding despite being just 18, has taken him throughout the Midwest — and a few times beyond — while playing AAU basketball. It's landed him a spot on the Caledonia High School varsity basketball roster for five years — yes, his stint began as an eighth-grader — where the team was 138-21 with him as a member.
It's taken him to four MSHSL Class AA state tournaments in the Twin Cities, including two runner-up finishes, the latest being this past season.
It's also taken him into exclusive company in terms of La Crosse Tribune player of the year history. King becomes the fourth athlete in 50 years of naming basketball and football players of the year to win both awards during the same academic year. He is the first since Holmen's Marques Blank accomplished the feat in 2003-2004. Thane Anderson of Black River Falls did it in 1987-1988, and Prairie du Chien's Jan Waller was the first in 1977-1978.
This past fall, Owen King was named the Tribune's football player of the year after completing 197 of 327 passes (60.2 percent) for 2,839 yards, 45 TDs and just 4 interceptions in leading Caledonia to a 13-0 record and its third consecutive Class AA state championship.
Owen King's loaded with athletic talent, but until you see him play you would never know it. He certainly won't tell you about himself without considerable prodding.
Incredibly talented, even more humble. Even as he prepares to embark on the next chapter as a full-scholarship athlete on the South Dakota State basketball roster, his unselfishness remains in the forefront.
"We were taught to be humble at a very young age. As long as I can remember, we were told — and we understood — you need to celebrate other people's successes and not your own," Owen King said. "Be grateful for the help you are receiving and still try to be the best player you can be. Be competitive, play with emotion."
Owen King has done that, and then some.
He finished his stellar basketball career with 2,437 points, including a senior season in which his production — 18.0 points, 7.0 rebounds, 5.0 assists and 2.0 steals per game — helped Caledonia post a 28-4 record. A senior season in which he was joined in the starting lineup by his brothers, sophomore Noah and eighth-grader Eli, on a team that pushed powerful Minnehaha Academy, but eventually fell 73-60 in the Class AA state championship game.
His statistical contribution is one reason he earned the Tribune's basketball player of the year honor this season after coming close several other years. His leadership, however, was equally, or more, important in the decision.
"I tell them (his boys) all the time, your best asset in life is to understand people and understand them quickly," said Brad King, Owen's father and Caledonia's coach. "When everybody else is down, you have to be up. And when everybody is up, you need to stay calm."
Owen is extraordinarily calm on the court and while he had considerable talent around him this year with his brothers, Noah and Eli, along with Marten Morem, Andrew Goergen and Sam Barthel, to name a few, he was the unquestioned leader.
Those leadership skills were developed early when Owen was just beginning competitive basketball on the AAU circuit. Basketball was going to be fun, but there was a longer-term, bigger-picture, purpose.
BANGOR — As the members of the Bangor High School boys basketball team raised the gold ball toward the Kohl Center rafters following the WIAA …
"We played basketball all the time. Probably in fourth grade, I think, is the first time I did AAU," Owen King said. "Right away my dad told me you are not just doing this for fun. It is expensive and a big commitment, so you have to work hard all the time and listen to the coaches and learn as much as you can.
"Ever since then, we have always just tried to become as good as we can."
There was a reason Brad and Susan instilled this in each of their children. And it wasn't just about sports, it was about school, too. It was about life.
Whatever you do, do it to the best of your ability and have no regrets.
"When they were young we sat them down, I think we were in Rochester at the time, and told them we were not doing this just because … a lot of other people are just here to be here," Brad King said.
"We can find better things to do if you are not going to do this to the best of your ability. I am happy to be here, but this is your guys' time. What do you want to get out of it? It is not what I want to get out of it. If you guys want to go fishing every weekend, I will go fishing. But if you guys really want to play a college sport, there are some things you have to do."
On the court, and even more so, off it.
Brad, you see, spent two years at Upper Iowa University, intent on playing basketball. Other things got in the way, and he readily admits that he didn't take academics seriously.
That wasn't going to happen with his children.
They all knew school was first, sports second. No reverse order, no compromise.
"There are a lot of times where my parents would talk to us, from a young age on up, and tell us you have to be doing your homework," Owen King said. "You don't go to college on sports alone – that definitely can be a part of it — but your grades have to be good, too.
"I know a couple of times we learned the hard way when our report cards would come home."
There other "life lessons," too, as Brad, who owns and operates a residential construction and cabinet building business with his brother, would often bring all three of his boys along to the job site. Climbing a ladder with a bundle of shingles on your shoulder, moving materials or cleaning up a job site, those were the things that Owen didn't necessarily dislike, but knew he didn't want to do for a living when that time came.
Playing basketball through various AAU levels, then high school, and soon at college at South Dakota State, was far more enjoyable.
"I have done enough of that (manual labor). The times I had to do it, it's not a lot of fun," Owen said, breaking into a big smile. "That is something we talked a lot about, grades and such.
"There is nothing wrong with being a construction worker and working hard if that is what you want to do. But if you can, and want to, go onto a higher education and do something that might not be as physically taxing, you can do it if you want to work toward that."
Academics, combined with working hard and excelling at sports, especially basketball and football, was one way to pay for college. There was another, Brad pointed out, but it was the Owen's choice.
"There are all kinds of people out there who have all kinds of money and can do whatever they want," Brad King said. "We were not that. We told them when we were young no one paid for my college education, no one paid for Susan's education.
"We told them we are not paying for your college education. You are going to understand how it works. If you want to go to college, you are going to have to earn it. There are two ways to go about it: You can get a summer job every summer, you can work nights and not play sports, and try to make enough money.
"Or you can pick a sport or sports, and go that way. Again, maybe it doesn't work, but at least you enjoyed the heck out of your four or five years (of high school sports)."
Owen has done that, pouring his heart and soul into both football and basketball. As he developed his skills throughout high school sports and AAU, both football and college coaches came calling. So much so, that he had to make a choice: Division I football or basketball.
That, Owen said, was a relatively easy choice.
"I just enjoy the every day part of basketball, the ins and outs of basketball I like. I enjoy every day working on something to improve my game," Owen King said. "Whereas football, I loved playing the games, I loved playing with my teammates and everything, but it was more like I wanted to help my teammates win more than I wanted it myself."
So when the numerous Division I football calls came, including one from Michigan State, Owen was honest with them: He was playing Division I basketball and wasn't going to change his mind.
"It was probably the summer going into my junior year, Michigan State called for football, and my dad said we should probably listen to them," Owen King said. "That was when, for sure, I knew I wanted to go the basketball route.
"I told them I didn't want them to waste their time for something that wasn't going to happen. I was determined to do what I needed to do to play basketball in college. I just wanted to play at the highest level I could and play a sport I wanted to play and do it as long as I possibly could."
With that, Owen, Noah, Eli and Brad grabbed their workout clothes and headed to Caledonia High School. There was an offseason workout waiting, and there was no doubt all were 100 percent invested.
That part won't ever change.
"I think we all realize how special this time is and try and not take it for granted," said Noah King, who has already received a full-scholarship offer from South Dakota State, but has not make a decision on his college plans. "Not many kids get to do it (with their family). Basketball it something we have always bonded over and we just try to push each other to get better. We just enjoy playing with each other."