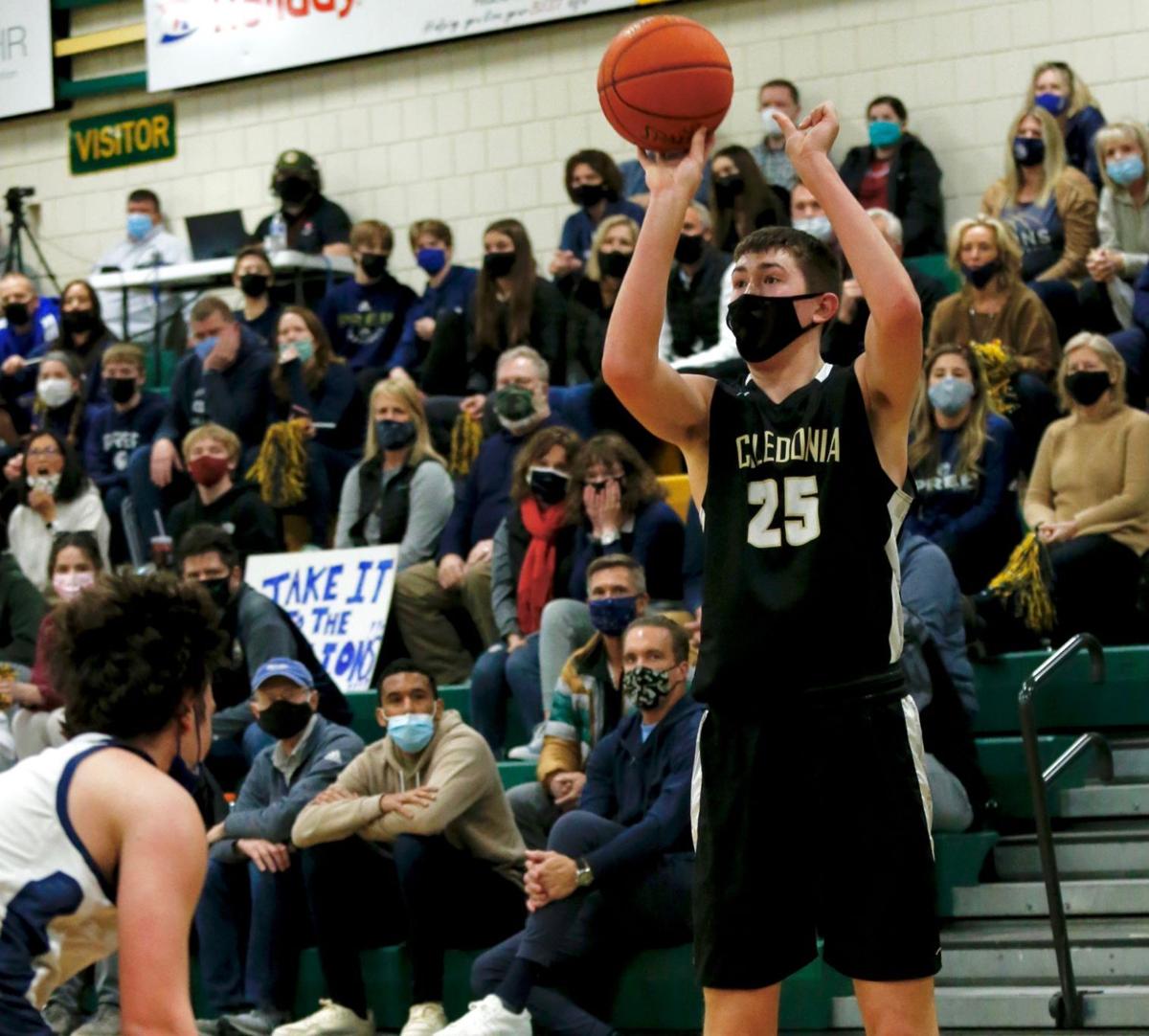 CALEDONIA, Minn. — Brad King was disappointed, but the situation was out of his control.
MSHSL guidance amid the COVID-19 pandemic recommended that schools limit travel for competition, which meant King's Caledonia High School boys basketball team had to remove some high-caliber opponents from its nonconference schedule.
Among those teams was Minneapolis North, a storied program with recent success in Class AA.
The Warriors and Polars met in the regular season in each of the past four seasons, and all of those games were decided by five points or less — Minneapolis North won the first three of those contests before Caledonia won last year's in overtime.
The matchup provided the Warriors a postseason-level game against some of the state's top talent.
"They're a really good team. Our nonconference schedule is always pretty darn good," King said. "To not get to play a lot of those games was kind of a bummer."
But Caledonia (22-1) and Minneapolis North (15-1) will get to play this season after all. The teams will collide in an MSHSL Class AA semifinal at 2 p.m. Wednesday at the Target Center in Minneapolis.
"Now we get that opportunity," King said. "So we're pretty jacked to be in the state semifinals."
The Polars are playing in their 23rd state tournament and — like the Warriors — were still alive in the postseason last year before the pandemic abruptly ended the season.
They enter Wednesday as winners of five in a row since an 82-47 loss to Minnehaha Academy, which will play in a Class AAA semifinal on Thursday, and own a 55-53 victory over DeLaSalle, which also qualified for a Class AAA semifinal.
Minneapolis North likes to pressure teams defensively — much like Caledonia's quarterfinal opponent, St. Croix Prep — and has held opponents to 45.6 points per game.
"With them picking up full-court half of the game, it's nice getting used to that for North because they're quick and fast like that (St. Croix Prep) team," senior Austin Klug said.
The Polars are opportunistic with that defense and are more than willing to push the ball in search of transition baskets after turnovers. But they are equally effective in the half-court and score 76.8 points per game.
King said limiting turnovers, cutting off dribble penetration and controlling the glass will be crucial.
"If you turn the ball over, then they're going to play fast. If you don't turn the ball over, then they're going to be a little more methodical," King said. "Their offense is a little more structured than ours probably, so that's why it's so important … How well are we going to rebound so they don't get extra possessions?
"How well are we going to take care of the ball so we don't have open-court turnovers? Open-court turnovers are like candy to them. They're just happy as all heck and gone, going to the basket."
Minneapolis North 6-foot-3 junior guard Willie Wilson leads the team in scoring at about 17 points per game, and the Polars have size inside in seniors Davon Townley Jr. and Marcus Owens, both of whom are 6-7. Townley is committed to play football at Penn State and averages about 15 points per game.
"Again, it'll be a challenge to rebound," King said. "Challenge to get offensive rebounds, challenge to get defensive rebounds."
Minneapolis North's ability to score inside and out will also likely stretch the Warriors, but Caledonia has shown it can match that.
Senior forwards Sam Privet and Casey Schultz are forces in the post on both ends of the court, while senior guards Andrew Kunelius and Klug can light it up from outside and also exploit driving lanes into the paint.
They're a confident group after convincing wins over Stewartville and St. Croix Prep.
"We've been moving the ball really nicely," Klug said. "When someone's hot, we get it into their hands and work off them. Teams help, and we just go from there. It's been a lot of ball movement."
Junior guard Jackson Koepke has had that hot hand as of late, as evidenced by a pair of 22-point performances in the Warriors' two most recent wins. He credits improvements in his shooting for the uptick in his scoring — he made six 3-pointers in the section final — something Klug and King have also noticed.
"We know what he's capable of," Klug said. "... He's been stepping up. He's stepping into his role really nicely."
Any Caledonia player is capable of having a big night, and their versatility makes them difficult to defend. But Wednesday will be one of the Warriors' biggest tests of the season.
"You've got to get second chances and limit their second chances," Klug said. "And then we'll get out and run, just take good shots, go from there."