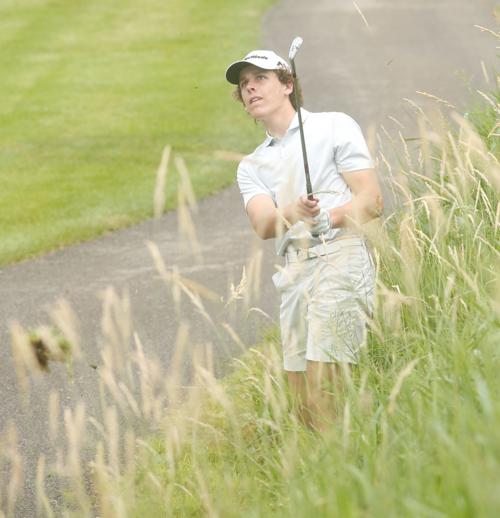 Max Breiling saved his best golf for last, and that turned out to be good enough for a championship Friday at the La Crosse Country Club.
Breiling, who will be junior at Onalaska High School in the fall, birdied five of his final nine holes to shoot an even-par 72 and hold off Verona's Kip Sullivan and Onalaska's Carson Brock by a shot to win a Junior PGA event.
Amber Nguyen, who will be a senior at Onalaska in the fall, won the girls championship and finished off her nine-hole round with a birdie. Nguyen's birdie at No. 9 gave her a 41, which was five shots better than second-place Abby DeMoe of Colfax, Wis.
Breiling, who started with a 7 on the par-4 first hole, came back from a 5-over-par 41 on the front nine by firing a 5-under 31 on the back nine with birdies on Nos. 11, 12, 13, 14 and 18, overcoming Brock and Sullivan on the final hole. He had no bogeys on the back nine.
La Crosse's Kaleb Lycke was fourth with a 76.
Breiling entered the meet after tying for 45th place during the association's junior championship in Milwaukee on Wednesday and Thursday.
He was tied for ninth place after the front nine and trailed first-place Lycke by six shots before recording birdies on the next four holes and putting himself in contention.
Brock entered the last hole with a one-shot lead, but Breiling vaulted past him with his final birdie, and Sullivan tied him with a par as Brock posted a bogey. Breiling birdied six holes but forced himself to play from behind with four bogeys on the front nine.
Tomah's Hunter Neumann was fifth (77) and Holmen's Sam Evenson sixth (78).
Nguyen was tied with DeMoe going to the last hole.
She trailed DeMoe by three shots after three holes before making up ground over the next three. Nguyen made part of that push with a par on No. 5, and she tied DeMoe for the lead with a bogey on No. 6.
They remained tied until the ninth hole, where Nguyen took over momentum and the victory.
Be the first to know
Get local news delivered to your inbox!